Matt Le Tissier's Newcastle double remembered ahead of Southampton's Super Sunday clash
By Patrick Surlis
Last Updated: 15/10/17 6:53pm
Southampton have been struggling for goals this season but a meeting with Newcastle should bring plenty of inspiration...
Saints legend Matt Le Tissier has a catalogue of memorable strikes - but two of his most famous came in the space of 27 minutes at The Dell in 1993.
Newcastle, who travel to Southampton live on Sky Sports Premier League on Nissan Super Sunday, were the opponents that October day.
Twenty four years on, we take a look back at Le Tissier's memorable double against the Magpies…
Southampton's "genius" couldn't even get into the team. The Saints had lost eight of their opening 11 league matches to start the 1993/94 season and manager Ian Branfoot had done the unthinkable, dropping the club's star man for Paul Moody.
"Ian threw Matty back to me and said, 'I'm not happy, he's not working hard enough," then reserve team manager Dave Merrington told the Telegraph in 2014.
"People would say Matt didn't work hard enough but they would overlook one thing: he was a genius."
The south coast club was used to relegation battles but the start of this campaign was particularly bleak.
They were held scoreless in five of their first nine games and had a nasty habit of throwing away leads. The decision to drop Le Tissier was supposed to spark the team into life.
But two late goals by Jostein Flo earned Sheffield United an unlikely 3-3 draw in early October before Phil Babb's 87th-minute equaliser denied Southampton a precious win at Coventry a week later.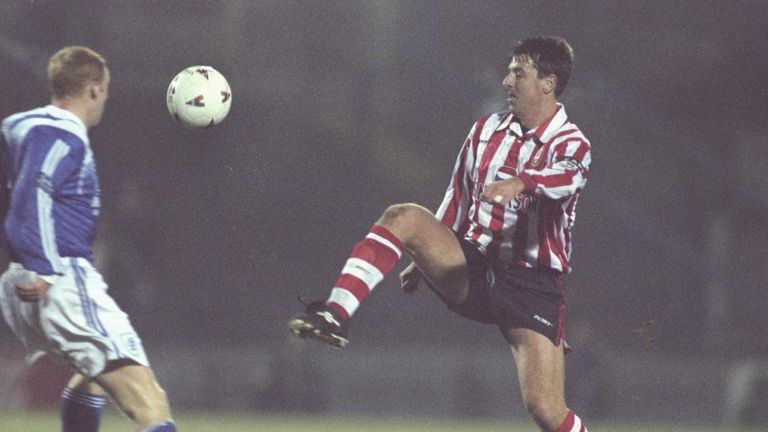 Le Tissier's absence had failed to improve results so Branfoot swallowed his pride and recalled the forward for the visit of Kevin Keegan's Newcastle.
Southampton, now second bottom, were sinking fast and the Sky Sports cameras were coming to town to document the misery.
With an hour gone and the score goalless, Branfoot called for Moody to warm up. The journeyman forward, who later became a hero at Oxford United and Millwall, had failed to fire when given the chance to replace Le Tissier in games prior. He looked set to get another opportunity.
"I'd been dropped for Moody for the five games before and I was brought back in for Newcastle," Le Tissier recalls. "I remember seeing Paul warming up after 60 minutes and just thinking it would be for me."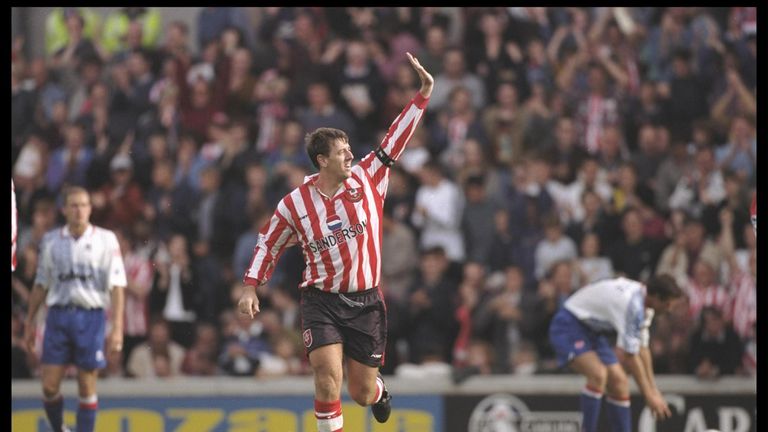 What came next was one of the great Premier League goals, a stunning individual run, a cheeky chip and a composed finish. Three years later Paul Gascoigne would pull off a similar trick against Scotland, a strike voted the best ever at the old Wembley.
"When I scored the goal the camera panned to Branfoot and I lip-read him saying, 'Sit down Moods'. It was probably the second best goal in my career behind the Blackburn one," Le Tissier added.
"It was a bit surreal because you don't have time to think, you just react to defenders and the ball just kept landing in the right place for me to nudge it away from them.
"The finish wasn't exactly what I wanted as it came off the bottom of my boot a bit but it was enough to wrong-foot their goalkeeper."
Southampton predictably conceded 10 minutes later when Andy Cole equalised but that simply set the stage for Le Tissier's decisive intervention.
There was less than three minutes left when he collected the ball from Neil Maddison, brought it under control on his thigh and blasted home past goalkeeper Mike Hooper from 25 yards.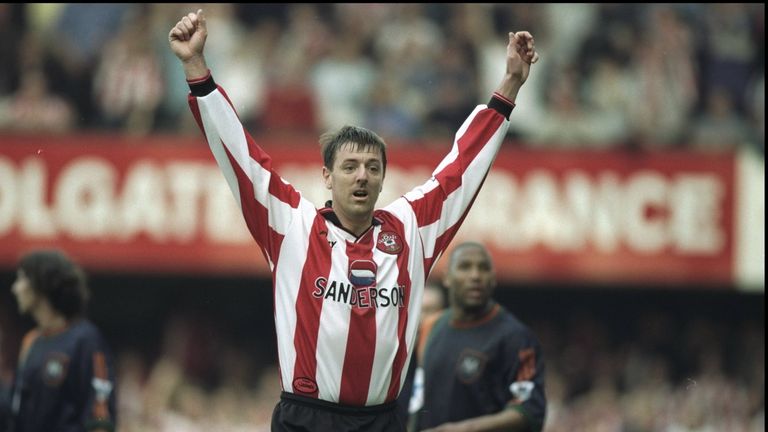 "Looking back that was a huge turning point in my career because under Branfoot my career wasn't really going anywhere," Le Tissier said.
"I'm not sure he said anything to me after the game but I certainly didn't need to say anything after that."
The beleaguered Saints boss restored Le Tissier to prominence after the Newcastle game, even giving him the captain's armband.
"I went on to score a couple against Aston Villa and then a couple more against Liverpool and strangely enough, given that had all happened at the end of October, by the middle of December I was made captain at Goodison Park, all in the space of six weeks," said Le Tissier.
But it was not enough to save Branfoot, who was dismissed in early January and replaced by fan favourite Alan Ball.
Results immediately improved as the Saints rattled off four wins from five games, including a 2-1 away victory at St James' Park, and they eventually survived by a single point.
Le Tissier would finish as the club's top scorer with 25 Premier League goals, the highest league tally of his distinguished career. He was, in an otherwise forgettable campaign for the Saints, their genius.
Watch Southampton v Newcastle live on Sky Sports Premier League with Nissan Super Sunday coverage starting from 3.30pm