Alan Pardew feels Liverpool would have finished in the Premier League top four under Brendan Rodgers this season.
But Pardew, who is fully aware of the number of 'match winners' in the current Liverpool side - highlighting Philippe Coutinho as a specific threat, is confident he can exploit the Reds' defensive weaknesses.
The Palace manager felt the summer recruitment at Anfield would have paved the way for a top-four finish under Rodgers and sees no reason why that expectation should change following the appointment of Jurgen Klopp to the manager's job.
However, he does feel he has identified a weakness at Liverpool and is confident his team can exploit it - their defence.
"I thought they've got a top-four squad in the summer, and that hasn't changed despite the change in manager," said Pardew, who led Palace to a superb 3-1 win at Anfield on the penultimate Premier League weekend of last season. "They're Liverpool, they should be top four.
"I think [Christian] Benteke is a terrific player, and [Jurgen] Klopp has arrived with great players there.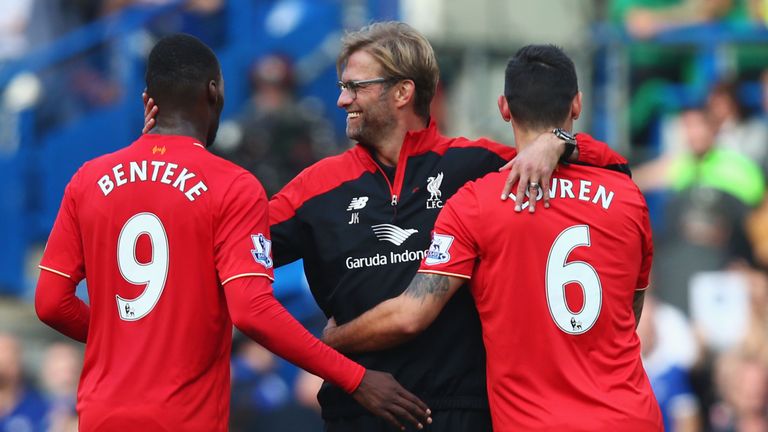 "Benteke is a different kind of threat to what they've had before and a great signing. There is a higher press under Klopp's management and we know that's coming, we can cope with that.
"But they carry great players and great players can change games. [Roberto] Firmino did that at Stoke. We have to focus on what they're not good at and defending is an issue at the club so we'll look to exploit that.
"We've come up against everyone in form, we're having one of those runs, but our performance against Man United, we must take great heart form that. Because only one team deserved to win it and that was us."
Coutinho has been in impressive recent form for Liverpool, inspiring a comeback with two goals at Chelsea last weekend when Liverpool came from behind to win 3-1, and after being rested during Thursday's 1-0 Europa League win at Rubin Kazan he is expected to return to their starting line-up against Palace.
"Coutinho is probably, at the moment, their best player, in terms of the level he's at," Pardew said.
"And I don't think anyone in the Premier League would disagree that he's been in the top five players offensively this year, so he's somebody we need to take care of.
"Whenever you go to Liverpool they've got world-class players, and you're going to have to look after them and make sure that you defend very, very well.
"Kevin Keegan, John Toshack, Kenny Dalglish, they've always had these players."