Premier League: Crystal Palace boss Tony Pulis praised striker Dwight Gayle after 2-2 draw with Fulham
Crystal Palace manager Tony Pulis has lauded Dwight Gayle, who grabbed both goals in their 2-2 draw with Fulham.
Last Updated: 12/05/14 6:36am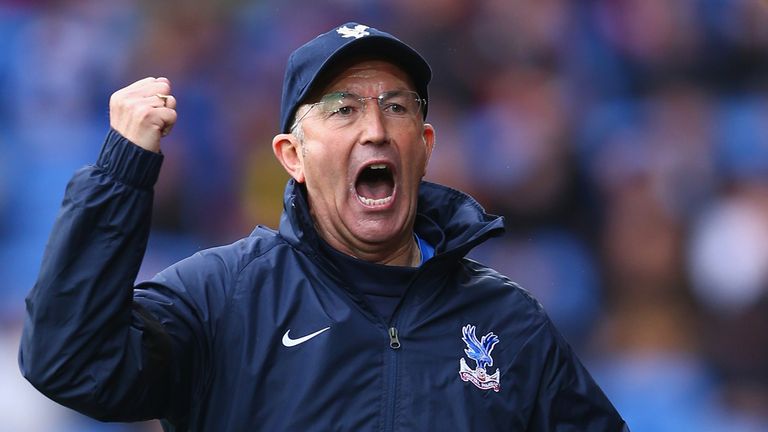 The former Peterborough man's brace was his second in as many games, following his tantalising performance against Liverpool last Monday.
Pulis, a hot contender for the Manager of the Year award, believes Gayle has made huge improvements since the former Stoke boss' arrival in November.
"When I first came to the club Dwight was the marquee signing. We'd spent a lot of money on him and it looked like he had the weight of the world on his shoulders in lots of respects," he told Palace's official website
"He wasn't really integrated into the group and he looked a bit on the fringes, so we spent a lot of time opening him up as a person and a player.
"He's become a lot closer to the group and his mates in the dressing room. He didn't need the pressure, we took that away from him and he's improved immensely."
The Eagles were denied all three points at Craven Cottage following a superb Chris David equaliser in the dying embers of the game, but Pulis believes his side performed admirably throughout.
"It would have been great to have come and won here today to finish our season with a victory but once again you have to give this group of lads a hell of a lot of credit for the way they performed this afternoon in a game we came so close to winning," he added.
"It was an entertaining match with chances at both ends and lots of opportunities. We are disappointed we couldn't make more of our second half chances.
"I don't know how Glenn Murray's shot comes off the post and hits Gayle and then goes wide but once again my lads showed what they can do and it was no surprise as this group have been absolutely marvellous this season."
When Pulis took over from previous manager Ian Holloway, Palace looked destined for the drop. Instead, the result means they finish the season in 11th place after securing an impressive 45 points.
"If you look at the stats from when I came in it shows what a great achievement this season has been but one stat not to forget is that we managed to finish eleventh with the smallest budget in this league.
"This football club has massively overachieved and everyone should take great credit, it's been a great ride."