With Coventry supporters continuing to protest against owners Sisu and the team facing the prospect of relegation, the future looks bleak for the Sky Blues, writes Adam Bate.
When Coventry City host Sheffield United on Thursday as part of Sky Sports' series of 10 Football League games in 10 days, the spotlight will shine on the home side. Not everyone associated with the club will be comfortable with that. Coventry are in crisis.
It's not just the team's position in League One that's contributing to the gloom surrounding the Sky Blues, although that's bad enough. Coventry lie in the relegation zone, only one point off the bottom and seemingly heading for the fourth tier for the first time since 1959.


Nor is it merely the uncertainty over the leadership since Tony Mowbray's resignation in September left long-time assistant Mark Venus at the helm. They are now on a run of five defeats, with Jimmy Floyd Hasselbaink understood to have rejected the chance to take over.
There's a bigger issue that continues to exercise the bulk of Coventry fans. It's the Sisu hedge fund that many supporters blame for the club's dismal fortunes. They have presided over the most miserable period in Coventry's history - and it's getting worse.
Sisu acquired the club in 2007 but five years on they were down in League One and, by 2013, playing 30 miles away at Northampton's Sixfields Stadium. Rows over unpaid rent, frozen bank accounts and transfer embargoes were hallmarks of a club in a mess.
Now back at the Ricoh Arena, they still do not own their own stadium - something Sisu boss Joy Seppala admits is "critical" - with no signs of an imminent solution. Seppala is an unpopular figure, although chairman Tim Fisher once quipped she deserved a statue in her honour.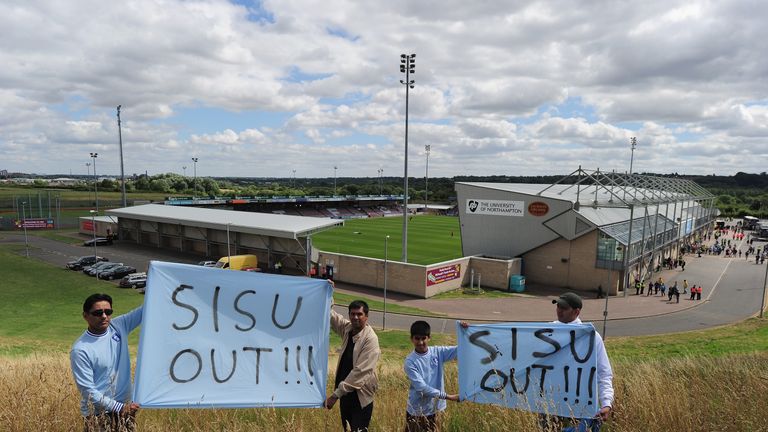 Far from resolving the problem, land has yet to be acquired for a new ground and the club is already into the option period on their match-day lease. Wasps, the rugby club who now own the ground, have halted talks regarding an extension beyond the summer of 2018.
Sadly, the stadium is one of a myriad of issues. Wasps move into the academy site next year. Even the training ground is eyed for a housing development. Court cases and disputes engulf the ownership - directly or indirectly - with key figures at odds with the city council.
How great is the appetite for change? A Coventry Telegraph petition calling for Sisu to sell up has received almost 20,000 signatures. While that has further damaged relations with the local paper, fractious relationships have become a fixture at a club at war with itself.
Tensions between factions illustrate the point as fans take opposing views on how best to proceed. The Supporters' Consultancy Group (SCG) is the chief opportunity for discourse but it is brushed off as, at best, a talking shop by those agitating for more radical change.
"Currently, the representatives of the minority outnumber and drown out those who express the majority view of City supporters, within that forum," argues David Johnson, chairman of the Jimmy Hill Way, a group established to protest Sisu's running of the club.
"We witnessed a pathetic attempt to brush aside important questions about the club's on and off-field problems. These are matters which the SCG ought to be probing themselves. It not only fails in that task but acts as a shield … when others try to carry out that function."
Johnson was responding to the latest SCG meeting, one which his group believe failed to address the ongoing concerns of fans and "was largely taken up with attacks on those supporters who dare to criticise, protest or fail to show unquestioning allegiance to Sisu".
He added: "It is plain to see that they … share their rose-tinted view of the current state of Coventry City, are very far removed in their opinions and allegiances from the overwhelming majority of Sky Blues fans." The petition signatures would seem to support that view.
However, the SCG see things very differently. Namely those such as Sandra Garlick who have resigned as a result of a "continual barrage of harassment, bullying and vile behaviour towards myself and others [that] is something no one should have to tolerate".  
When Garlick and others cite those associated with the Sky Blue Trust among those responsible, it's clearly a murky business. Civil war tends to be so and it's easy to see why some of the more desperate attempts to incite Sisu's exit have proven so unsettling.
Last month the Jimmy Hill Way produced a poster depicting Seppala as a 'wicked witch' for Halloween and some are uncomfortable with the tone of the campaign given that Hill's name is evoked. Johnson, on the other hand, points to the support of Hill's family members.
It's against this backdrop that Coventry are trying to avoid the drop. "We shall try to avoid any negative impact on the team during their difficult struggle to escape the lower reaches of League One," claims Johnson. But it's tough to see how this will not be having an impact.
Those working with Fisher to bring about change from within rail against the activities of protesters, perhaps hoping that unity can still be achieved. Could results help? Complaints were less vociferous when Coventry were in the promotion positions last November.
But it is increasingly unlikely such a healing process will occur - at least not in this division. Coventry's line-up is now comprised of young hopefuls promoted through necessity. The average age of the side that finished the 3-1 defeat to Southend at the weekend was just 21.
That's a recipe for relegation and it's a long way back from the fourth tier. Of course, even that wouldn't necessarily mark the death knell for Coventry despite the sight of a coffin signalling as much at a protest at the Ricoh last month. Teams do come back from the brink.
Speaking to then chief executive Chris Anderson earlier this year, he said: "We're not a Swansea yet or a Southampton yet or a Bournemouth yet. But they're all clubs who've had a difficult period and been able to turn it around. Our ambition is to be one of those clubs."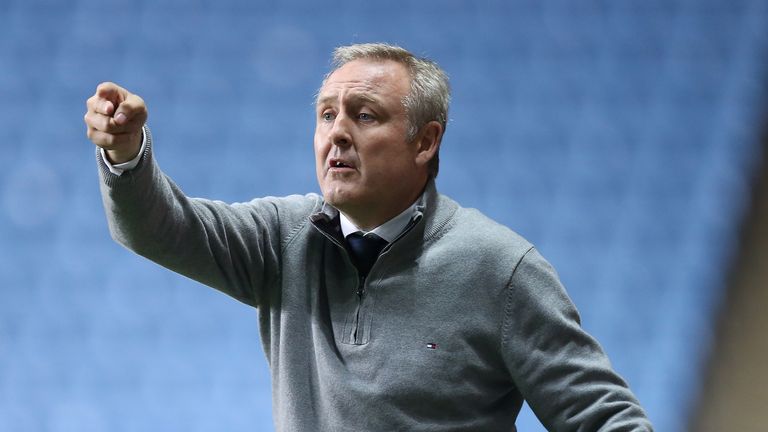 Two wins in 16 either side of the controversial sale of James Maddison in January soon scuppered those plans and Anderson has since left the club. Even the most optimistic of supporters struggle to see a path to becoming Swansea or Bournemouth now.
Instead some would just settle for the win over Sheffield United that would lift Coventry out of the drop zone and help them avoid spending part of the 30th anniversary year of their famous FA Cup triumph in League Two. For others, only Sisu's departure will be enough.
Upgrade to Sky Sports now and get six months half price