Claudio Ranieri has told Sky Sports News HQ he does not think Leicester will be able to replicate their Premier League triumph.
Barely 12 hours after the Foxes were confirmed as champions following Tottenham's 2-2 draw at Chelsea, the 64-year-old opened up about his club's stunning campaign and hopes for the future.
Asked if Leicester could repeat their glory, the former Greece, Juventus, Monaco and Rome manager said "no", but insisted his target was to develop the team for the long term.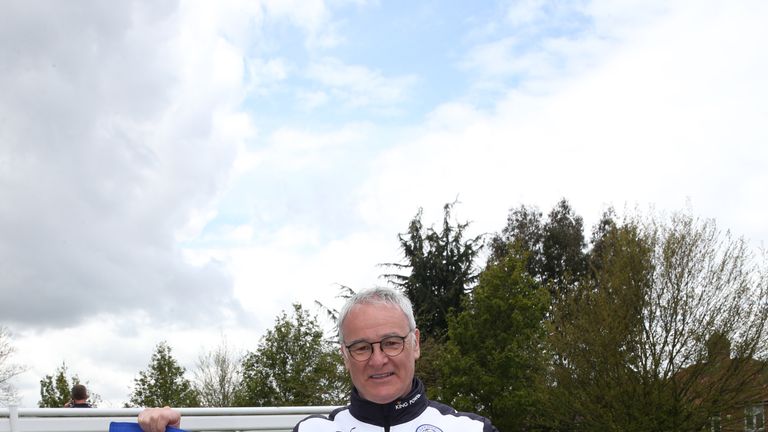 "We want to continue to build," he told SSN HQ's Rob Dorsett. "When I came here, the project was to build a very good foundation and slowly, slowly to grow up together in three to four years to fight for the Europa League and slowly come to fight for the Champions League.
"Now the season is out of our project but of course, the foundation is very solid. We know very well we have to fight for the position but we want to do our best. I'm positive and I want to fight.
"I don't want to sell anybody though, but of course if some players don't want to stay with us because they are unhappy to continue with us, then I don't want unhappy people. 
"We are looking to reinforce the team but with the same mentality, because this is my mentality and this is their mentality. We all linked very well together. Whoever comes in must know we are working hard."
Ranieri's appointment last year was questioned by many critics, with the Italian having just been axed as head coach of Greece. The transformation at the King Power Stadium, though, has been nothing less than phenomenal as the Foxes became champions of England for the first time in their 132-year history.
While many of Leicester's players partied at Jamie Vardy's house on Monday night, ex-Chelsea boss Ranieri admitted his own celebrations had been very low key.
"I was at home with my wife," he added. "Nothing more. I spoke with my family at home and that was it."
Leicester started the campaign as 5,000/1 outsiders for the title and did not look back after February, having opened up a five-point gap at the top with a 3-1 victory at second-placed Manchester City.
On when he finally felt the Premier League crown was in his grasp, Ranieri said: "I believed on Monday night.
"Of course you believe something but I am a pragmatic man and I know football very well. Something strange could happen and Tottenham behind us pushed so well.
"I want to say congratulations to them because they made a fantastic season. For this reason, I was so calm. Of course, I believe in my players but last night I was so happy."
Live Ford Saturday Night Football