Leicester 1-0 Porto: Champions League adventure set to go on
By Adam Bate at the King Power Stadium
Last Updated: 28/09/16 7:41am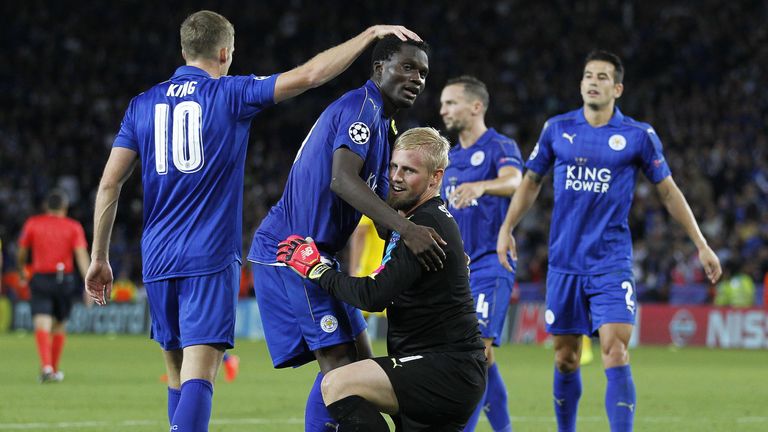 Leicester City maintained their 100 per cent Champions League record with a 1-0 win over Porto on the night that European football came to the King Power. Adam Bate was there to see it and explains why Europe could be where the magic happens for them in 2016/17…
Claudio Ranieri said afterwards that Leicester had been waiting 132 years for this moment. Judging by the noise that reverberated around the King Power Stadium ahead of kick-off, it was worth the wait for most of the 31,805 that packed themselves into the ground.
This was it. The sort of night that supporters had been daring to dream about even before they were contemplating last season's extraordinary Premier League title win. Yes, before becoming the unlikeliest of table toppers it was the prospect of the top four that excited.
The reason? Moments just like this. A one-goal victory over Porto, a club that won this competition a dozen years ago, lifting the trophy just weeks after Leicester confirmed what would prove to be a decade-long absence from the Premier League. Well they're back now.
Indeed, while Manchester City sometimes seem ambivalent about the Champions League's charms, Leicester are embracing it. The players have spoken about the buzz when hearing the music and the fans seem to agree. Even the match-day programme ran to 100 pages.
In short, everyone's up for it. "Our fans gave us a lot of energy," said Ranieri afterwards. "It was fantastic. All the matches they push behind us." And when Ranieri's men are feeling motivated and at their best, they're not a team that needs too much of a push to perform.
As ever with Leicester, it starts from the front where Jamie Vardy sets the tone, leading the line with gusto, harrying and chasing every ball. He now has a willing accomplice in Islam Slimani, the Algerian who netted the game's only goal - a sixth against Porto in 2016 alone.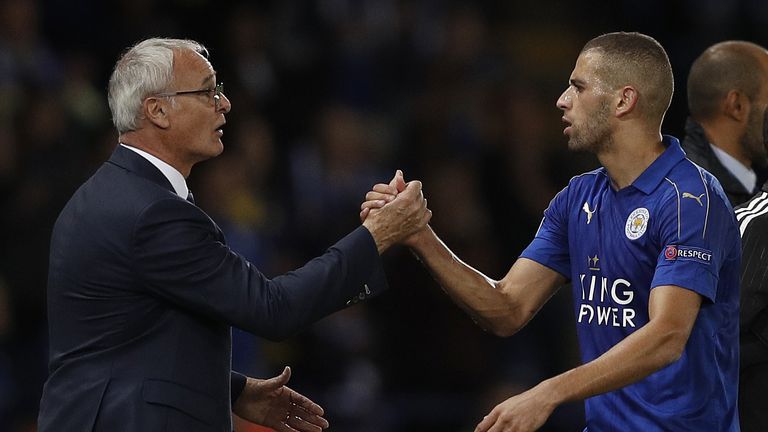 Both men were booked in the first half as Leicester refused to compromise their aggressive approach. They were adjudged to have committed 24 fouls - that's more than any side has committed in a Premier League game in the past three seasons.
Porto didn't particularly like it much either. Iker Casillas certainly didn't take kindly to being propelled into his own net by Robert Huth. "It's not easy to come to the Premier League champions," said Porto coach Nuno Espirito Santo afterwards. At times, they were rattled.
Whether accumulating this many fouls can work for Leicester in the long term remains to be seen, but for now they're bending the Champions League to their will. Danny Drinkwater looks at home in the competition and Daniel Amartey is improving fast alongside him too.
Leicester's fouls
Leicester conceded 24 fouls against Porto. The most conceded in a Premier League game over the past three seasons by any side is 23.
Either side of them, the wingers know their roles. Slimani's first word to Marc Albrighton on the training pitch was "crosses" but it was the signing from Sporting's international team-mate Riyad Mahrez who found him with a fine delivery of his own to head home the goal.
"I was very confident with Slimani because Slimani often scored against Porto when he was a Sporting player," said Ranieri. "I spoke with Riyad and with Islam and said: 'Come on guys, make something good tonight.' And they made a pass - assist and goal."
That's all it took for Leicester to become the only team in the bottom half of the Champions League draw to win both of their first two games. That they also did so with another clean sheet will surely hearten Ranieri enormously after the Old Trafford debacle at the weekend.
"It was important to score and defend very well," he added. "I spoke a lot about corners and maintaining a clean sheet. My players tonight were very concentrated, strong and attentive in every situation. It was good for everybody after the bad defeat in Manchester.
"We defended very well. We were well organised. We showed a very good attitude, character and personality during all of the match. Also during the last minutes when Porto tried to equalise, we were very calm, very attentive and closed all of the space.
"I am happy when I see my players play like tonight. With our spirit. I recognise this team when they play together, when they play as a team. If we play this way I am not surprised. I'm surprised when we concede three times from a corner on Saturday. Then I'm surprised."
That's understandable given that Leicester have kept 10 clean sheets in 14 home Premier League games since Christmas. No wonder it's the roars of support rather an air of anxiety that cascades down from the stands when Leicester are holding on late on.
The fans positively embrace the sight of their side defending and the players exude a similar confidence. Any suspicion that a series of heavy defeats already this season - conceding four against Liverpool, United and Chelsea - has dented that belief must be put in context.
It's a reminder perhaps of what this team should have known already - that they are not so gifted that the wins will come their way without hard graft. Leicester have had it confirmed that they can't beat the likes of Hull, let alone the very best sides, without total diligence.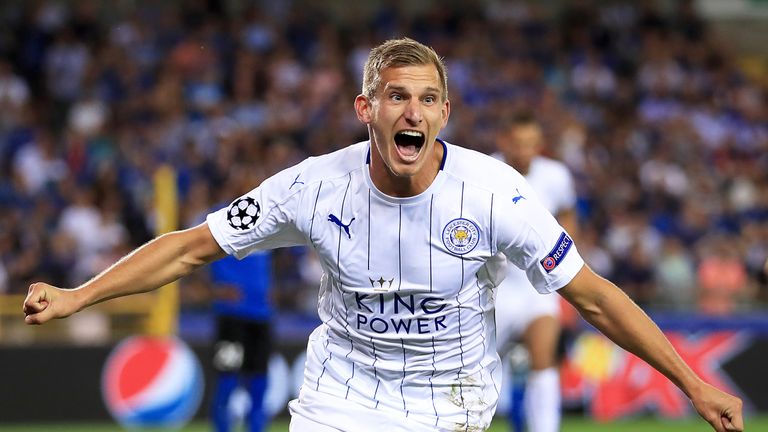 But equally, they've already shown just what is possible when they are fully focused. A repeat of their 38-game miracle will be too much to ask this season. And yet, the more ostensibly ludicrous achievement of becoming champions of Europe is now a 28/1 shot.
Leicester are tenth favourites to win the Champions League with most bookmakers. They've overcome far worse odds than that. As Ranieri joked when quizzed on a separate matter (the England vacancy): "You know I don't have a good relationship with the bookmakers."
Home wins over Copenhagen and Club Brugge should see the Foxes into the knockouts. After that, who knows what could happen? "We are the new in the Champions League," added the Italian. "Everything could happen. For this reason I want to remain calm."
Remaining Champions League fixtures
Oct 18 - FC Copenhagen (h)
Nov 2 - FC Copenhagen (a)
Nov 22 - Club Brugge (h)
Dec 7 - Porto (a)
Ranieri spoke determinedly about "clearing our mind" and refocusing on the Premier League. But one suspects some are already recognising that the difference between seventh and seventeenth is as nothing compared to what could await them if Europe goes their way.
Too far-fetched? Well, they're being encouraged to dream at Leicester City these days. Take the poster of Christian Fuchs and the ubiquitous Kasabian that came free with the programme. There in front of the smiling full-back is the Champions League trophy.
It's the smile, perhaps, of a man who knows that stranger things have already happened. But for now, nights like these, nights 132 years in the making, will do very nicely indeed.
Watch every minute of the Ryder Cup, plus Friday Night Football and the Malaysia Grand Prix, on NOW TV for £10.99. No contract.