Paddy Kenny's agent denies birth date is reason for the goalkeeper being excluded at Leeds
Last Updated: 03/07/14 7:21pm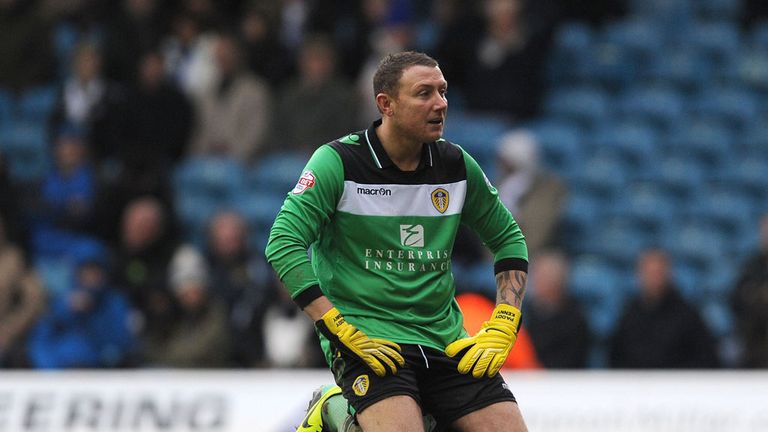 Paddy Kenny's agent has laughed off claims the goalkeeper is being forced out of Leeds United due to his date of birth.
Kenny, who is understood to be one of the club's higher wage earners, did not travel with the rest of the first-team squad to their summer training camp in northern Italy on Monday.
The 36-year-old's future at Elland Road was cast in further doubt on Thursday when Leeds signed former Reading goalkeeper Stuart Taylor. 
Reports claim that the club's president Massimo Cellino is keen to off-load Kenny because of his suspicion of the number 17. The former Sheffield United keeper was born on May 17.
Cellino dislikes the number 17 so much that he had the stadium seats at former club Cagliari replaced with 16B. The Italian also banned the colour purple. He insists both bring bad luck.
However, Kenny's agent Paul Masterton, laughed off the suggestion his client was being forced out because of the date of his birthday.
Masterton said he was more concerned about a "doctored" and "mischievous" photograph circulating on social media websites, which shows Kenny clearly overweight.
"I've no idea where this number 17 stuff came from, but it's complete nonsense as far as we're concerned," said Masterton.
"We're more bothered about the picture to be honest. It's been massively doctored. Paddy is the same weight now as he was five years ago.
"I was playing golf with him last week and unless he's put four stones on since then somebody somewhere is being mischievous to say the least."
Leeds paid an undisclosed fee, understood to be £400,000, to QPR for Kenny, who signed a three-year deal at Elland Road in July 2012.
Masterton added: "He's got one year left on his contract so we'll see what happens. It all came to light this week when he wasn't accepted to go to Italy.
"We're working on things now as it looks like he's surplus to requirements at Leeds, but you never know.
"If he trains well when they get back from Italy he might get back in favour because he's still one of the best goalkeepers in the Championship."
Halifax-born Kenny started his career at Bury under former manager Neil Warnock, who he later followed to Sheffield United, QPR and then Leeds, where he has made a total of 81 appearances.