Paul Clement insists the Swansea City squad are still united and played down the heated exchanges between players in the dressing room that followed last weekend's defeat to Stoke.
Martin Olsson revealed that frustrations boiled over after the game, as Clement's side dropped to the bottom of the Premier League with a 2-1 defeat at the bet365 Stadium.
Olsson explained that things got "heated" as players voiced their opinions, but the Swansea boss says the conversation was healthy and overdue.
"There's no divisions, it's a cohesive dressing room," said Clement. "It's a dressing room that are disappointed, that are fighting, that are showing their passion for this club and they want to turn things round at this club.
"The issue in the dressing room was no big deal. It was me speaking mostly. There were a couple of views exchanged between the players but it was nothing abnormal.
"We've been waiting for it to happen. It wasn't disrespectful in any way. It was a healthy discussion. Some honesty was spoken and hopefully it has the right effect."
Swansea have taken just one point in seven games and pressure is mounting on Clement to turn things around and despite seeming visibly discouraged after last weekend's loss, the Swans' boss insists he is not ready to give up yet.
"After a game, after a loss there are a lot of emotions," he said. "I was very disappointed at the end of the game, that's the reason I looked very frustrated.
"I'm not at the end of my tether.
"I feel very much that this team can get out of the situation that it is in. We're working in a very focused manner, we just need to turn around the preparation we do in midweek into a winning performance."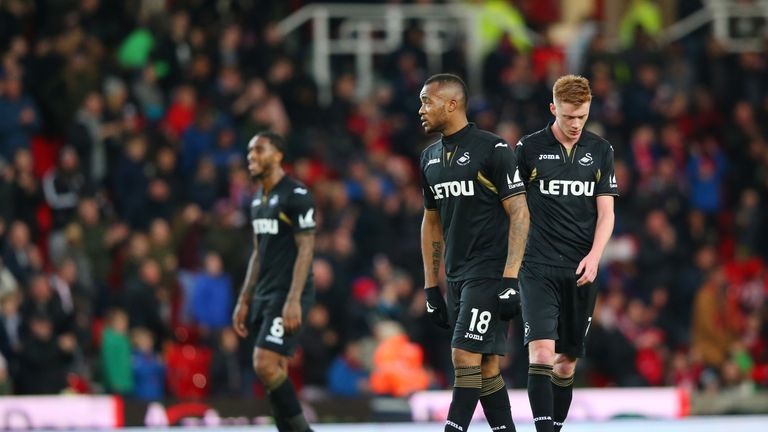 Asked if he is the man to turn things around, Clement said: "Absolutely. I have no doubt about that and I have no doubt that the players are behind me.
"I have enough experience to know when the dressing room is behind you and when it is not.
"I've been in dressing rooms that have grown apart from the manager and I have no feeling like that at all."