Oli McBurnie is the Sky Bet Championship Player of the Month for February and just earned his first senior Scotland call-up. The on-loan Swansea striker tells Sky Sports about playing for six managers in two seasons and taking the second tier by storm - after a period in limbo.
Back in September, McBurnie was so certain of his move to Barnsley that he had already completed the purchase of a house in nearby Leeds. The 21-year-old's season-long loan switch from Swansea had been announced by both parties and he had already joined training with his new side. A few days later, however, and there was bad news.
"I was actually at the estate agent's when Paul Heckingbottom rang me and told me that it had fallen through," McBurnie tells Sky Sports. "I thought he was having me on at first. It was about a week after the deadline but it turned out to be down to one of the bits of paperwork, which wasn't sent in properly. By the time they realised, it was too late."
The house lay empty for five months but McBurnie can laugh about the episode now. He finally completed his move to Oakwell - paperwork and all - on the final day of January. He has scored five goals in six starts so far, picking up the Championship Player of the Month award for February and winning a place in Alex McLeish's first Scotland squad.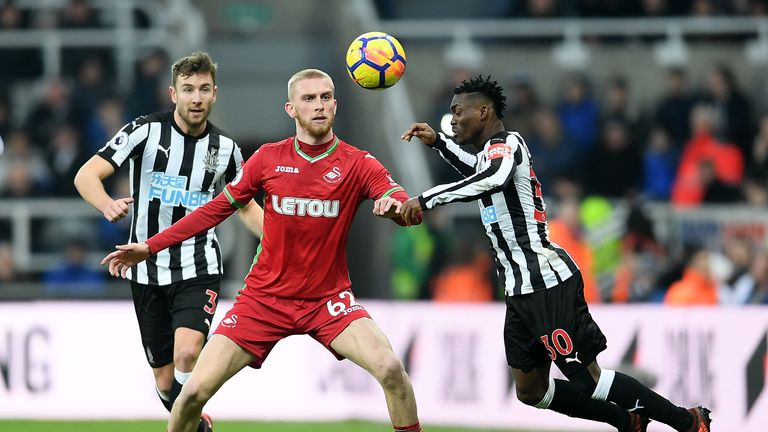 It has been a long time coming. McBurnie insists he is better for the experience of staying at Swansea - where he made 12 senior appearances in the first half of the season, including his first Premier League starts away to Liverpool and Newcastle - but it did not feel that way initially.
"When I went back, Paul Clement was in charge and he pulled me in and he was really honest with me," he says. "He said, 'I've got my 25-man squad and I was expecting you to be out on loan so you're not really part of it'. So for a couple of months it was really frustrating. I had to go back down to the U23s and almost prove my worth again with them."
It is a credit to McBurnie that he got his head down and did just that, scoring 10 goals in seven games for the U23s and fighting his way back into the first-team fold. "It turned a really frustrating moment in my career into a positive," he says. "I wouldn't really change anything because I think it made me a better player and made me mentally tougher."


That mental toughness impressed Carlos Carvalhal at Swansea and he has needed it at Barnsley. McBurnie rejected offers from Sunderland and Rangers to move to Oakwell. The house, and Barnsley's proximity to his hometown of Leeds, were factors in the decision but so too was the presence of Heckingbottom.
McBurnie was as surprised as anyone when the 40-year-old left for Leeds just a few days after his arrival. "I really got on well with him and he really rated me as a player," he says. "To be fair, Heckie rang me the day after he took the job at Leeds, just to explain what his thinking was.
"I would never hold that against him. I understand what football is like. It's a short career and he has his own family and his own reasons for doing that. I was looking forward to working with him but it's part and parcel of football. It never seems to be easy in my career, but you've just got to take it in your stride. There's nothing you can do to change it."
It's always nice to get a bit of personal recognition. It's a prestigious award and it gets a lot of coverage, but I couldn't have done it without the boys putting balls on a plate. I'm just there to finish them.
After Francesco Guidolin, Bob Bradley, Clement, Carvalhal and Heckingbottom, Barnsley's new head coach Jose Morais is McBurnie's sixth manager in under two years. Before that, there were loan spells with Chester, Newport County and Bristol Rovers. The chopping and changing has been challenging.
"It's not ideal, especially when a manager has been there who rates you," says McBurnie. "You think, 'Oh God, what if the next manager doesn't like me?' But you've got to get used to these things. It's a very temporary game and nothing is in place for long. You've got to adapt to new surroundings, new coaches, new formations."
McBurnie has done that at Barnsley. Jose Morais has switched from a 4-4-2 to a 4-2-3-1, with McBurnie lining up on the left. His 6ft 2in frame lends itself to the No 9 role, but the new position has allowed him to showcase pace and technical quality in addition to his finishing ability.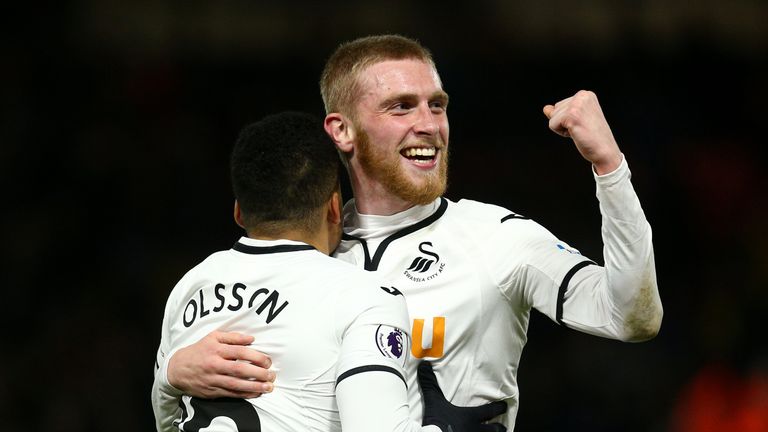 "I've been a striker my whole life, the last five games are the first I've ever played on the left," he says. "It's different but it's nice to broaden my footballing horizons by learning different positions and getting more time on the ball. Big Kieffer [Moore] keeps the centre-backs occupied, so I get a little more space around the box which I think has helped me.
"The gaffer likes my versatility and he has given me the freedom to drift around to try and make things happen. I'm still learning and I've by no means got it cracked - I'm still sometimes thinking, 'Am I supposed to be here or doing that?' - but it will come. The gaffer has put a lot of trust in me and I want to repay him. At the minute I feel I'm doing that."
McLeish has followed McBurnie's progress closely and so too have Swansea. "They are extremely involved, to be fair," he says. "Alan Curtis is the loan manager who goes out and watches as many of the loan boys as he can. He came to the Birmingham game and then he came to the Cardiff game as well. It's nice to feel they keep an eye on you. It drives you more."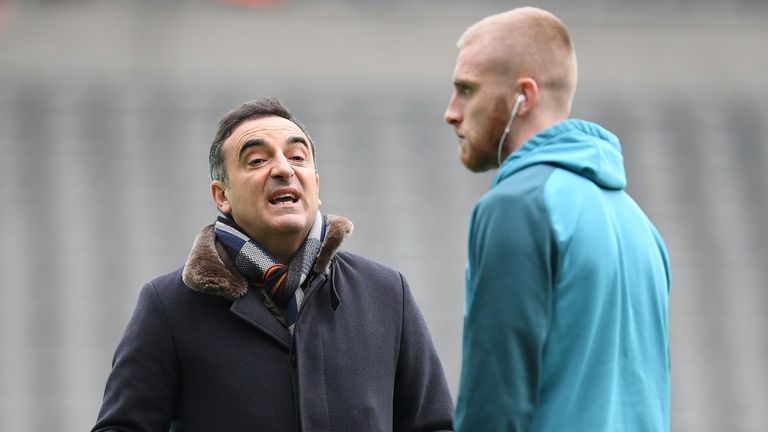 McBurnie has received congratulatory messages from his Swansea team-mates and there has been regular contact from Carvalhal, too. "Carlos has been great since he came in," he says. "I have a really good relationship with him. He's in constant communication with me which is really nice. A lot of boys on loan wouldn't get that but I get on really well with him.
"When I was deciding whether to go on loan or not, I went to see him and he was great. He just said that if the loan is right for me and I feel it's going to do me good then it was my decision, but if I didn't feel it was right then there would always be a spot for me there. I couldn't ask for anything more from him. He says he sees a long-term future for me at Swansea."
Carvalhal's encouragement gives McBurnie hope for the season ahead and he describes his Scotland call-up as a "massive moment" in his career, but right now his focus is on helping Barnsley climb up the Championship table. It has been a long wait, but McBurnie is finally making himself at home.