Blackpool suspend ticket sales to Leyton Orient fans for last game of League Two season
Last Updated: 01/05/17 7:25pm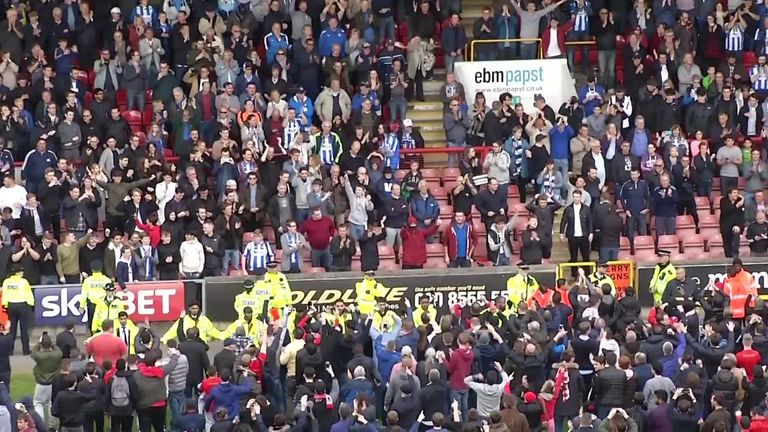 Leyton Orient fans have been blocked from purchasing tickets for their final game of the League Two season at Blackpool on Saturday.
The EFL accepted a request from Blackpool on Monday to suspend ticket sales to Orient fans, pending a review set to take place on Tuesday.
Relegated Orient's final home game of the season - last weekend's 3-1 loss to Colchester - had to be halted six minutes from time following a pitch invasion by unhappy supporters. The remainder of the match was played out in front of an empty stadium an hour later.
An EFL statement released on Monday evening read: "The EFL has today supported a request from Blackpool FC to suspend ticket sales to Leyton Orient fans for Saturday's final game of the Sky Bet League Two season.
"The decision was taken following a number of concerns raised by Blackpool.
"The rationale for supporting this request is to allow sufficient time for a full review of the match day safety and security arrangements (and any options within these) against the certainty of knowing the specific number of tickets sold to date and in which areas of Bloomfield Road.
"The EFL's objective will always be to ensure that fans of both Clubs are able to watch the match live, but in seeking to achieve this, we are required to consider all the contributing factors, to ensure that the safety of everyone at the game is not put at risk.
"Blackpool's concerns are not without foundation based on both the events that took place at Leyton Orient's Matchroom Stadium on Saturday evening and the fact that Blackpool themselves remain subject to a suspended charge following the failure to fulfil their Sky Bet Championship fixture against Huddersfield Town at Bloomfield Road on May 2, 2015.
"The EFL Executive will consider all the matters on Tuesday and ensure that all the relevant parties are given the opportunity to contribute, including Leyton Orient and LOFT (Leyton Orient Fans Trust)."