Brentford have had a frustrating start to the season. Their target is to finish in the top six but, although they are on a seven-game unbeaten run, they are 15th in the Championship and six points short of their aim after 15 games.
There is a long way to go but other clubs around them have already started to panic; Sunderland and Birmingham have sacked their managers within the last few weeks. The Bees, however, feel more stable and sure of their direction than ever before.
Why? Because two years after major structural change, they have the Championship's fourth-longest serving head coach in Dean Smith, their unique B team is thriving, and the club feel they are successfully developing young players.
"The thing that strikes me about the club now is how much stability we've got," co-sporting director Phil Giles told Sky Sports News. "An important part of that is the head coach (Dean Smith). He's probably the most important employee at the football club.
"He's been here for coming up two years now, which is one of the most long-term in the Championship right now. He's done a very good job and completely bought into what we're trying to do.


"Two years ago we had to bring a new manager in that didn't work out for us. We had a lot of turnover; four managers in six months. It was not intentional but now we've got a platform on which we can build, and look at other things such as the B team, for example, and bringing players through."
Brentford's B team is the only one of its kind in England. It is an U23s team but they do not compete in domestic youth leagues, instead organising their own matches against some of the best clubs across Europe. In the last month alone, they have beaten both Inter and AC Milan in Italy, and Manchester City on their lavish Etihad Campus.
A number of the B team's best players have also made their debuts in the first-team this season. The club have a board with their names on that is pride of place at their west London training ground, and Smith believes the setup has already "exceeded expectations" on player development.
"It was a really tough decision to stop the academy system and we went down the road of the B team, and already we've had five or six debuts," he told Sky Sports News. "We've got Chris Mepham, who's now a regular on the bench and started his first game and did exceptionally well. Justin Shaibu and Ilias (Chatzitheodoridis) have also played.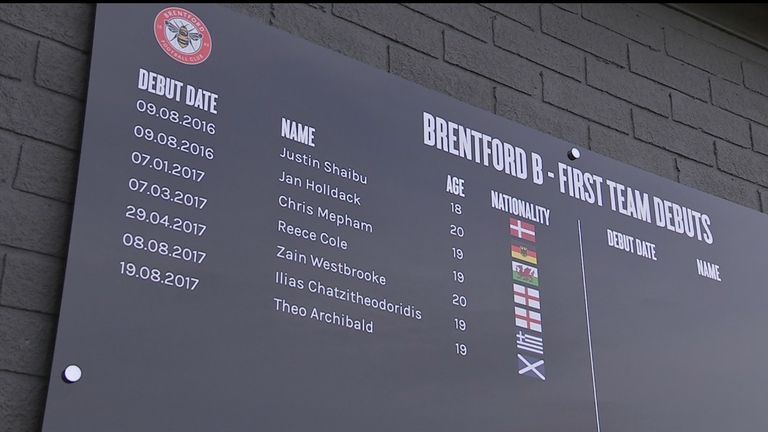 "So it's certainly producing the players and that's what we want. Every day we have a couple of the B team squad train with us. Every away trip we have, one of them travels with us. What we don't want is to suddenly make it a big jump to the first team. We want to make it a gradual process and I believe a lot of the young B team players can see a pathway."
The B team is still just 18 months old, however, and like all clubs, Brentford still have to recruit from the transfer market. They have lost some of their best players in recent transfer windows, with the likes of Andre Gray and James Tarkowski to name just two who now play in the Premier League.
Both players were recruited from the lower leagues and the Bees were their platform to develop into top Championship stars. Ryan Woods, who arrived from Shrewsbury in 2015, is one of their next brightest prospects and he is hoping to follow in the footsteps of some of his ex-teammates.
"I have developed a lot (since I've been at Brentford) and I'm still developing, and need to more to become the player I want to be," he told Sky Sports News. "We've got very good coaching here and they push you. We watch a lot of clips of ourselves, good and bad, and we're all young, hungry players.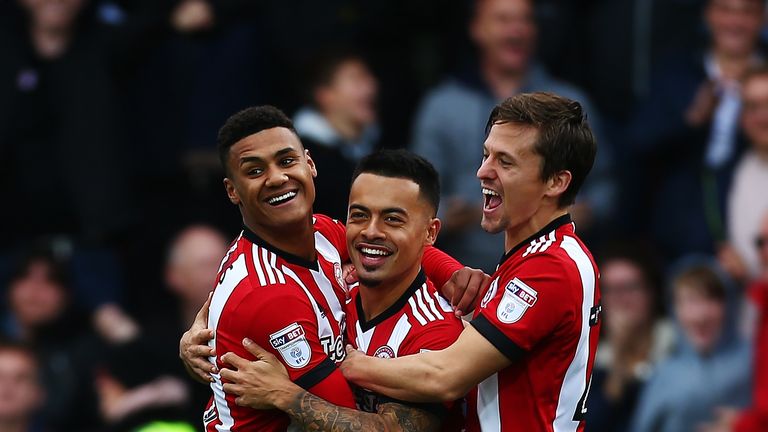 "I watched Tarkowski only the other night for Burnley and he's been brilliant all season for them. That's something that we all look at and want to follow in their footsteps and play in the Prem. Hopefully that's with Brentford but, if not, our aim as football players is to play in the Premier League. That's where I want to go."
That is also, ultimately, where Brentford's directors want to take the club as well but, beyond that, they do not have any other targets other than to keep trying to improve young players via the long-term development strategies that have now been in place for a while.
"We can't go out and buy a lot of expensive players," Giles says. "We can't throw money at the problem or buy our way to success, so we have to have a more long-term strategy.
"The key thing for us is that we're always going to need to be bringing in and developing young players. If we can keep doing that, we will keep on enabling ourselves to be financially sustainable, being able to sell players when the time is right for us, and that will give us the best opportunity to make us successful long-term."
Brentford host Leeds United live on Sky Sports Main Event and Sky Sports Football at 5.15pm on Saturday.