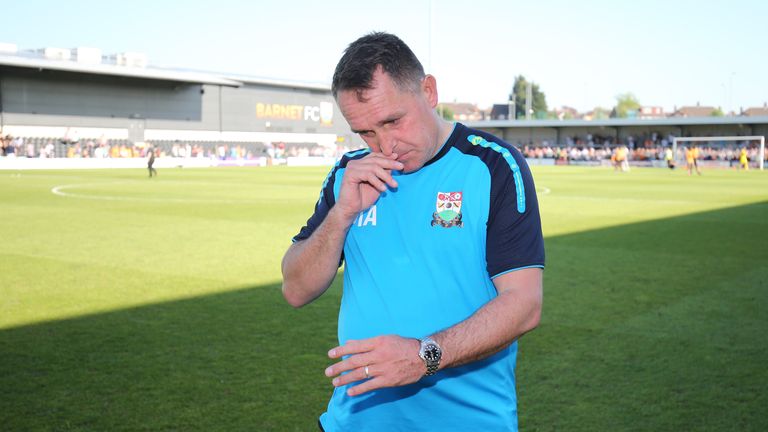 Barnet manager Martin Allen is optimistic about the future after suffering relegation to the National League despite a 3-0 win against Chesterfield on the final day of the Sky Bet League Two season.
Goals from John Akinde, Richard Brindley and Alex Nicholls were not enough to preserve Barnet's League Two status as Morecambe drew 0-0 against Coventry to take 22nd place on goal difference.
The Bees collected an impressive 16 points from eight games under Allen, but it was not enough to stave off relegation.
However, Allen refused to be downhearted.
"The players have been absolutely outstanding since I've been here in these must-win matches, the crowd has also got behind the team and you can tell from the spirit around the stadium that it's a very positive attitude," Allen said.
"I'm disappointed to be going down a division but there's a lot to look forward to - that's what I hope everyone would be thinking after the way we've all galvanised ourselves over the last few weeks.
"These players have been hammered left, right and centre but after their performances over the last few weeks those players can hold their heads up and there are good players here.
Allen was coy when asked about his own future, adding: "We'll have to wait and see. That'll be the chairman's decision.
"For whoever is in charge of Barnet Football Club next season, there are good players here and really something to get a hold of. Next season could be very, very exciting."