Jermain Defoe says Rangers can achieve something special next season
By Richard Cooke
Last Updated: 06/05/19 4:16pm
Jermain Defoe believes Rangers can achieve "something special" next season and says it "hurts" to see Celtic winning an eighth consecutive title.
Rangers secured second place in the Scottish Premiership with a run of five consecutive wins, but they are nine points behind Celtic going into the Old Firm match on Sunday, live on Sky Sports.
Defoe, who scored the winner against Hibernian at Ibrox on Sunday, told Sky Sports News that he is confident Rangers can launch a stronger challenge next season.
"I'm looking forward to next season; I think it's a big year for us, hopefully we can achieve something special.
"[Manager Steven Gerrard] as a player was so successful, he won everything in the game and he's brought that winning mentality to the football club.
"I can imagine when he stepped through the door, he said to the players 'I'm just here to win'.
"You get judged on winning things, it's as simple as that. I believe, if we add a few more players, especially with the way we've been playing, that the signs are good that we can improve next season, kick on, and do something really special.
"I think we've competed all season. Obviously they [Celtic] have gone on to win the league, and that's that, it is what it is, but next season is a massive one for us.
"It's not nice when you see your neighbours winning the league, it hurts everyone at the football club.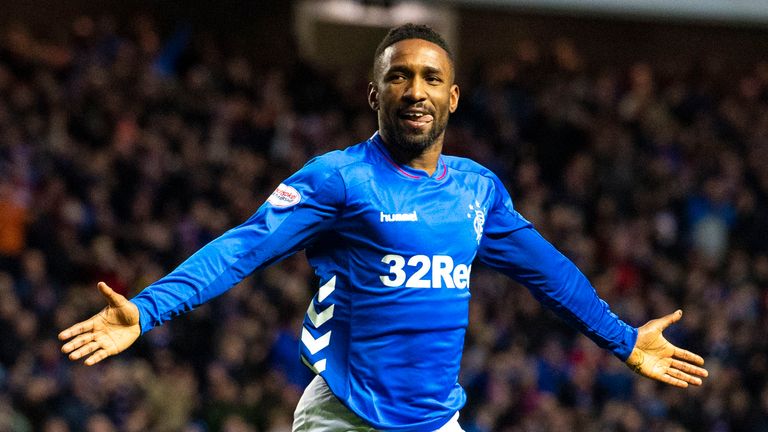 "I've only been here since January, and I know the importance already. I hope the lads have a good break and a good rest, but - at the same time, at the back of their minds - know next season is a big year for us."
The 36-year-old, who signed an 18-month loan deal from Bournemouth in January, has already tasted defeat in an Old Firm match, and he is under no illusions about the significance of the game despite the points difference with two games to go.
"I remember speaking to Graeme Souness before I even signed, and he said it's the best derby in the world to play in," added Defoe.
"It's a special game to play in, and to get that kind of experience at some point in your career is massive. It's something I will look back on and be grateful for, I'm excited.
"Obviously we've got to be confident going into the game, especially with the way we've been playing in the last five games.
"The fans want to win the game, all the players want to win the game, everyone involved at the football club want to win the game. It's the game to win, so we'll be fully prepared, that's for sure."