Businessman Jim McColl has vowed to bring stability back to troubled Rangers
Jim McColl believes his consortium is the only way forward for Rangers if further financial turmoil is to be avoided.
Last Updated: 31/10/13 7:26pm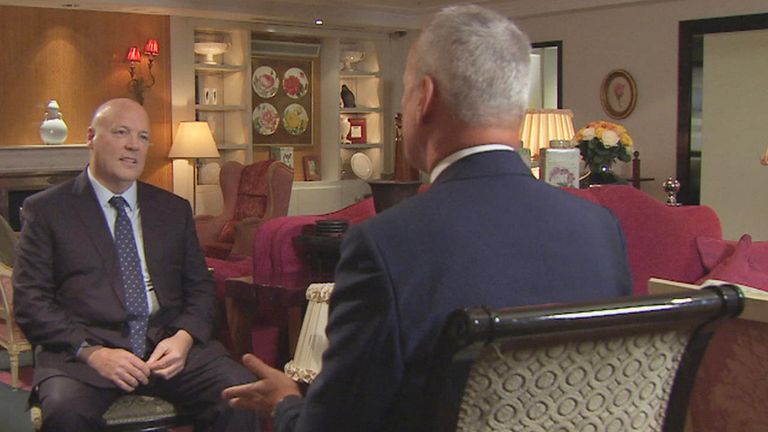 In a rare interview with Sky Sports News' Jim White, McColl, who is reportedly worth £1bn, is hopeful of heading a group capable of bringing stability to the troubled club.
The League One side announced £14.4m losses for the 13-month period to the end of June amid allegations of failings in corporate governance and McColl is desperate to stem the losses at the club, which has a reported £600,000 a month running costs.
McColl, who claims to have the backing of a number of supporters' groups, said: "I couldn't sit back and watch what was happening to Rangers.
"I couldn't just sit there and watch the thing go down the hill and perhaps into administration again.
"We have been meeting the fans group regularly because they had approached me several times. I explained to them why I couldn't get involved. I didn't want to be on the board but I was passionate about their worries and concerned about what I could do to help them.
"They kept asking me why I couldn't put my money in. But I have my own private equity firms. I have a lot of backers behind me who give me their money and trust me to focus my attention on the businesses I invest in.
"But I am still committed to bringing about this change. It was appalling what was going on. A lot of money was raised in the IPO, £22m. The expenses against that were 25% but we have done two IPOs and 5% is a more reasonable figure."
McColl believes with the right men on his team he will attract the type of investors he insists are just waiting to put their money into the Ibrox club.
"Previous investors, before Charles Green came in, who are wealthy individuals in Scotland, said 'we would love to put our money in but we are not going to put it in with Green'," he said.
"During his short time with the club Green took £1.2m out in fees and bonuses and of course he got his shares. He paid significantly less for the shares than people at the IPO.
"He asked me to give him £14m for the club which was quite rich of him as that was him saying to me 'you give that to me and I will go away'. That would be like me giving him a pools win to go and live in his place in the South of France which wouldn't feel very good.
"Rangers are better off without him. But to be fair to him he took them out of administration and raised the IPO. But that is when it started to become obvious as, as a listed company, you have to be more transparent and it became obvious that there was a lot of money flowing out of the club."
McColl, who is hoping to put together a team comprising four non-executive directors, executive directors and a chief executive, said former Liverpool MD Christian Purslow and former Rangers director Dave King have been sounded out for roles in the new consortium.
On the club's rearranged AGM, McColl added: "I think it should happen very quickly. There are only two directors on that board now and that is not good for corporate governance.
"This is the one and only time I will speak about this in public. A lot of people were complaining about what was happening but no one was stepping forward to do anything.
"I couldn't sit back and watch this club go downhill again. It's too good for that and it deserved someone to speak up."
When asked to respond, a Rangers spokesman told Sky Sports News: "I find it odd (McColl) didn't mention the two chief rebel protagonists Malcolm Murray and Paul Murray.
"Everybody in the city knows McColl's team don't have the necessary institutional backing for the AGM and this looked like a last desperate throw of the dice.
"Interesting too that Mr McColl cannot commit any more media time as well as repeatedly failing to commit any investment in the club he professes to love. Strange behaviour for an alleged billionaire."