Scottish Championship: Rangers appoint Derek Llambias as a non-executive director
Last Updated: 03/11/14 9:05am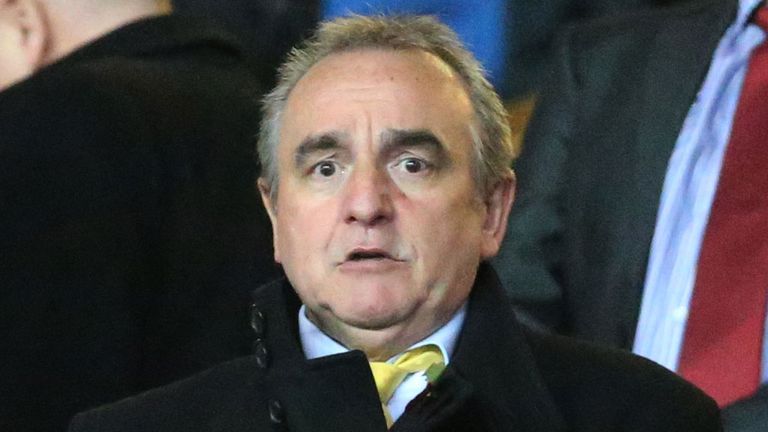 Rangers have appointed former Newcastle United managing director Derek Llambias as a non-executive director.
Llambias' addition to the board at Ibrox was announced in a statement to the Stock Exchange on Monday morning.
It is the latest move by Newcastle owner Mike Ashley to increase his influence in the running of the Ibrox club.
Rangers chairman David Somers announced last week that Llambias had been brought in as a consultant but now the club has confirmed he has taken on official duties.
The club's statement said: "The board of Rangers announces that it has appointed Derek Llambias as a non-executive director. He was nominated as a director of its choice by MASH Holdings Limited pursuant to its agreement to withdraw its requisition for a general meeting, as set out in the announcement dated October 27, 2014. Mr Llambias has been acting as a consultant to the board of Rangers since October 28, 2014.
"Mr Llambias held various positions including managing director of Newcastle United Football Club between 2008 and 2013. Prior to this he has been involved in a number of leisure and gaming businesses.
"In accordance with Rangers' Articles of Association, Mr Llambias will be subject to re-election by ordinary resolution of the shareholders of the company at the upcoming Annual General Meeting which is expected to be held in December."
Ashley owns 8.92 per cent of Rangers, runs the retail division and holds naming rights for Ibrox after buying them for £1 from former chief executive Charles Green.
But he has signed an agreement with the Scottish Football Association that limits him to having no more than a 10 per cent stake in the Glasgow club while he is in command at St James' Park.
The agreement is designed to limit his control over Rangers but it remains unclear if by appointing Llambias or Barry Leach - another of his close associates hired on a consultancy basis - he would fall foul of that deal.
The SFA announced last week that it was writing to both Rangers and Ashley to seek "clarification" on the billionaire businessman's plans for the Scottish Championship outfit.