Monaco accuse Kylian Mbappe suitors of tapping up teenager
By Stephen Turner
Last Updated: 21/07/17 12:37am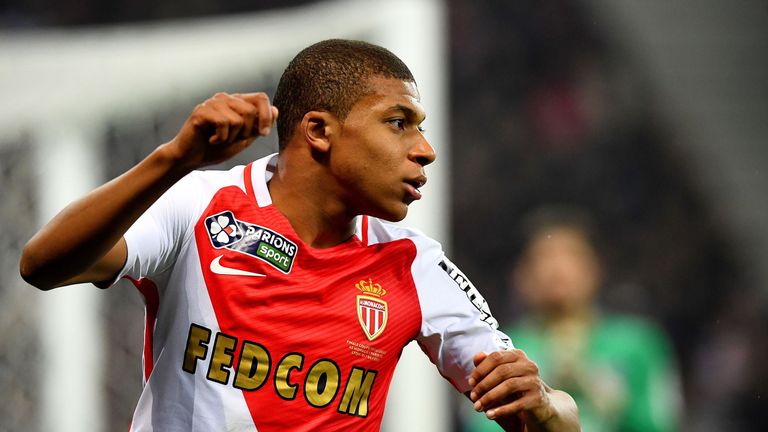 Monaco are considering a complaint to FIFA after accusing "important European clubs" of tapping up Kylian Mbappe.
Sky sources say Monaco are concerned about the alleged conduct of Manchester City and Paris Saint-Germain but not Arsenal, who are also confirmed admirers of the teenage striker.
A statement from the French champions read: "AS Monaco regretfully notice that important European football clubs made contacts with Kylian Mbappe (and his entourage) without its authorisation.
"AS Monaco want to remind these clubs that such actions are contrary to the article 211 of the Administrative regulation of the French Football League and to the article 18.3 of the Regulation of the Status and the Transfer of the Players of FIFA.
"To put an end to this unacceptable situation, AS Monaco consider asking the French Football League and the FIFA to commit disciplinary procedures against clubs offenders [sic]."
Spanish football expert Graham Hunter told Sky Sports News last week City were speaking to Mbappe's representatives in an attempt to secure his signing.
PSG, Real Madrid and Liverpool are all interested, according to sources, while Arsene Wenger has spoken openly about his wish to sign an 18-year-old who scored 27 goals last season.
Speaking in Sydney last week the Arsenal boss said: "Nobody can say they are not interested in a player of that calibre, because he has such immense quality at 18 years of age. All the clubs are open and interested in him.
"He's a player who, when he gets up in the morning, can choose where he wants to go."