Barcelona's Luis Suarez becoming best in the world, says Brendan Rodgers
Last Updated: 19/01/16 8:25pm
Brendan Rodgers believes Luis Suarez is on his way to becoming the best player in the world, and says it is "incredible" that he did not make the final three of the Ballon d'Or.
Suarez, who was sold by then-Liverpool manager Rodgers to Barcelona in 2014, is the leading scorer in La Liga this season ahead of Neymar and Cristiano Ronaldo.
However, he did not make the final three-man shortlist for the Ballon d'Or, with Neymar and Ronaldo joining eventual winner Lionel Messi.
Asked on Monday Night Football whether Suarez is close to being the best in the world, Rodgers said: "He's on his way. For him not to be in the top three of the Ballon d'Or was incredible.
"It shows there are other politics about him not being mentioned in that bracket. He left Liverpool a world-class player and he's made Barcelona better.
"I think playing with that level of player is making him a better player and he's still young enough to win that accolade [Ballon D'or]. He's certainly up there with the best. If I was to have any striker in my team, apart from Lionel Messi, then Suarez would be the one."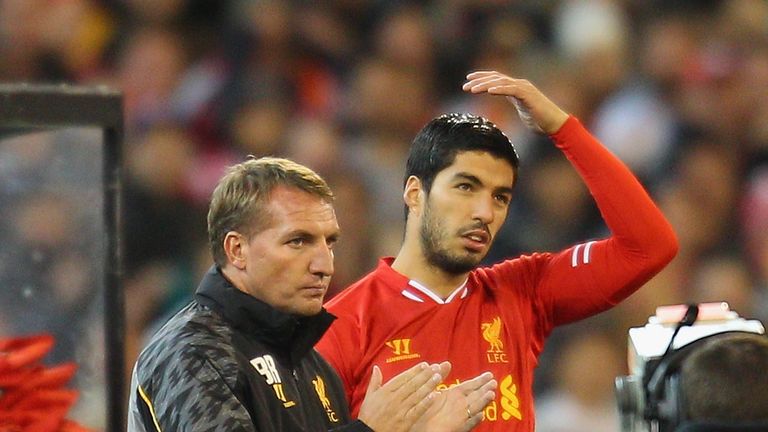 Suarez has scored 29 goals in 29 games for Barcelona this season after netting in the Champions League final win over Juventus in June.
And former Liverpool defender Jamie Carragher thinks he is the "best striker in the world".
"I think he's better than Neymar - although he's a fantastic player," said Carragher. "Suarez is now part of a three alongside Messi and Ronaldo.
"The best side I've ever seen was Pep Guardiola's Barcelona. The fact we're now talking about Luis Enrique's team being at the same level - or even some people think they've surpassed them - is because of that front three.
"What we're now talking about is this team could be better. They haven't got Puyol at the back or Xavi in midfield - it's about the front three. Pep's team had David Villa and Pedro on the wings and Messi through the middle. These two [Suarez and Neymar] in some people's eyes have taken Barcelona to the next level."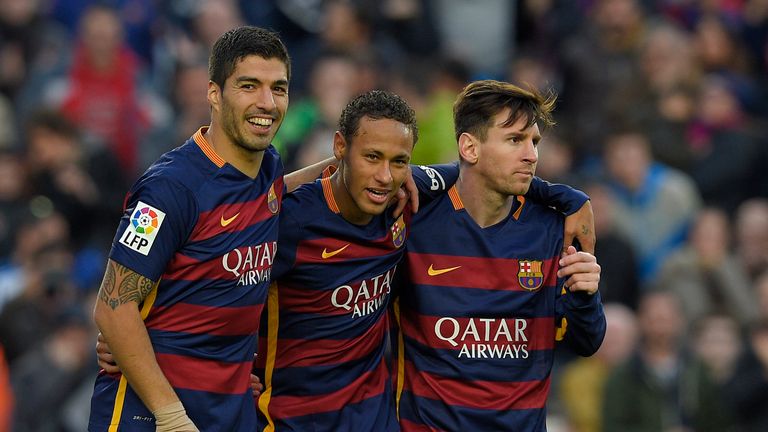 Suarez spent three years with Liverpool after joining in 2011, scoring 82 goals in 133 appearances.
Asked what differences he sees between Suarez at Barcelona and Liverpool, Rodgers said: "The only difference I see is that he plays now in a team that can maximise his ability. He's always been creative, he's always been a worker and how he presses the game.
"When he first went there, people were questioning whether he was good enough and that he was there to just feed the others. He's that type of player with his work rate and mentality that gets the respect of his team-mates very quickly."