Gareth Bale unhappy at Rafa Benitez sacking by Real Madrid
By Andy Thompson
Last Updated: 05/01/16 1:56pm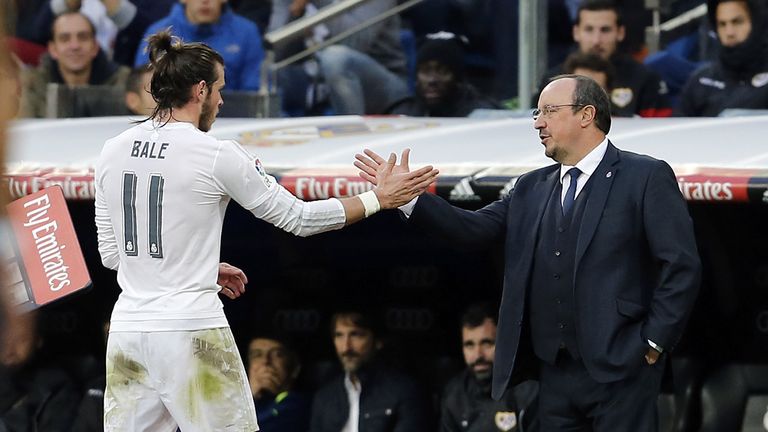 Gareth Bale is among a group of Real Madrid players who are upset that Rafael Benitez has been sacked, according to Sky sources.
Benitez was fired on Monday evening, with Zinedine Zidane immediately installed as his replacement on a two-and-a-half year contract.
Bale is said to be 'devastated' and is seeking reassurances about where he figures in Zidane's plans for the team.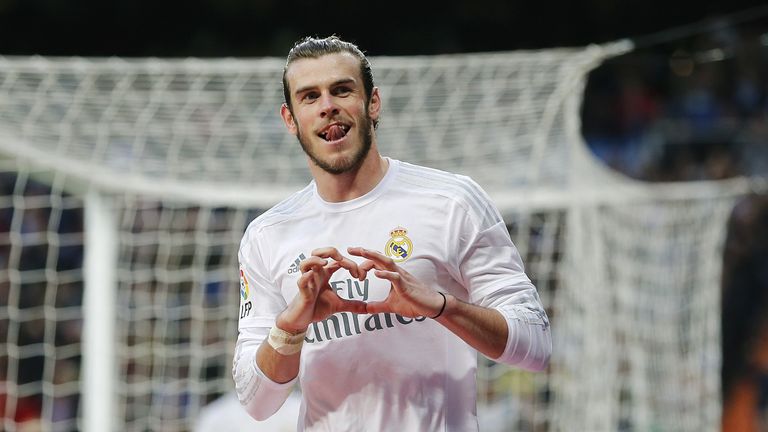 Despite Real's overall struggles, Wales international Bale was flourishing under Benitez with nine goals and seven assists in 13 La Liga appearances.
While established stars such as Cristiano Ronaldo and Sergio Ramos were said to oppose Benitez's disciplinarian approach, Bale had no such concerns and was enjoying the more central role he was deployed in.
Benitez lost only three of his 25 games and also took Real into the last 16 of the Champions League with two games to spare, but his team were outclassed in a 4-0 defeat to Barcelona in November.
A 2-2 draw to Gary Neville's Valencia on Sunday, which left Real third in the table behind Atletico Madrid and Barcelona, sealed his fate.
Zidane's ascension to manager is likely to please players such as Isco, who was largely used as a substitute by Benitez, and James Rodriguez who was unhappy with his playing time earlier in the season.
The Frenchman has been a big advocate of Bale in the past and championed his credentials prior to his world-record transfer to Madrid from Tottenham.
Bale has been constantly linked with a move to Manchester United since joining Real and the Times, the Daily Mail and the Mirror believe that might materialise now that Benitez has been sacked.
But Spanish football expert Guillem Balague does not believe Bale will depart any time soon, insisting at this stage the club and the player are intent on working together going forward. 
"Let's first ask why he was unhappy," Balague told Sky Sports Now on Sky Sports News HQ.
"A lot of the players at Real Madrid are not playing as a team, they are playing for themselves and he has been brought up with the concept of a team to work well. So he was devastated, because he felt that Rafa was actually working in that direction of making it work as a team, and for half an hour against Valencia everybody did what they had to do.
"But it's also easy for his representatives or whoever to come out and say 'next he's going to go'. Putting him in the market is the logical step if you are the representative of Gareth Bale.
"But I can tell you something - Real Madrid has no intention of letting him go. That's what they are saying at the moment but that will always be there the sense that if it doesn't work there will be clubs in England that will want Gareth Bale.
"But he wants to be there that's the latest I have heard from him. And Real Madrid want him to stay."
Last season, when Bale was in the midst of a difficult period at Real, Zidane spoke strongly against the possibility of his departure.
Speaking in April 2015, Zidane said: "Real Madrid buy the best players in the world. They don't sell them.
"Of course other clubs will be interested in him, he would improve any squad in the world, but the president has said he is not for sale and that is because he is not for sale. That will be the answer to Manchester United or any other club that asks the question.
"He was a big part of our success last season, especially in the Champions League."