Only 11 days after making his professional debut, Vinicius Junior has become one of the most expensive teenagers in the world after Real Madrid agreed to pay £38m for his services.
The La Liga champions will officially sign the 16-year-old from Brazilian club Flamengo from July 2018 when he will be 18. He is set to stay with Flamengo until 2019, although could move to Madrid earlier if both clubs agree.
So just who is the 16-year-old labelled as "one of the brightest young talents in world football" but with only 17 minutes of senior football under his belt?
Background
Born in Sao Goncalo, a suburb of Rio de Janeiro, Vinicius was spotted aged 10 by Flamengo. At 13 he was playing for the Under-15 team and was, according to Brazilian newspaper Globoesporte, the "main player" of the side. He continued to impress as he rose up through the Flamengo youth teams and also for Brazil.
In 2015, he scored six goals as Brazil won the South American U15 Championship in Colombia. Earlier this year he enhanced his reputation further with seven goals as Brazil won the South American U17 tournament for a record 12th time.
Vinicius was named as the best player at the championship and is expected to play for Brazil at the U17 World Cup in October. Globoesporte say "the U17 game does not appear to pose any challenges for him any more".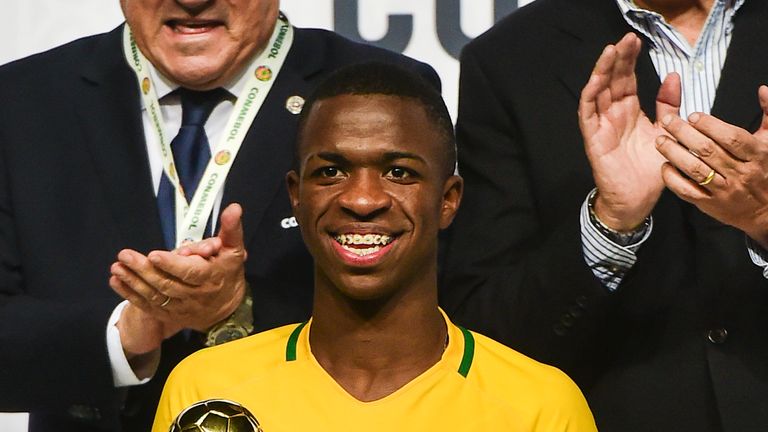 Turning pro
Flamengo signed him to a professional contract when he turned 16, just before he starred for Brazil U17s. That deal included a 30m euro buyout clause, which was increased to 45m euros when he renewed his contract earlier this month.
That renewal came just a few days after he made his professional debut as a late substitute in a 1-1 draw with Atletico Mineiro at the Maracana. While there was fanfare around his introduction, he did little to catch the eye in his eight minutes on the pitch. Since then he has only played a further nine minutes of senior football, again as a substitute in a win over Atletico Goianiense.
He has everything to become a top-quality player...he has all the tools.
"He was nervous, which is normal," said Flamengo head coach Ze Ricardo after Vinicius' debut. "But there is a lot to give. It's nice to have made his debut, but let's take it easy for the player to grow. He is young. When he has adapted he will show all his potential."
After his debut, Vinicius tweeted a photo of himself with Robinho and the message: "My dream, family and friends I managed to accomplish it. From 10 years old the club of my heart, today I made my debut aged 16."
In a story about Vinicius, Globoesporte sum him up with the headline: "Talent, irreverence, multi-millionaire: known as Vinicius, the greatest jewel of Flamengo...The 16-year-old has climbed to the professional ranks, but he needs to correct defects like a lack of movement without the ball and provoking rivals."
Meu sonho, dos familiares e amigos EU CONSEGUI REALIZAR!! Desde de 10 anos no meu clube de coração, hoje fiz a minha estreia, com 16 anos. pic.twitter.com/47hENiOrKs

— Vinicius Junior (@vini11Oficial) May 13, 2017
An expensive gamble?
The 45m euro fee for an unproven 16-year-old seems exorbitant but Real Madrid might have been pressed into action after seeing Neymar go to Barcelona and Gabriel Jesus join Manchester City.
Spanish newspaper Marca report that Barcelona, Manchester City, Manchester United, Juventus, PSG, Liverpool and Chelsea were all interested in Vinicius and were willing to pay his initial release clause.
Apparently, Neymar sent several messages to the 16-year-old, but Real Madrid "went to some lengths to convince him to choose Real over Barcelona".
Never before has such a high price been paid for such an unproven footballer
He might have taken some convincing considering he has said in an interview that he thinks Lionel Messi is better than Cristiano Ronaldo and his idol is Neymar, who himself did not move to Barcelona until he was 21 with several years of senior football at Santos under his belt. Jesus was 19 when he joined City, having played for Palmeiras for two seasons and also the Brazil senior team.
What's his style?
So what exactly are Real Madrid getting? Globoesporte say he is a "complete ball player with the ball at his feet". He is quick, skilful, smart, able to go past players and has an eye for goal.
But, as might be expected of a 16-year-old, he lacks defensive strength and has also provoked opposition fans by showboating.
A particular moment of skill at the South American U17 Championship when he flicked the ball over the heads of three Paraguay players and then brought it down on his shoulder was more than reminiscent of something Neymar did during his time in Brazil, and still does with Barcelona.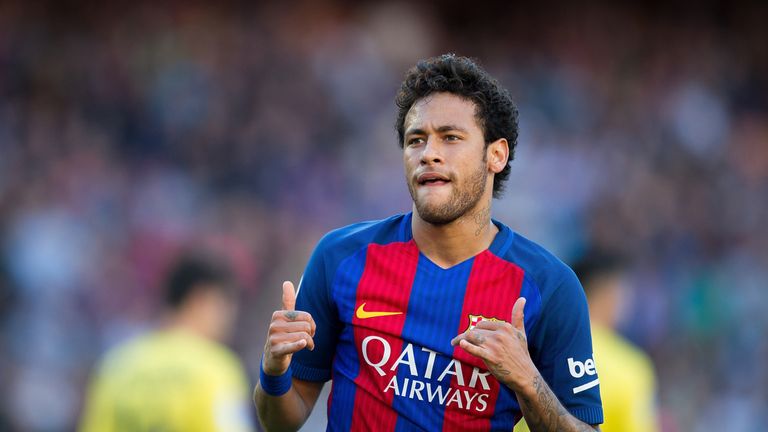 What has been said about him?
Brazil U17 coach Carlos Amadeu says Vinicius has "all the tools" to succeed, but has also urged caution.
"He has everything to become a top-quality player, to move up to the senior Brazil squad and play for the biggest clubs around the world," Amadeu told Brasil Global Tour.
"If he remains focused on his goals, he has all the tools. He has a lot of technical qualities and is showing a cool head in among all the glamour that is currently surrounding him. He has remained balanced, and if he stays like that he can reach the top.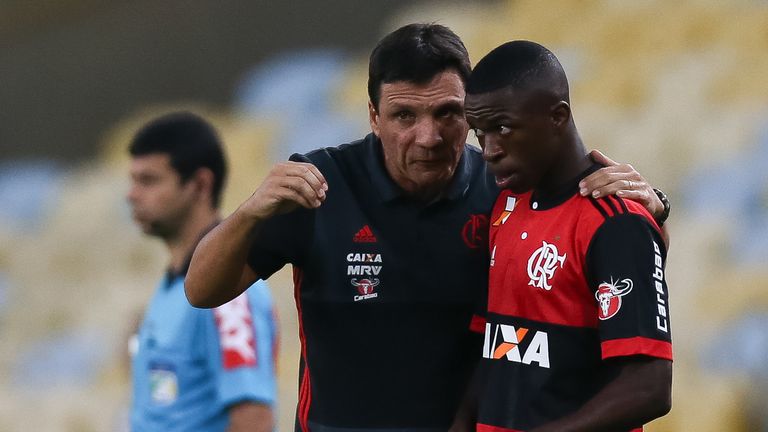 "I see him as a promising player, but we really do not have to create so much fanfare. He's a good lad, with a good head on his shoulders, and so I really hope that these people who are talking about him so much right now will also show patience when he inevitably starts making mistakes."
According to Marca, Real Madrid youth coaches that have seen Vinicius play think he is a player that only comes along "once every 10 or 20 years".
"I always describe promising players as jewels, whose carat is yet to be discovered," says Amadeu. "We have to be a little careful, because if we can give them peace of mind instead of glitz, glamour and exaggerating their talents, I think we will start to develop better players.
"We find these diamonds and we all expect they will happily be cut, be open to the knowledge that can be passed down to them, that they are thirsty for information and will learn to deal with failures. But we can never be sure, especially because of the social difficulties that our country faces, which leads to us losing so many young talents."