Gary Neville implores Valencia fans to get behind team in 'must win' Espanyol clash
By Lyall Thomas
Last Updated: 11/02/16 2:45pm
Valencia head coach Gary Neville has implored supporters to create an "electric" atmosphere and help the team beat Espanyol on Saturday.
Neville, who remains without a win from nine La Liga games in charge, watched his side draw 1-1 with Barcelona in front of a depleted crowd and crash out of the Copa del Rey 8-1 over two legs on Wednesday.
The 40-year-old insists the focus has always been on a "must win" clash at the Mestalla this weekend, with Valencia hovering just four points above the drop-zone, and he respects the decision of those fans who chose not to attend last night.
But Neville said: "We and the team need the fans more than ever on Saturday. 
"I'm grateful to those who came and supported us tonight. I'm appreciative of that. I'm also aware of the fans that didn't come tonight. It's the right of every fan to say and do what he wants.
"But I think the stadium on Saturday will be full, and it will be an electric atmosphere.
"The focus after last week and Sunday has always been the match against Espanyol, and the squad selection tonight was about making sure we had as fresh a team as possible for Saturday - that's obvious.
"We're preparing already for Saturday. We know it's a big match."
La Liga and European champions Barcelona, meanwhile, set a club record of 29 games unbeaten in all competitions by avoiding defeat at the Mestalla.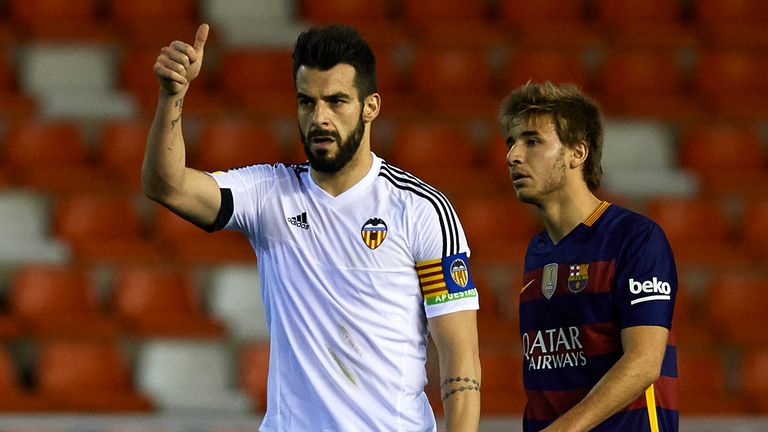 Head coach Luis Enrique, who left 11 regulars back in Barcelona with an eye on his side's busy upcoming schedule in La Liga and the Champions League, said his team deserved credit for reaching yet another final.
"I'm very happy to be in the final. Everyone at Barca has had things so good in recent years we are used to reaching the final, but it is hard to be there every year," he said.
The Catalan side will face either Sevilla or Celta Vigo in the final on May 21, with the former side the favourites to join Barcelona after winning the first leg 4-0.