Serie A preview: Philippe Mexes keen to end AC Milan slump
Milan defender Philippe Mexes is aiming to build on Sunday's draw against Lazio with a win over Fiorentina on Wednesday.
Last Updated: 24/03/14 1:17pm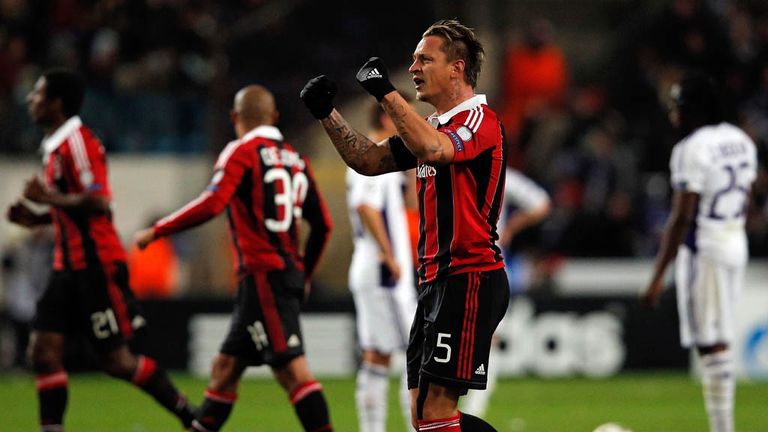 Milan managed to take an elusive point from their 1-1 draw at Lazio to avoid a fourth straight defeat, but other results on Sunday meant the 18-time champions slumped to 12th in the table.
Mexes reiterated the players' backing of coach Clarence Seedorf and believes his side have the character to pull through their current situation, which sees them 11 points adrift of the nearest Europa League place with nine games to play.
"This is a group of players that wants to give everything it has and we're right behind the coach," Mexes told the club's official website.
"We're very united and I mean that with all sincerity. We'll always give everything. Maybe we didn't play that well (against Lazio) but we showed the character necessary to get out of this situation.
"I feel great with all the players on the team and there's healthy competition in the squad. It's a particular moment that we're going through and we won't get out of it without the fans behind us. We know what this shirt means to them.
"We'll do everything we can to get out of this situation and we're ready for the match against Fiorentina. We want to bring home a positive result."
Elsewhere, Juventus coach Antonio Conte has no such concerns as his side sit 14 points clear of second-placed Roma at the top of the Serie A standings following their 1-0 win over Catania.
Conte believes his side have struck the right balance - despite the number of fixtures - and are now reaping the benefits, which they will aim to harness again when they face Parma on Wednesday.
"We have an improved a level of maturity, awareness and humility and it is thanks to this that we are getting all of these points, even if the opponents know us better," Conte told the club's website.
"Playing every three days we cannot go at our peak, but now we are able to handle what is required.
"This is a difficult time in terms of injuries and those that are playing are always the same, but they all are proving to be great men as well as great players."
Meanwhile, Hellas Verona striker Luca Toni is hoping to bounce back from a 5-0 thrashing by Sampdoria and end a four-game winless run in the league when his side travel to Cagliari.
"Over a championship there are moments of mixed fortunes," he told www.tuttomercatoweb.com.
"I think each player has their own motivations to give their best. It would really be a shame to throw it (the strong start to the season) away.
"Tomorrow we will concentrate on Cagliari. It's hard after these setbacks but we have to react. Verona must return to how we played at the start of the season and I think we can do it."
In other games, Roma play Torino on Tuesday while Wednesday sees Atalanta host Livorno, rock bottom Catania play Champions League-chasing Napoli and Chievo face Bologna. Lazio travel to Genoa and Sampdoria are at strugglers Sassuolo, while on Thursday Inter Milan play host to Udinese.