Zenit St Petersburg midfielder Igor Denisov sorry for walking out over Hulk wages
Igor Denisov has admitted he was wrong for walking out on Zenit St Petersburg in protest at Hulk's salary.
Last Updated: 01/11/12 12:10pm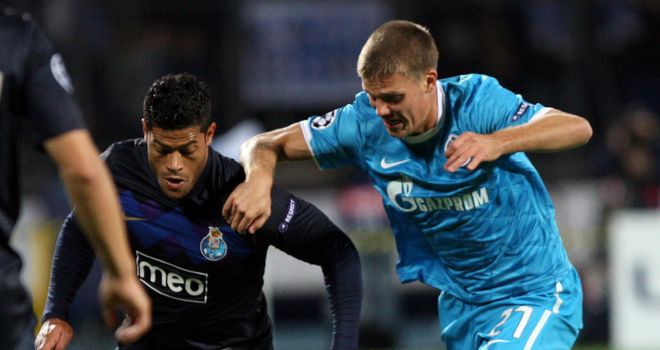 Zenit paid out a reported €100million (£80.2m) to sign Hulk and Axel Witsel in the summer and the Brazilian is reportedly on a contract worth more than €6m (£4.8m) per year.
Denisov had been in the process of renegotiating his own contract that runs through to 2014 and decided to go on strike as he felt the club was showing disrespect to players who had helped win the domestic title for a second straight year last season.
He has not played for Zenit since late September after refusing to train, but it has now been confirmed by the club that he has apologised.
"I have a valid contract - I both have to and want to see it off until the end," the club quoted Denisov as telling the team executives and coaches in a statement released on Thursday.
"I have grown and become a professional while playing for Zenit and would like to bring benefit to this club."
On his protest, he added: "I was wrong in this situation. I was driven by my emotions, and in the end failed to help my team-mates."
The statement added that Denisov had been asked to train with the club again.
Zenit won three of the four championship matches they played in Denisov's absence while also securing a first Champions League victory with a 1-0 defeat of Belguim's Anderlecht.
Hulk, meanwhile, has scored just one goal in five matches and picked up four yellow cards.