Champions League: Chelsea striker Samuel Eto'o hopes to be fit for PSG clash
Samuel Eto'o has insisted he will work as hard as he can to try and get fit for Chelsea's clash with PSG.
By Patrick Haond
Last Updated: 24/03/14 3:57pm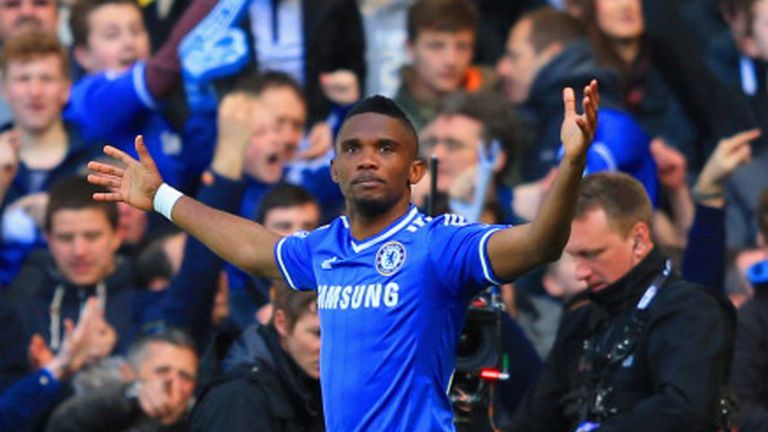 Eto'o limped off with a hamstring injury after just 10 minutes of Saturday's game against Arsenal, and Jose Mourinho later revealed that he was likely to be sidelined for around two weeks.
Chelsea travel to Paris a week on Wednesday (April 2) for the first leg of their UEFA Champions League quarter-final, and Eto'o is desperate to be involved in such a key contest.
The 33-year-old striker came close to joining PSG earlier in his career and has always admired the club.
He told TV channel beIN Sports: "I always dreamed of playing at Parc des Princes. Unfortunately, my injury may not allow me to be there.
"Can I get fit enough? Time will tell. I can't say anything but I will work to be there.
"I could have played for PSG when Luis Fernandez [2000-03] was coach. He bought me dinner but the clubs [Eto'o was at Real Mallorca] didn't find an agreement. It's a shame because I would have liked to play for PSG."
Eto'o still had time to score against Arsenal at the weekend and set them on their way to a 6-0 victory before limping off, and he is staying focused on performing as well as he can in every game.
He does not want to discuss Mourinho's recent comments, when the manager criticised Chelsea's strikers and questioned Eto'o's age in a conversation thought to be private but leaked by the French media.
Eto'o said: "My 'problem with Mourinho'? Don't talk about it. I score goals. I have not stopped doing it but I cannot do that if I stay on the sidelines. Even though I am old, I still know how to score."
Asked how Mourinho differs from other managers he has played under, Eto'o said: "This is a difficult question. There is something in his approach to a match that the others don't have but I cannot say because we want to win the Champions League.
"He becomes someone else in the build-up to matches. Like any human being, he sometimes loses his mind. He proved it like when he did it with me [by calling me old] but he takes all the pressure on himself."