Dele Alli must learn to curb his temper or risk World Cup heartbreak, says Darren Anderton
By PA Sport
Last Updated: 07/10/17 1:59pm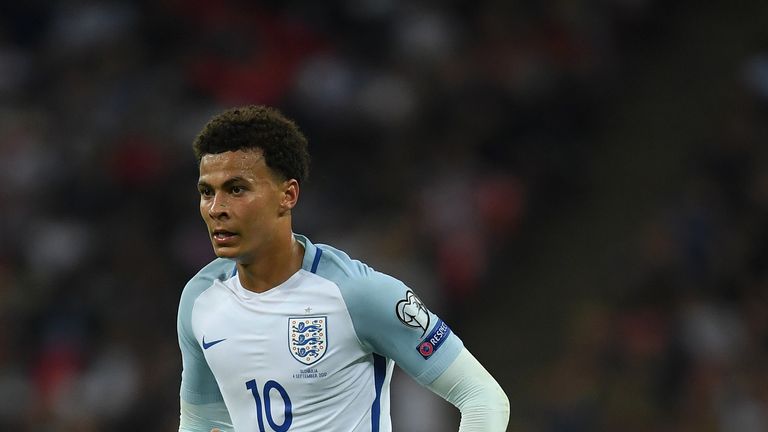 Dele Alli could repeat David Beckham's mistake of being sent off at a World Cup unless he heeds the warnings about his temperament, according to former Tottenham and England midfielder Darren Anderton.
Alli is available for England's final qualifier against Lithuania on Sunday after missing Thursday's win over Slovenia through suspension.
The Spurs playmaker was handed a one-match ban by FIFA for making an offensive gesture against Slovakia last month.
The incident continued Alli's unfortunate knack of getting into trouble, with the 21-year-old already sitting out the first three games of Tottenham's Champions League campaign following a dangerous tackle made back in February.
Alli may be one of his country's most promising players but Anderton has drawn parallels between him and Beckham, who was sent off in England's World Cup's last-16 defeat to Argentina in 1998.
"I remember Becks was a special talent and he had that bit about him," said Anderton, who played 30 times for England.
"I remember Glenn Hoddle even warning Becks at Le Tournoi the year before. He got booked in a couple of games for something a bit petulant and Glenn said: 'if you do that next year it could cost us'.
"Now, of course, the next year it happened. I don't say it was down to Becks, I think it was down to poor refereeing and gamesmanship.
"But Dele needs to listen and be aware it can happen."
Alli has scored three goals in nine appearances for Spurs this season but has not performed to the best of his abilities and Anderton feels he may be feeling the pressure of being in the spotlight for the wrong reasons.
"I think people should give him a bit of a break," added Anderton.
"He's only young. It's ridiculous what he's done already at his age and part of why he's done that is because he has that bit of devilment in him.
"At some point maybe you need to curb that but my argument would be when Wayne Rooney curbed his anger and temper he probably wasn't quite the same player.
"He just needs to channel it in the right areas and be told, 'we can't have you missing games and being sent off. We need you on the football pitch'."
Watch highlights of Lithuania v England on Sunday night, from 10pm on Sky Sports Football.