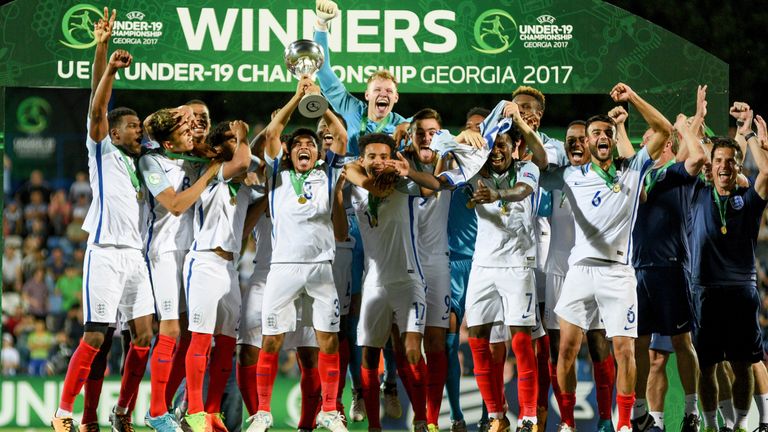 England have won the 2017 Maurice Burlaz Trophy for the first time after the performance of their youth teams over the past two years.
The award goes to the best-performing nation in youth competitions over the two previous seasons.
After reaching the European Championships semi-finals in 2016, England's U19s beat Portugal 2-1 to win the 2017 event. The U17 team were runners-up in the same year and made the last eight the previous year.
England U20 manager Paul Simpson was presented with the prize, which is named after the former vice-chairman of the UEFA Youth Committee Maurice Burlaz, in Nyon on Wednesday.
Simpson told UEFA.com: "We're delighted. It's a huge honour for everybody connected with English football. A lot of positive work has been done over many years. It's not just the teams who have been involved - it's the coaches, the support staff, and all of the grassroots coaches who have played a part in the pathway for these players.
"I think the Premier League and Football League are doing a lot of good work with their academy players, and we are benefiting from that."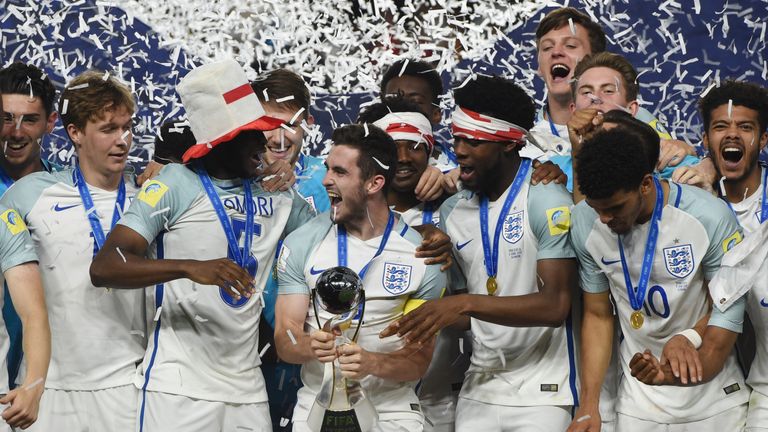 England are just the sixth country to win the trophy in its 17-year existence after finishing two points above Portugal.
UEFA president Aleksander Ceferin said: "I would like to congratulate everyone at the English Football Association who has been involved in England's successes in our competitions over the last two seasons.
"This prize is a testament to the fantastic work you have all been doing at youth level, and it is a promising sign for what could be achieved by your senior national teams in the future."
It has been an impressive year for England's youth teams. Simpson's U20 team won the first of England's two World Cup's in 2017 in the summer. The success was repeated by the U17s in October.
They will be hoping for another successful year in 2018 when they host the U17 World Cup finals in May.