Joe Hart admits England's No 1 position for the World Cup is up for grabs but hopes to have his place back after returning to the West Ham side.
England manager Gareth Southgate has played Hart, Stoke City's Jack Butland and Everton's Jordan Pickford in the last three internationals.
The trio are also joined by Burnley's Nick Pope as Southgate opted to select four goalkeepers in his squad for Friday's friendly against the Netherlands and Italy's visit to Wembley on Tuesday.
Hart made his first Premier League appearance in four months in West Ham's 3-0 home defeat to Burnley earlier in March.
"Since Gareth has been in charge he's always said I've performed really well for him," Hart, the most experienced member of Southgate's England camp with 75 caps, said.
"He seems like a loyal guy but the shirt is up for grabs. There's three goalkeeper places and there's some people performing well in the Premier League.
"Hopefully I've got my place back now and we'll see where we go with that.
"For now I'm just focused on this camp and being a part of a squad that I've been a big part of for a long time now."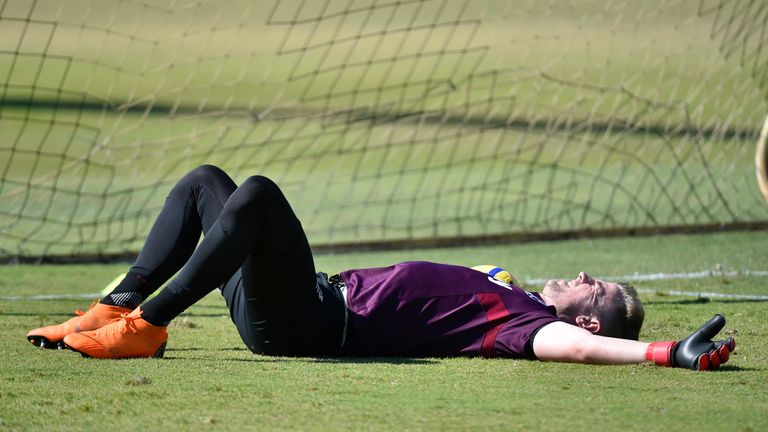 I've worked hard every day of my life and I'll continue to do that whether I'm playing or not.
Hart's absence from the West Ham team have led to calls for him to be left out the England set-up, but the 30-year-old insists criticism will not impact his performances.
"I'm not going to let that ever affect me," said Hart. "The position I'm in if you let confidence dip it's going to affect you badly.
"I'm me, I'm going to keep working hard, I've worked hard every day of my life and I'll continue to do that whether I'm playing or not."
Hart, Ashley Young and John Stones, together with a number of England Women's players and junior players, helped to plant 14 oak trees at St George's Park as a living memorial to the 14 England footballers who were also World War One soldiers.
It was part of a bigger project from the Woodland Trust, which is planting hundreds of trees in England, Scotland, Wales and Northern Ireland in memory of footballers who signed up for duty, and fell while serving their country.