World Cup: England squad arrives in Miami ahead of Ecuador and Honduras friendlies
England's World Cup squad have arrived in Miami to continue their preparations for the tournament in Brazil.
Last Updated: 02/06/14 8:04am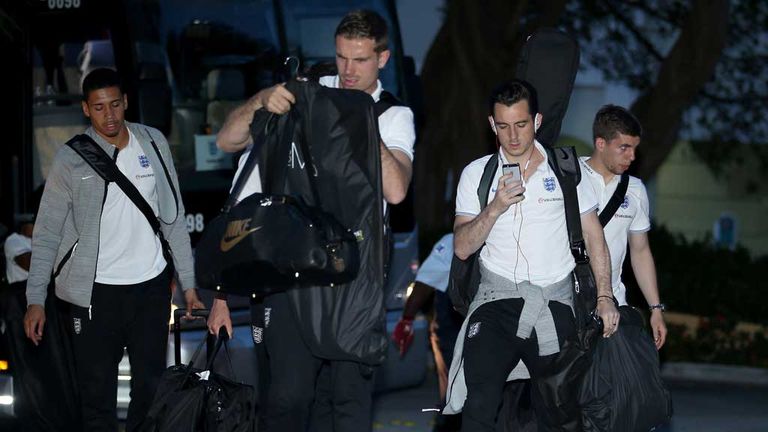 The players touched down in the early hours of Monday morning (UK time) following a nine-hour flight from Luton.
The first thing they did after checking in to the Mandarin Oriental hotel in the Brickell Key area of the Florida city was to stretch their legs by going for a short walk.
They will spend the next week acclimatising and they will play two warm-up games - against Ecuador on Wednesday and Honduras on Saturday - before they fly to Brazil, where they begin their World Cup campaign on June 14 against Italy in Manaus.
England manager Roy Hodgson, who said the journey was "very good", has to submit his final 23-man squad to FIFA on Monday, although it can be changed if there is an injury right up to the first game.
Manchester United's Phil Jones remains the only injury concern at present and standby players John Stones and Jon Flanagan have also travelled to Miami.
Hodgson says he will field an experimental line-up against Ecuador in the first friendly in the Sun Life stadium, which is the home of NFL side the Miami Dolphins.
"Our plan really on Wednesday is basically to start the people who didn't start on Friday (against Peru)," said Hodgson, meaning the likes of Raheem Sterling, Luke Shaw and Rickie Lambert are likely to face Ecuador.
It would only be Sterling's second start if he is given the nod, and Hodgson is hoping he can build on a lively appearance as a substitute against Peru.
Hodgson does not want to restrict the Liverpool youngster at this stage of his development and believes he has so much talent he can perform whatever job is required by the team.
He said: "I still wouldn't say where Sterling can be most effective for England. Peru was only his third appearance and it would be stupid for me to say on the basis of just a few minutes, 'Raheem Sterling, this is your best position'.
"In fact, I'm not even certain I want Raheem Sterling to have a best position necessarily. I want him to be able to play in the position where we need him.
"On Friday, we brought him on behind the front player, but then we wanted to bring Ross Barkley on so we moved him wide and he did OK there.
"He's a good player and I'm sure he's going to be a very big player for England going forward as well."
There has been a lot of excitement around the young players selected by Hodgson, but the England boss does not want expectations to get unrealistic.
He added: "I would rather like to see some of these younger players treated with a little bit more caution.
"I think it's very dangerous to start building them up and saying, 'England are going to do -terrifically well because of them'.
"There's a lot of other players in our squad who are going to have to take responsibility - and hopefully the younger players will come in on the back of it and put the icing on the cake."
Meanwhile, Hodgson has promised that his players will sing the national anthem loud and proud this summer.
He said: "You very rarely play an international match against opponents and they haven't got their hands on their hearts and singing their anthem as loud as they can, and we've made a decision that that's what we're going to do too, because we are proud, we are happy to be wearing that England shirt.
"We have been doing it for two years. We are proud to be England players and, in my case, England manager, so when the national anthem comes up it's an obvious one for me that we sing it."