Spain's success over the last decade was built around a Barcelona core, but that influence is diminishing despite Luis Enrique being in charge. What's changed?
When Spain won the World Cup in 2010 and the European Championships in 2012, over half of their starting line-up in those finals were Barcelona players, highlighting the influence of the Catalan club on the national team.
But for this round of internationals, just one Barcelona player, Sergio Busquets, is present in the Spain squad - and he didn't even make it onto the field for their 4-1 win over Wales on Thursday night.
Why are Barcelona players no longer at the heart of the Spain team? And which club is having a major influence now? We take a look...
Where have all the Barcelona players gone?
Between 2008 and 2012, Spain won two European Championships with a World Cup sandwiched in between, playing a brand of football that mimicked Barcelona's renowned 'tiki-taka' style of the time.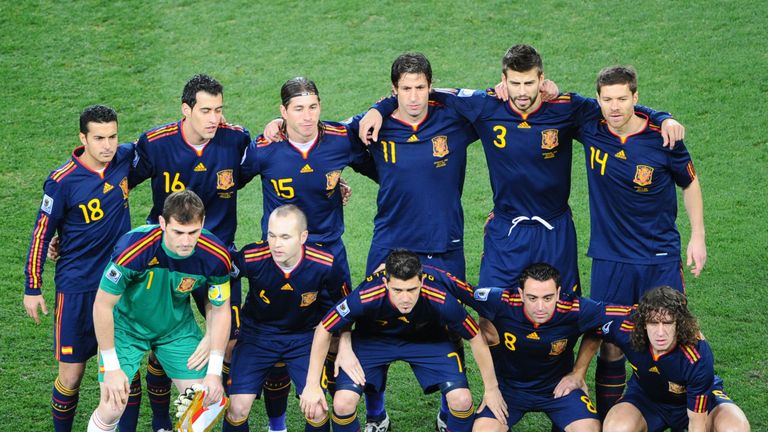 In 2010, Spain's starting line-up against the Netherlands in the World Cup final contained six Barcelona players - Carles Puyol, Xavi, Andres Iniesta, Gerard Pique, Sergio Busquets and Pedro - along with a seventh in David Villa, who had joined the club from Valencia before the tournament.
A couple of years later, Xavi, Iniesta, Pique and Busquets all started in the 4-0 European Championship final win against Italy, as did Cesc Fabregas and Jordi Alba, who like Villa had agreed a move to Barcelona for the following season, this time during the competition. Puyol and Villa missed out through injury.
Fast forward to the present day and only one Barcelona player is currently in the Spanish squad: Busquets. Following a disappointing World Cup in Russia, Iniesta and Pique retired from international duty with 131 and 102 caps respectively.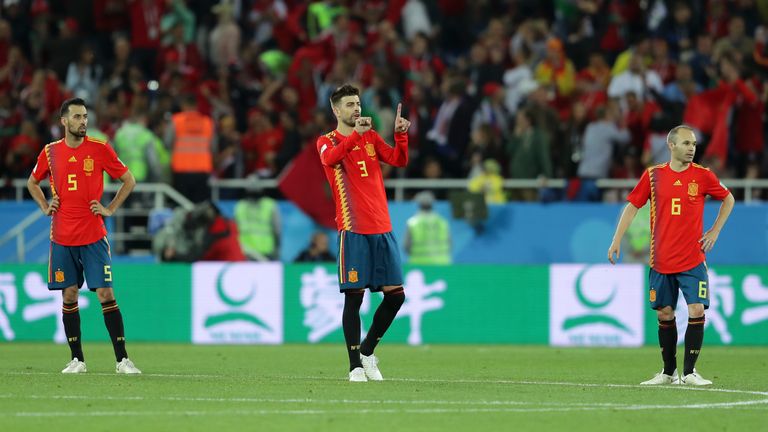 Alba, meanwhile, has been ostracised under Luis Enrique with Marcos Alonso (Chelsea), Jose Gaya (Valencia) and Jonny Otto (Wolves) all seemingly ahead of him in the pecking order. It has been speculated that Luis Enrique fell out with Alba during the manager's final season in charge of Barcelona, but the Spain boss says his omission is for 'sporting reasons'.
But there are other factors at play when it comes to Barcelona's reduced influence on the national team...
Spain's squad vs Wales and England
David De Gea (Manchester United), Kepa Arrizabalaga (Chelsea), Pau Lopez (Real Betis), Cesar Azpilicueta (Chelsea), Jonny Otto (Wolves), Marcos Alonso (Chelsea), Jose Gaya (Valencia), Nacho Fernandez (Real Madrid), Sergio Ramos (Real Madrid), Raul Albiol (Napoli), Marc Bartra (Real Betis), Sergio Busquets (Barcelona), Saul Niguez (Atletico Madrid), Koke (Atletico Madrid), Thiago Alcantara (Bayern Munich), Suso (AC Milan), Rodri (Atletico Madrid), Marco Asensio (Real Madrid), Dani Ceballos (Real Madrid), Alvaro Morata (Chelsea), Paco Alcacer (Borussia Dortmund), Iago Aspas (Celta Vigo), Rodrigo Moreno (Valencia)
Is La Masia still providing Barcelona with first-team players?
The steady stream of players making the step-up to Barcelona's first team from the club's La Masia academy during Pep Guardiola's time in charge (2008-2012) has slowed to a trickle in subsequent years.
In 2008/09, Busquets and Pedro were both promoted to Guardiola's starting XI from Barcelona's B team, while Pique was installed as a first-team regular after re-joining the club from Manchester United.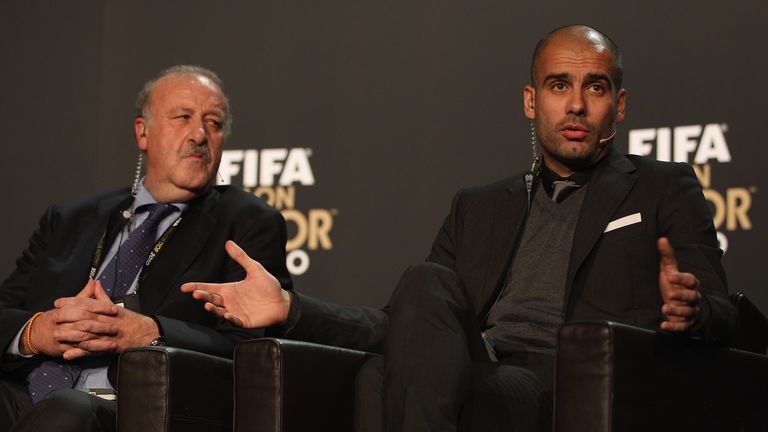 Thiago Alcantara was introduced to the squad from 2010 onwards, while others such as Bojan Krkic, Jeffren Suarez, Marc Bartra and Isaac Cuenca, were all given plenty of opportunities to impress. When Barcelona thrashed Real Madrid 5-0 in November 2010, eight of their starting XI had come through the club's academy, and all but Lionel Messi were eligible to play for Spain.
There is far less of a homegrown feel to Barcelona's current side, however. While Pique, Alba and Busquets remain part of the furniture, the squad hasn't been refreshed with homegrown talent for some time. Back-up roles are instead being handed to foreign stars brought in from elsewhere.
Sergi Roberto is the last academy player to properly establish himself in the Barcelona squad and his breakthrough came back in 2013.


Has Barcelona's transfer policy shifted?
While Barcelona's success in the Guardiola golden era was centred around a clutch of supremely gifted La Masia graduates, the team was supplemented further by Spanish players brought in from other clubs.
Barcelona's Spanish signings since 2013
Only five of Barcelona's last 28 signings have been Spanish - Bojan Krkic, Aleix Vidal, Denis Suarez, Paco Alcacer and Gerard Deulofeu. Suarez is the only one still contracted to the club.
Pique, Fabregas and Alba all spent formative years in Barcelona's academy but developed their games at Manchester United, Arsenal and Valencia respectively, before returning to the Nou Camp as established professionals.
Guardiola also signed Villa - a mainstay of the Spanish squad during their trophy-winning years - from Valencia to replace Zlatan Ibrahimovic in 2010 after the pair's relationship broke down.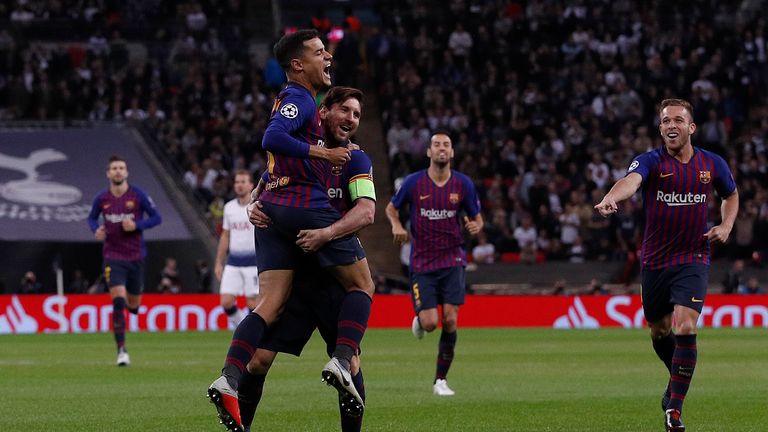 Since 2013, though, just five of Barcelona's 28 first-team signings have been Spanish - Bojan Krkic, Aleix Vidal, Denis Suarez, Paco Alcacer and Gerard Deulofeu.
Of that quintet, only Suarez remains at the club and the playmaker is a peripheral figure and not in contention for the national team. Bojan and Deulofeu were academy graduates bought back to be sold on at a profit, while neither Vidal nor Alcacer left much of a mark and now turn out for Sevilla and Borussia Dortmund respectively.
So, which club has taken Barcelona's place?
Quite amazingly considering Barcelona, Real Madrid and Atletico Madrid have generally provided the bulk of the names in the Spanish squad recently, Luis Enrique's latest selection of 23 players is drawn from 13 different clubs.
Real Madrid and Chelsea (with four apiece) and Atletico Madrid (three) are the best-represented clubs in Spain's squad, yet the cosmopolitan nature of Luis Enrique's new-look Spain is shown by players from Wolves, Borussia Dortmund and AC Milan being selected.
Interestingly, it is now Real Madrid - one of Luis Enrique's former clubs as well as Barcelona - that look to be the club around which the Spanish national team will build in the near future. Were it not for injury, Dani Carvajal and Isco would have joined Nacho Fernandez, Sergio Ramos, Marco Asensio and Dani Ceballos in Enrique's squad. Alvaro Odriozola, Jesus Vallejo and Lucas Vazquez have all been called up in recent times too.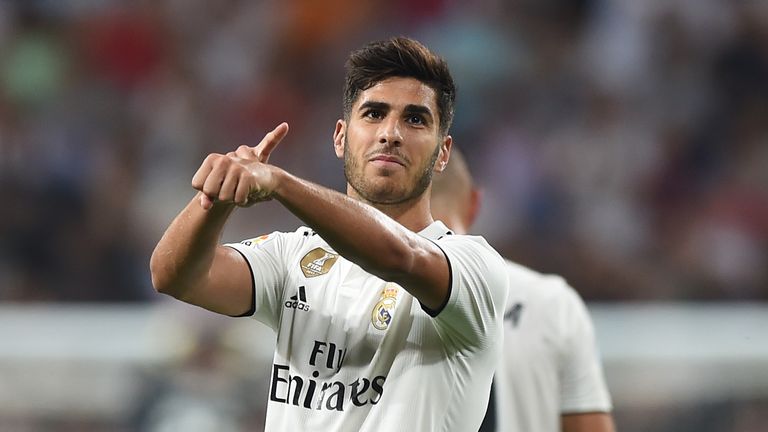 Ceballos, Vallejo, Asensio and Odriozola have all been bought in from elsewhere while Vazquez, Marcos Llorente and Mariano Diaz - capped by the Dominican Republic but able to represent Spain - all spent time away from the club after coming through their Castilla side.
Not too long ago, it was Real Madrid whose 'Galactico' policy was seen as detrimental to the national team and Barcelona's integration of youth players the opposite. To say that the roles have completely reversed might be over-stretching it a touch but there is no doubt that in the near future Spain will lean far more heavily on Real than Barca.