World Cup 2014: Spain coach Vicente del Bosque reveals he will decide on his future next week
Last Updated: 24/06/14 6:29am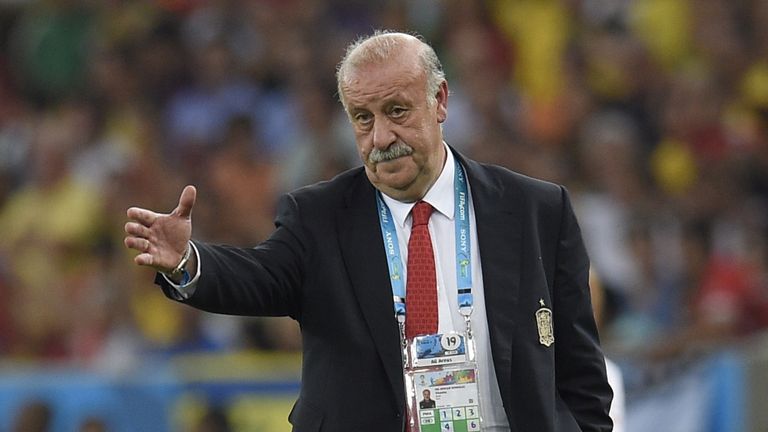 Spain manager Vicente del Bosque will make a decision on his future in the next week but revealed when he substituted goalscorer David Villa in the 3-0 win over Australia he was unaware it was his last international.
Villa, who is leaving Europe to play Major League Soccer with New York City - via a loan spell at sister club Melbourne City - was visibly upset when he was replaced by Juan Mata 10 minutes after half-time.
The 32-year-old had announced before the tournament he was quitting international football but that came as news to Del Bosque, who must now consider his own future after a disastrous World Cup saw his side eliminated after just two matches.
"He (Villa) certainly seemed very annoyed. He said it was his last game, but I didn't know that. I'm sure he was upset," the Spain boss told his post-match press conference.
"All I was thinking about is that it was time to kill off the game and we did that."
On his own future he added: "I'll decide in the next few days or next week. There's no rush. Then we'll talk about it.
"The president, the general secretary and I will talk and look for the best solutions for our football, sensibly and sensitively.
"We will do what is best for our football."
A raft of retirements are expected as Brazil brought the end of a glorious era of Spanish football but Del Bosque said it was not necessary to start again from scratch.
"There's still players who can help the national team a great deal and we must remain aware of that. I won't rule out anyone because of age," he said.
"We've been in control of the national team for six years now and we've topped the FIFA rankings.
"This group of players has been a lesson for everyone, they've been really good players and now it's been our time to lose.
"We have to move on to another (European Championship) qualification phase next and whoever the next manager is, the future is safe.
"We must remain calm in the face of the future."
On the result against the Socceroos - which saw Fernando Torres and Mata add to Villa's first-half goal - Del Bosque added: "We've ended our participation in the most dignified way, the players have pulled out all the stops and later, we took control of the game."