Gilberto Silva knows what it takes to win a World Cup with Brazil. He played a key role in his country's success in 2002, providing the perfect foil for Ronaldo, Ronaldinho and Rivaldo, and he thinks Real Madrid star Casemiro can play a similar role for the class of 2018 in Russia.
Casemiro's rise to being an integral figure for Real Madrid and Brazil has been nothing short of remarkable.
A bit-part player at the Bernabeu following his move from Sao Paulo, Carlo Ancelotti sent the Brazilian out on loan to Porto and he remained out of favour after Rafael Benitez replaced the Italian.
It was not until Zinedine Zidane took control at Real that Casemiro's career began to flourish. Likened to Zidane's former team-mate Claude Makelele, he has been one of the first names on Zidane's teamsheet in recent seasons, playing a crucial role in helping the club to three successive Champions League triumphs in 2016, 2017 and 2018, a La Liga title, two European Super Cups and two FIFA Club World Cups.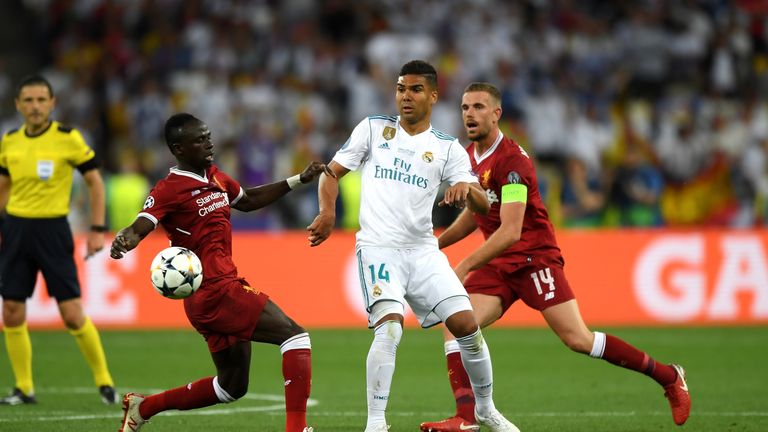 And Gilberto, who helped Brazil to their last World Cup title in 2002, is hoping the 26-year-old, who made his Brazil debut as a 19-year-old in 2011, can fill the void he left to deliver a first success in 16 years.
"For me, Casemiro is one of the best, if not the best in the defensive midfield position," the former Brazil midfielder told Sky Sports.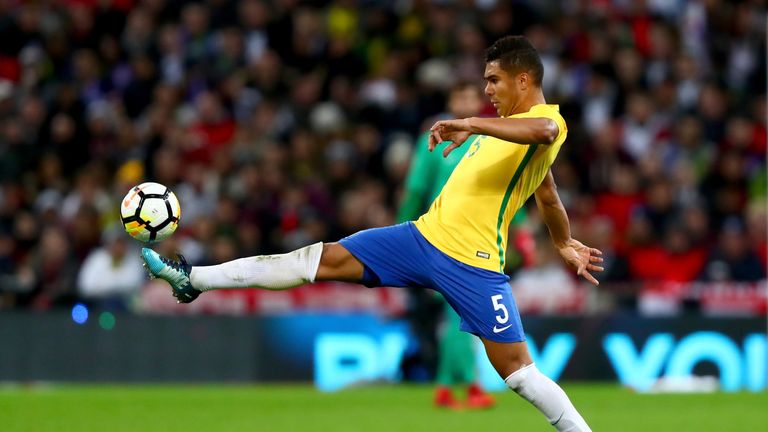 "Since my retirement all the players that have played in this role for Brazil have played differently. With all respect to all of the other players that have played there, their style was completely different. At one point we had Paulinho playing with Ramires and they have the same style of play.
"Neither of them played in the holding midfield role, however, now with Casemiro they have someone who holds the position and protects the back four. It frees up the attacking players.
"It also frees up Paulinho," he added. "He can attack more and the combination between the two players works well. Casemiro's role gives Paulinho the freedom to move forward and that's good for Brazil because he's very good when he gets himself into the box to get on the end of crosses."
Brazil World Cup Fixtures
v Switzerland, June 17
v Costa Rica, June 22
v Serbia, June 27
It is a role that Gilberto knows all too well.
He had not been expected to feature in Brazil's starting line-up at the 2002 World Cup in South Korea and Japan, but an injury to Roma's Emerson on the eve of the finals saw him plunged into Luiz Felipe Scolari's starting line-up.
The then-Atletico Mineiro man went on to play every minute as Brazil claimed their fifth World Cup triumph.
Brazilian magazine Veja hailed Gilberto's contribution, describing him as the man that "carried the piano for Ronaldo, Ronaldinho and Rivaldo to play their tunes on" and his performances eventually earned him a move to Arsenal, where he played a similar role to become part of the club's Invincibles.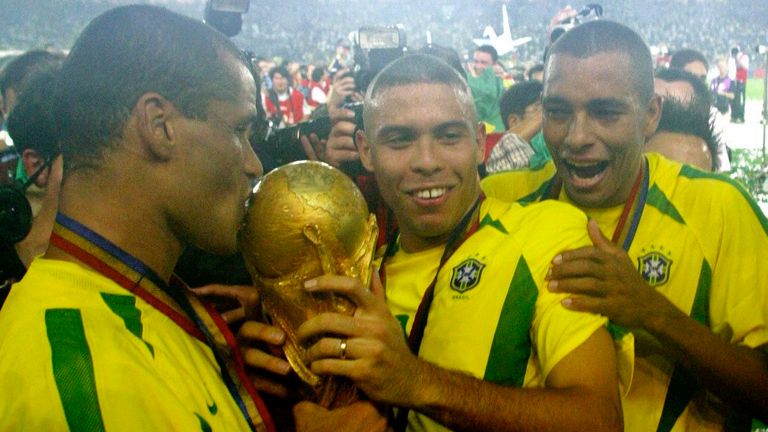 "For me it was an easy job to do," he said. "I understood very early on which position I had to play.
"I knew I had to work hard because, in truth, I didn't have the ability of Ronaldinho, Rivaldo and Ronaldo. However, I had defensive skills to play in my position. I didn't mind doing the hard yards because I knew we could rely on the guys up front.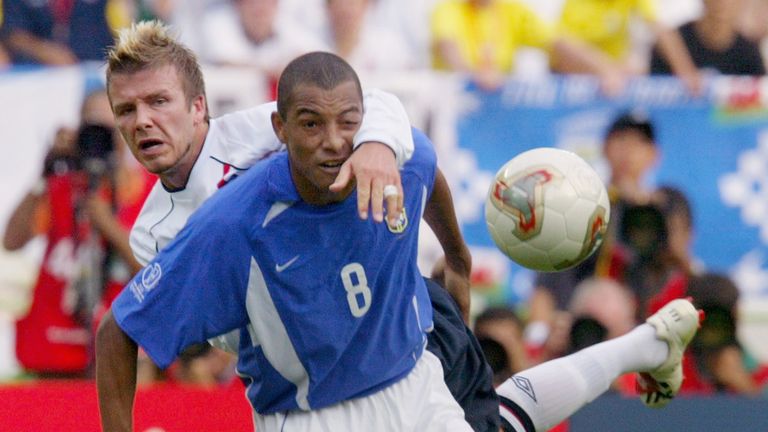 "For them it was the same because they were free and could wait for the right moment to make their point up front. They knew they had the right support at the back."
Just like Ronaldinho, Rivaldo and Ronaldo had the protective shield of Gilberto, Neymar, Coutinho and Gabriel Jesus have their own in Casemiro.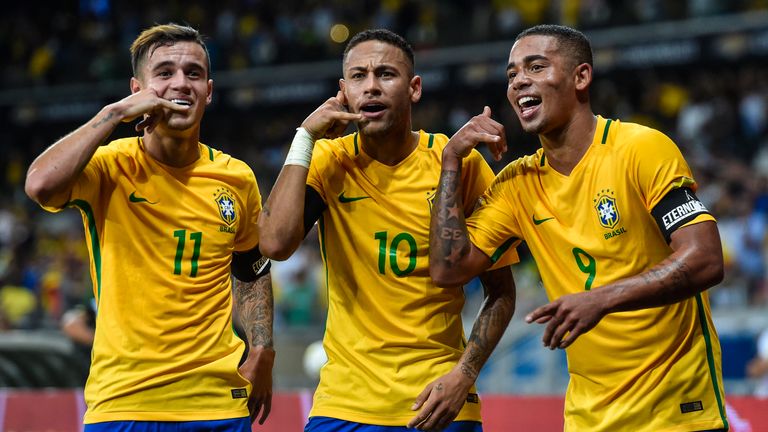 But what makes a good "piano carrier"? Gilberto had some advice for Casemiro.
"You have to understand the role in the team because up front they have the guys that can decide games. It's important to be in the positions to stop the opponents and give the support to the guys up front and the guys behind them."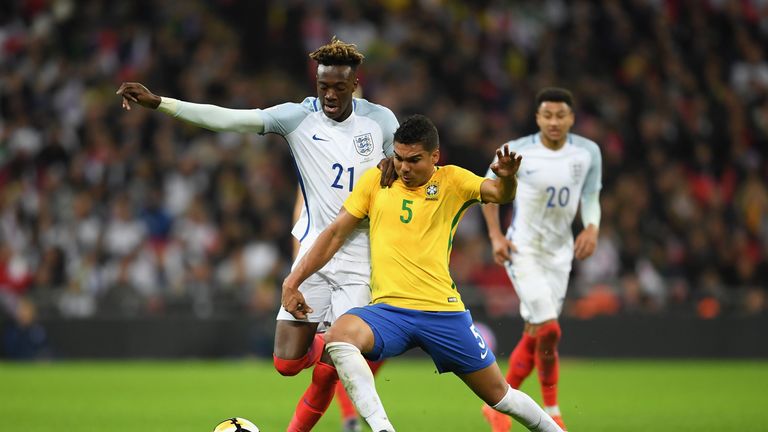 What of Brazil's chances in Russia? Four years ago, expectations in Brazil were high as the World Cup came to the country for just the second time. Luiz Felipe Scolari's side seemed to be handling that expectation, topping their group before a penalty-shootout victory over Chile and a quarter-final win over Colombia set up a crunch semi-final against Germany in Belo Horizonte.
On a day that still haunts many Brazilians, the host nation's campaign came to a shuddering halt as eventual winners Germany ran riot, winning 7-1. But nearly four years on, Gilberto, who was on commentary duty at Mineirao, is in positive mood about his country's chances, saying the team's experiences of four years ago will stand them in good stead this time around.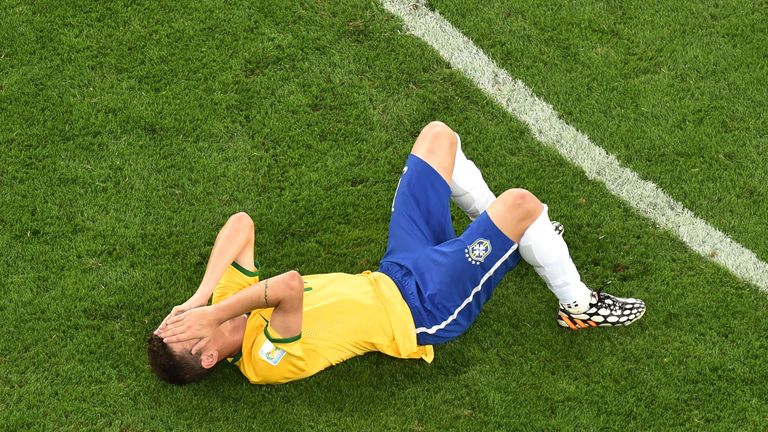 "I do believe they have a good chance but as we all know it's not easy to win a World Cup. Every team has the same will, playing to win the trophy," he added. "However, comparing this team to the side of four years ago they are in a totally different situation. Many of the players in this squad were there in the last World Cup and they have grown up together.
"This time, I believe the chances of Brazil are real but we have to work hard first," he added. "This is the lesson we learnt from the last World Cup and because it has been painful for everyone we all want the team to deliver this time in Russia.
"If we want to achieve something we will need to play as a team. If we do play the way we have been doing over the past few months then we have a good chance."