Raheem Sterling says his 'voice needed to be heard' in fight against racism
By Michael Kelleher
Last Updated: 09/05/19 10:55pm
Raheem Sterling has been lauded this season for his defiant stance against racism and the Manchester City star says his "voice needed to be heard".
The England forward has been critical of British newspapers' portrayal of black football players.
The 24-year-old, who was one of a number of black players racially abused during England's game in Montenegro in March, has also been vocal in calling for stiffer punishments for fans who racially abuse players.
Sterling admits he did not set out to make himself a leading figure in the fight against racism but is pleased with the backing he has received since speaking out on the issue.
"It is not something I was trying to do for people to see me as this person that is trying to lead the way," Sterling told Sky Sports News, after receiving his Football Writers' Association Footballer of the Year award.
"I was just trying to raise a point and I thought it was a valid point at the time and my voice needed to be heard.
"I am just grateful that people took up on it and credit to the people out there that have taken on this information.
"As a collective we are all trying to do the best to make a massive change, not just in football, but in society as well.
"It is sad that people still judge people, not just on their skin colour, but on their gender and whatever it is they want to judge. It is not nice.
"In this day and age people should be able to accept what people are and how people are.
"The most positive thing about it is there are people in this country who want to hear and want to make a change. They are now finding the right way to do that."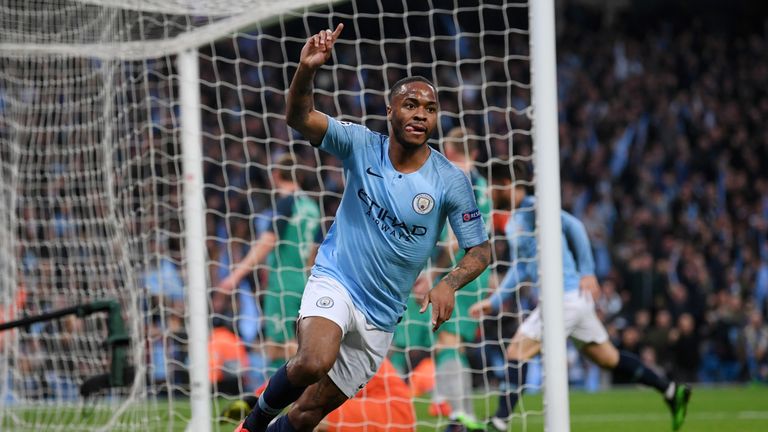 While Sterling has been celebrated for what he has done off the pitch this season, he has also been in fantastic form on it, emerging as an increasingly-key player for club and country.
City will retain their Premier League title with victory at Brighton on Sunday but they have had to fight tooth and nail to keep their noses in front of Liverpool in one of the most enthralling title races ever.
Back-to-back titles looked unlikely for Pep Guardiola's side in December when they suffered defeats to Chelsea, Crystal Palace and Leicester City.
That dip in form saw them fall seven points behind Liverpool and Sterling admits City were scrambling for answers.
"That was probably one of the most difficult times of my career, actually," Sterling said.
"Just to know how far behind Liverpool we were was quite hard to take. The manner in which we lost the games was quite difficult.
"We were up in games and then falling behind. We could not quite understand what was going on.
"This is why everyone watches the Premier League. It is not just the big teams that beat the little teams. Anyone can upset anyone. That is why the league is so great.
"As a club and as a group, with the manager and the coaching staff, we all got together and tried to find out what exactly was going wrong," Sterling continued.
"These are the things you need to do as a team to achieve success. Everyone spoke and we got our season back on track.
"We knew we had to be up for the job and try to win pretty much all our games to even have a chance, and then hope other teams could do us a favour and draw with or beat Liverpool, and that has happened.
"I am really grateful and it is really nice to know it is in your hands with the last game to play. I would much rather be the team with it in our hands than the team that is chasing."