Libby Stout says Liverpool made their own luck to clinch FA WSL 1 title
By Dev Trehan
Last Updated: 09/03/15 9:53am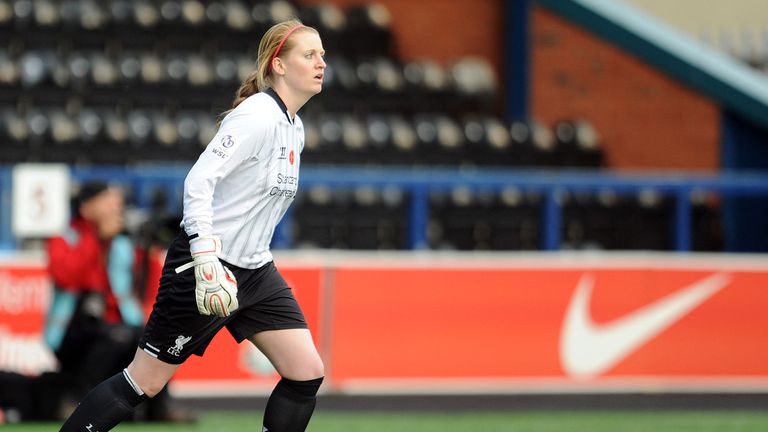 Liverpool Ladies goalkeeper Libby Stout admits her first year in England could not have gone any better after winning the title during her first season in FA Women's Super League 1.
The Kentuckian joined Liverpool from BV Cloppenburg at the beginning of 2014 and kept seven clean sheets in 13 league appearances as Liverpool clinched the title on a dramatic final day last season.
"My first year was great and probably the best I could have hoped for," Stout told Sky Sports.
"It was amazing and to win on goal difference is a bit of a victory for me on a defensive level because not conceding goals is one of the things that helped us win the title.
"On a team level to come out on top after all the adversity we had been through is a testament to what we are about as a club and who we are as people.
"We got rewarded for our commitment to the cause. We may have been a little lucky, but we put in the effort in order to get ourselves in that position to get that luck. We look forward to trying to repeat that this year."
Stout's contribution to Liverpool's title success was recognised by her team-mates, who voted her as the club's Player of the Year at their end-of-season awards at Anfield last November.
"That was really special and one of the finest moments I have had in my professional career," the former USA U23 international said.
"Winning the league might have been the best, but to get that award meant so much to me. It meant everything to me because I love this group of girls and I think they know that.
"It capped a fantastic year for me and was one of my finest moments for sure."
The goalkeeper joined Sky Sports News HQ live from Liverpool's club shop on Sunday Mrach 8 to give her take on why International Women's Day is so important.
"You have to celebrate where you have been in order to see and know where you want to go" Stout said.
"It's a great day to continue to celebrate but as a collective and as individuals we need to continue to strive to achieve more and demand more from society and know that we have more to do."