In his latest column, Guillem Balague sees signs of an end of an era at Atletico Madrid, hails "extraordinary" Lionel Messi, and answers your questions.
The top three in La Liga all won at the weekend as Real beat Malaga 2-1 thanks to two goals from Sergio Ramos, Barcelona eased past Eibar 4-0 and Sevilla won a 4-3 thriller at Osasuna.
Atletico saw their title hopes fade further after a 2-2 draw at Athletic Bilbao, despite a superb late goal from Antoine Griezmann.
Sky Sports Spanish football expert Balague reflects on the form of the top four and talks transfers as he answers your questions...
Atletico era ending?
It's very annoying to see Atletico, after going 1-0 up in the first few minutes, defend and wait for the counter, because they have enough quality and ability as a team to keep attacking. They didn't do it and Athletic Bilbao came back, and in the end Atletico needed that goal from Griezmann to get a point.
I don't think a draw is enough. They are a better team than Athletic Bilbao, but they didn't show it and it has happened a few times this season that Atletico players lose focus.
It is more and more seeming like it could be the end of an era under Diego Simeone, although I think it could still go on for a year and a half.
The absence of focus in big moments or games, and their lack of care of details, suggest that the message from the manager might not arrive as clearly as in the past.
I think that's why Simeone thought about leaving in the summer, because he probably feels it's better to leave at the top. But I insist, the plan is for him to stay one more season at the club at least.
Magical Messi
Messi was extraordinary against Eibar. In terms of what he did in the midfield - when Sergio Busquets got injured he helped with the build-up - and also what you saw in his goal. How he starts the move, then makes a run, surrounded by four players who do not see him, and the way he cushions the ball to allow it to pass the goalkeeper.
I hope we don't forget we are looking at something we haven't seen before and probably won't see again. He has an ability to find his team-mates and know what the team and the game requires - even to rest. In the last 15 minutes against Eibar he was walking, as the game was done, so he was actively resting.
Also, after 113 days Neymar scored again, but he had been playing well. He is more than ever a Barcelona player. He tracks back, runs a lot and his pace is the highest in the team. He is always brave and makes a lot of runs into space, and he just has to get half a yard in front of the defence and Messi will find him.
Other good news for Barcelona was Denis Suarez scoring his first senior goal. It was only Barcelona's fifth goal from outside the box this season and second from a substitute, which is something they need to improve on.
But you can see the see-saw theory we have talked about before - when Barcelona do well, Real Madrid don't do so well, and vice versa - as Barcelona are in a very positive dynamic, with four straight wins, 16 goals scored and just two conceded in their last five matches.
Real and Ronaldo struggle
Real Madrid, on the other hand, are struggling. It's only normally that injuries are hurting the side. They have played a lot of matches and, after their long unbeaten run, two defeats - one in the league and one in the cup - and a very difficult game against Malaga when they didn't play that well, you would think they have hit a wall. It happens to every team.
Four of their last six goals have been scored by defenders and Sergio Ramos is the second top scorer in the side. For different reasons, Karim Benzema and Alvaro Morata are not hitting all cylinders, and Cristiano Ronaldo is struggling as he has been for the last year or so.
At least he was hiding his lack of regular form behind goals, but now he hasn't scored in two and has nine less than last season at this stage. He was finding it difficult being a No 9 with his back to goal and waiting for crosses so Zinedine Zidane decided to put him on the wing as he was before.
But now he cannot beat defenders, so eventually during the game he ended up as another striker with Benzema, which I think is his role for the future and one he has to get used to. He is more than capable of being the best 'striker' in the world that way.
Meanwhile, the Real fans decided to whistle Benzema and Ronaldo as they feel they are not pulling their weight as they should.
Sevilla find a way to win
Sevilla didn't play well. It wasn't a fearful performance but it was slow and Osasuna played better for periods. But Sevilla now have so many layers, so even when they are not playing well they have a competitive edge, and you saw Vicente Iborra score twice and Pablo Sarabia come on and make a huge impact.
There was a foul in the third goal scored by Franco Vazquez that the referee did not see and Osasuna are fuming about, but Sevilla are not happy with draws any more. Remember last year they spent a whole 12 months not winning away, but now they have a fantastic away record, having won five times on the road. Plus they have had their best-ever first half to a season.
Guillem answers your questions...
How long do you think Sevilla can keep hold of Sampaoli? (@garethdavies80)
He is being considered at Barcelona but he is not the only one if Luis Enrique does not stay. He is attracted by the idea of Barcelona but he has told the club and the media that he is very focused on the job at Sevilla.
So we will see what happens at the end of the season and if Barcelona go for Sampaoli. Within the Barcelona camp there are admirers and others that doubt, so there are no guarantee he would get the job.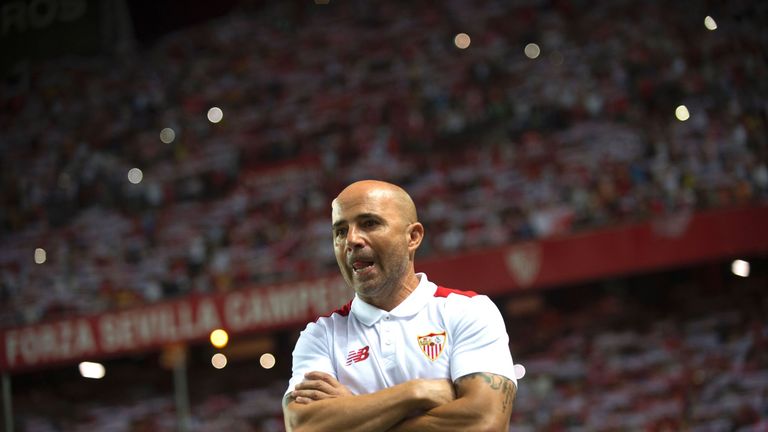 How long does Guardiola need to make City play like he wants them to? (@Angad_Red)
They actually play very much like a Pep Guardiola team a lot of the time, just not consistently. Against Spurs, even Mauricio Pochettino will admit that it could have been three or four nil to City in the first half if they were stronger in both boxes.
But the way they play, the style is there to be seen. They attack in numbers, they keep possession, they do it with pace, and they can attack a static defence too. It's just they are not strong enough in both boxes at the moment.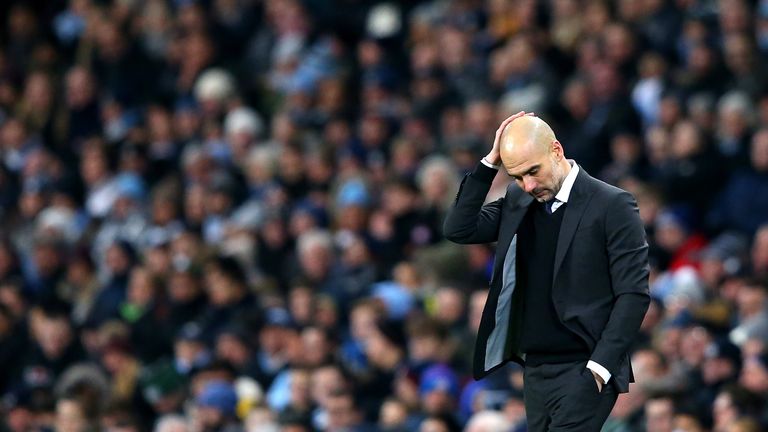 Claudio Bravo has to stop more and they need to be more efficient up front. Kevin De Bruyne has only got three goals in the league, Leroy Sane has two, David Silva has one, and Jesus Navas has zero. So they have to step up.
Is Carrasco leaving for United or Chelsea in the summer? (@DanayalNaidu)
Atletico Madrid are in a position where they don't need to let anybody go and they have the finances to keep players. The main issue is if Simeone stays. If he stays he will want the same team to be improved on and will not want to sell any of their stars like Carrasco.
Any chance of Tottenham getting Isco or Sandro Ramirez in January? (@smileberg)
Spurs don't want Sandro and although they tried for Isco in the summer they are not after him now and he is not going to leave.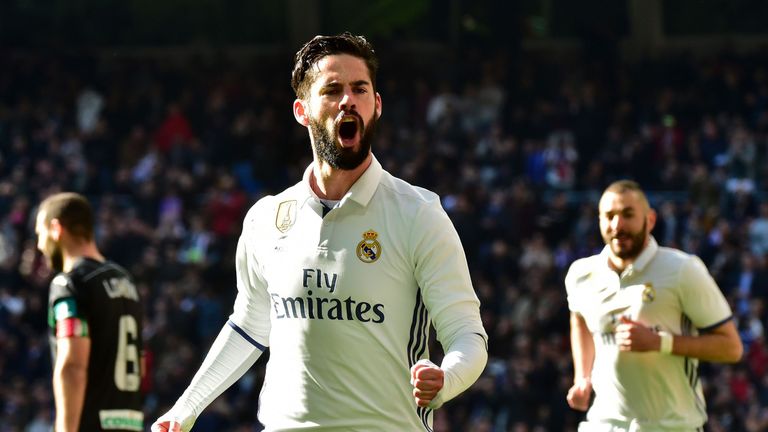 Who do you think is the most underrated player in the league and why? (@MattWade81)
For me it's Bruno from Villarreal. I understand he is linked to the club but I do not see why big teams have not gone for him, both abroad and in Spain. I know he had approaches and he got a big contract at Villarreal, but for me he is one of the best central midfielders in the world with his ability to understand the game, to stop attacks, and to build them as well.
Who's the current favourite to sign Jese on loan? (@armirgerrard8)
There are different teams after him, but one that really wants him is Aitor Karanka's Middlesbrough. I don't think a decision has been made and there are other teams interested so we will have to see in the next few days how that develops.