Guillem Balague debates whether Barcelona star Andres Iniesta is better than former Real Madrid man Zinedine Zidane
Guillem Balague reckons Andres Iniesta is better than Zinedine Zidane - but what do YOU think?
By Guillem Balague
Last Updated: 18/02/13 12:21pm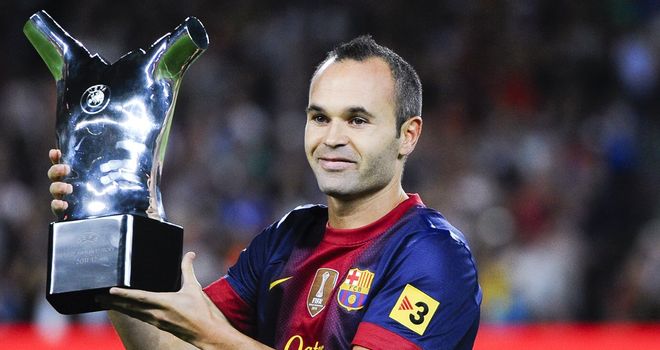 Revista de la Liga pundit Guillem Balague thinks so and reveals why that is in the paragraphs below.
Check out Guillem's thoughts and whether you agree with him or not, let us know YOUR views by filling in the feedback form at the bottom of the page...
Iniesta or Zidane?
The first point to make is that, while we all love to compare players, one of these players has now retired (Zidane) and the other is still playing (Iniesta). In truth, players are always looked upon with a greater reverence once they have retired than they are when they are playing. The phrase: "You don't know what you've got 'til it's gone" applies in football just as much as it does in life
Once they have stopped playing we tend to forget the missed chances, the bad games they played, the moments of petulance that often caused problems for the team they were playing for, rather than against. But what we do have is a mass of statistics, and while stats may not tell the whole story, they certainly go some way to painting a picture as to who actually was/is the best.
Of course while Zidane's stats are now set in stone, Iniesta's are constantly changing. The fact that we are already discussing whether he is, or is not, a better player than Zidane while he is still playing and more than a year shy of his 30th birthday is probably a reasonable pointer to the fact that even if he is not yet up to the Frenchman's standards, and personally I think he is, he almost certainly will be by the time he hangs up his boots. Or not? Let me put my case...
Honours won with clubs
In terms of trophies and honours won, the achievements of Iniesta put Zidane in the shade. The Frenchman, who played for Cannes, Bordeaux, Juventus and Real Madrid, won two Serie A league titles in 1996-97 and 1997-98; one La Liga in 2002-03; and one Champions League in 2001-02. Zidane was on the losing side in Champions League finals with Juventus against Borussia Dortmund in 1997 (1-3) and Real Madrid 1998 (0-1)
Iniesta, on the other hand, has only ever played as a senior for Barcelona. Since making his debut in 2002, he has won five La Liga titles (probably soon to be six this year) and these five have been won in the last seven years: 2004-05, 2005-6, 2008-09, 2009-10, 2010-11. In Europe he has won three Champions League titles - 2005-6, 2008-9, 2010-11 - and has never been on the losing side in a Champions League final
International honours won
Internationally the records of the two players are equally impressive. Both made their full international debuts aged 22. In the 12 years Zidane played for France he notched 108 caps and 31 goals. Iniesta has played for the full international side 78 times over the past seven years during which time he has scored 11 goals. Both players have won the World Cup with their countries, Zidane in 1998 and Iniesta in 2010. Both players have scored in the World Cup final, Zidane heading two of France's goals against Brazil and Iniesta hitting the winner against the Netherlands.
Both players have won the European Championship, too, Zidane in 2000 and Iniesta in 2008 and 2012. The victory in 2012 made Spain the only side ever to retain the European Football Championship. Iniesta, injury permitting will almost certainly go on to equal if not better the number of international caps won by Zidane. But in addition to his senior caps it should be mentioned that Iniesta has represented his country no fewer than 123 times since 2000 at Under 15, 17, 19, 20, 21 as well as at full international level, winning the Under-17 European Championship in 2001 and Under-19 European Championship in 2002.
International awards
Zidane has received more international award than Iniesta winning the FIFA World Player of the Year three times, in 1998, 2000 and 2003, and the Ballon D'Or in 1998. The two awards were amalgamated in 2010. Iniesta took the UEFA Best Player in Europe Award in 2012. The Barcelona midfielder, three times in the top four of the FIFA Ballon d'Or, hasn't won as many personal awards as Zidane but Zidane did not have the likes of Messi and Cristiano Ronaldo around at the time
Iniesta's individual awards:
UEFA Euro Team of the Tournament (2): 2008, 2012
UEFA Euro 2008 Man Of The Match: Semi-final vs. Russia
La Liga Spanish Player of the Year: 2009
La Liga's Best Attacking Midfielder (3): 2009, 2011, 2012
Trofeo Alfredo di Stéfano: 2nd best player in La Liga 2008-09, 3rd 2011-12.
FIFA/FIFPro World XI (4): 2009, 2010, 2011, 2012
UEFA Team of the Year (4): 2009, 2010, 2011, 2012
Ballon d'Or: 4th Place 2009
FIFA Puskás Award: Second place 2009
2010 FIFA World Cup All-Star Team
2010 FIFA World Cup Man Of The Match vs. Chile, Paraguay and Final vs Netherlands
Prince of Asturias Awards: 2010
FIFA Ballon d'Or: 2nd place 2010, 4th Place 2011, 3rd Place 2012
ESM Team of the Year: 2011
UEFA Champions League Best Player: 2011-2012
UEFA Euro 2012 Man Of The Match vs. Italy, Croatia, Final vs Italy
UFA Euro Player of the Tournament: 2012
UEFA Best Player in Europe Award: 2012
IFFHS World's Best Playmaker 2012
Zidane's individual awards:
Golden Ball: 1998
FIFA World Footballer of the Year: 1998, 2000, 2004
UEFA Most Valuable Player of 2001/02: 2002
Playing companions
Much has been made of the fact that Iniesta is not as great as Zidane because of the players he has played with. Certainly Iniesta is playing for arguably the greatest club side in the history of the game, and precisely one of the reasons they are such a great side is because Iniesta not only plays for them but is one of the leading lights of this great Barcelona side. Much is made of the fact that Iniesta has the likes of Messi to feed with assists.
But it is also worth noting that Zidane only ever won one La Liga title and one Champions League despite playing alongside players like, Spain's captain Fernando Hierro, the Brazilian Ronaldo, Luis Figo and arguably the greatest legend in the history of Spanish football, Raul. At Juventus he played with following players during his stay: World Cup winners Alessandro Del Piero, Didier Deschamps, Felipe Inzaghi, Thierry Henry and David Trezeguet. Antonio Conte (Champions League and five-time Serie A winner), Edgar Davids (Champions League and three-time Serie A winner).
Plus, I wouldn't say the France team that won the 1998 World Cup was bad and that Zidane did everything for the side, as it featured the likes of Patrick Vieira, Laurent Blanc, Bixente Lizarazu, Youri Djorkaeff, Deschamps, Robert Pires, Henry, Lilian Thuram and Trezeguet.
Other players' comments
In 2009, after Barcelona had beaten Manchester United in the Champions League final, Wayne Rooney said, "Forget Messi, Iniesta is the best player in the world." And since that date, Iniesta has only got better.
Robert Pires said only last week: "For me Iniesta is the best player at Barca. We always talk about Messi, but without Iniesta, Barcelona area different team. He is the master of the team. He's the one who sets the pace for the whole team."
Juan Roman Riquelme: "I watch Iniesta and realise that even at my age I could be learning new things."
David Silva: "The press often ask me about whether Messi or Ronaldo is the best, but for me something is very clear. Andres Iniesta is the number one.
Sergio Ramos: "He is the enlightened one. Someone touched by a magic wand. He commands so much respect on the pitch. As a football lover I am proud to have played with him. He makes the difference and does things that no one else can do."
Fernando Torres: "When he has the ball, it's like everything else stops - like the camera going in slow motion. I've been playing with him since we were 15 and I have never, ever seen him play badly."
CONCLUSION
Someone once said that in football average to good players are normally strong against the weak but sometimes weak against the strong. What defines great players is that they are, almost without exception, strong against both the weak and the strong.
That in a nutshell is Andres Iniesta. The little genius for the enormous occasions. Fernando Torres sums it up perfectly. "I've been playing with him since I was 15," he says, "And I have never seen him play badly."
Think of the last-gasp dagger to the heart of Chelsea that earned Barcelona a place in the 2009 Champions League final; or the stunning pass that put Samuel Eto'o through to score in the final against Manchester United; or perhaps the winning strike that earned Spain their first World Cup against the Dutch in 2010. Big-time games call for big-time players, and there's no-one bigger than Iniesta.
Tito Vilanova asked Iniesta what lessons he learnt the previous season. Clearly Andrés had felt that by staying on the wing, where Pep Guardiola often placed him, he was not helping the team as much as he thought he could. Tito told him not to worry.
The arrival of Jordi Alba was going to give the wing to the full back and Tito told Iniesta to pretty much do whatever he wanted - and now he is playing in freer role in midfield from where his silvery, seemingly effortless skills can terrorize defences, much like he does in the red of Spain. He is becoming even greater.
But why is he not given the credit he deserves? Well probably for a very similar reason to why Zidane has been feted as the greatest midfielder ever - primarily because he stood head and shoulders above the vast majority of players he played with. His absence from the 2002 World Cup from the French side stood out like a sore thumb.
Iniesta is a genius who just happens to have played all his life for what is arguably the greatest club side in the history of the game, who also have in Lionel Messi , probably the greatest player ever and also for a country that stands, at the moment, above any other footballing nation.
Iniesta controls games with an economy of effort, a skill and a guile that combines the passing genius of Xavi and the dribbling wizadry of Messi. While Messi is at Barcelona, Iniesta will never receive the credit he deserves, yet ironically it can be argued that without mercurial input of Iniesta, Messi would not be quite the force he is now.
But perhaps another of the reasons that he doesn't get the credit he deserves is because he doesn't have the ego of so many of the pretenders to his throne. His arrogance is reserved to his performances on the field and not his antics off it. He has never been sent off in the 10+ years he has been playing in the Barcelona first team, or while playing for his country.
Zidane's volatile nature earned him 12 red cards, the last one coming in the 2006 final for a flying butt on Materazzi that meant the Frenchman could not take a penalty in the shoot-out that followed and that France subsequently lost. On that note Zidane quit professional football. When Iniesta finally decides that enough is enough, it will almost certainly be a more appropriate departure. I know that doesn't qualify one as better than the other, but I think the rest (stats and impressions) does.
I remember saying that Gareth Bale was at his age as good as Ronaldo at his and many people dismissed the idea, which is now being mentioned by many. Or that an 18-year-old Messi was going to become one of the top three players in the world. But I also said that Reyes was better than Cristiano Ronaldo at the time (which he was) but Ronaldo since then has become a force of nature.
Saying that Iniesta is better than Zidane is as bold a statement as any of those (and perhaps impossible to demonstrate, even though I think there is enough evidence in this piece). We might not agree but I would love to hear those that disagree (and give me your reasons) and those that feel brave enough to agree.
What would football be without a good argument!