Gareth Bale is a better player than Cristiano Ronaldo, says Jeff Stelling
All hail to Gareth Bale, says Jeff Stelling, for becoming a better player than Cristiano Ronaldo.
Last Updated: 07/02/13 4:32pm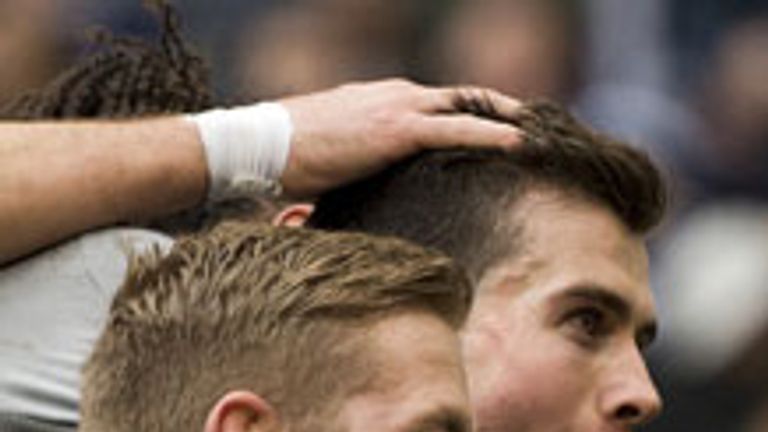 We already know that Bale is held in high regard by some of Europe's biggest clubs and recent stellar displays have put him firmly back in the shop window.
His goal in Wales' 2-1 friendly victory over Austria was his 17th in all competitions this season and came swiftly after those two superb strikes in the Premier League, against Norwich and West Brom.
I just worry, from Spurs' point of view, that an offer might come along in the summer that they can't refuse.
I heard Jamie Redknapp say on Super Sunday that Bale is 'absolutely world class', that he's 'as good as Ronaldo'.
I don't often disagree with Jamie, but I think it's got to the stage where you can say that Bale is better than Ronaldo because he's simply unplayable.
That's not to denigrate Ronaldo, who has got all the tricks and dynamite in his boots - but so has Bale.
What Bale's got that Ronaldo hasn't is incredible strength and power; Ronaldo is quick but when Bale gets up a head of steam, there's no stopping him.
I'd love to know who the fastest player in the Premier League is if it's not Bale. He's adaptable, too - he can play wide or down the middle. If you want him to do a job defensively, he can do that as well.
Wales fans won't thank me for saying it but it's such a shame that we are unlikely to ever see him play in a major tournament.
It's the 'George Best syndrome' all over again: Bale is one of the best players in the world and as much as I'd love to see him at a World Cup, despite his best efforts, it's not going to happen.
I was in Portugal this week and I saw Ronaldo score against Ecuador and it was a fine goal, but I'm hard pushed to think of another player in Europe (aside from Lionel Messi) who gives you the all-round quality that Bale gives Spurs.
He's the reason why Spurs are where they are now - fourth in the Premier League - and he's the one who could drive them on to a Champions League place, which is the minimum Spurs will need to keep him.
Adventurous
Liverpool are nine points behind Spurs in that coveted fourth spot but might just be the most entertaining team in the Premier League right now.
They were absolutely brilliant against Arsenal at times - adventurous, exciting and pacey up front - and they followed it up with a fantastic display against Manchester City.
Daniel Sturridge has been brilliant since he signed and other players are flourishing: Stewart Downing is back to the kind of form that earned him so many England caps, while Steven Gerrard is back at the peak of his game.
Some people (and I might have been among them at one stage) thought we'd seen the best of Gerrard but they've been proved completely wrong; he is rampaging forward and scored a brilliant goal last week.
The Brendan Rodgers revolution looks to be well ahead of schedule at the moment. He's got the team playing in a way that Kenny Dalglish couldn't.
The passing game that Rodgers encourages means they are not willing to sit back and hold onto a lead; he's permanently imploring them to go forward and Gerrard has learnt to play within the system.
I think the Liverpool owners have to be applauded for making a great choice in appointing Rodgers, who despite coming in for a fair bit of flak in the early days has stuck to his guns and is now reaping the rewards.
Glue
Rodgers could win even more admirers by adding Jamie Carragher to his coaching staff next season.
I've admired Carragher as a player for many years - as most people have - and I admire the fact that he's had the bottle to call it a day while proving he can still do it against the best in the English game.
He didn't get a whole lot of game time towards the start of the season but he started the games against Arsenal and Manchester City and in the course of the latter I made a few notes about how well he played; at times he was the glue that was holding them together.
Now he's confirmed that this is his last season (the whispers have done the rounds for a while), he won't be short of work offers - either as a coach or in the media.
I'd love to have him on the Soccer Saturday panel because he's always shown himself to be a good reader of the game, someone who's very articulate and has a great sense of humour.
But I'd rather see him stay involved directly in the game; he's been invaluable to Liverpool over the years and I assume staying at Anfield would be his one and only choice if the offer was on the table.
Jeff's Gem of the Week
Ipswich 4-0 Middlesbrough: Tony Mowbray won't want to remember this one - it was anything but a happy return to his former club. However, it was the perfect tonic for Mick McCarthy, who had to hand over the reins to Terry Connor for the match due to sickness. It's a year this week since Mick was to all intents and purposes shown the door by Wolves. Since then Wolves have been through Terry Connor and Ståle Solbakken and now have Dean Saunders at the helm. Meanwhile, Mick has steered his Ipswich team above them in the Championship table. I think a lot of Wolves fans will look back with a lot regret that Mick was allowed to leave their club. He's handled the loan market superbly well; he's a great man-manager and a great motivator, not to mention a top man. I'm really pleased for him.
And finally...
It was pretty unlikely that James Poole and Peter Hartley would score in the same match because Hartley is not exactly a regular goal-scorer and Poole hasn't been this season either. But score they both did against Notts County. The only thing was they scored in the wrong order - Poole Hartley rather than Hartley Poole - but I guess you can't have everything.
I would be happy if they could do that every week from now on as we prepare for the greatest escape that football has ever known! Swindon will pose a big test on Saturday and there is already one unlikely sub-plot to the match. Swindon boss Paolo di Canio was the room-mate of Hartlepool manager John Hughes when he was at Celtic, so you might say it's a meeting of strange bed-fellows...