New York City FC prematurely celebrate Frank Lampard's 300th goal after calculation error
By Peter Smith and Mark Hirst
Last Updated: 03/09/16 7:51am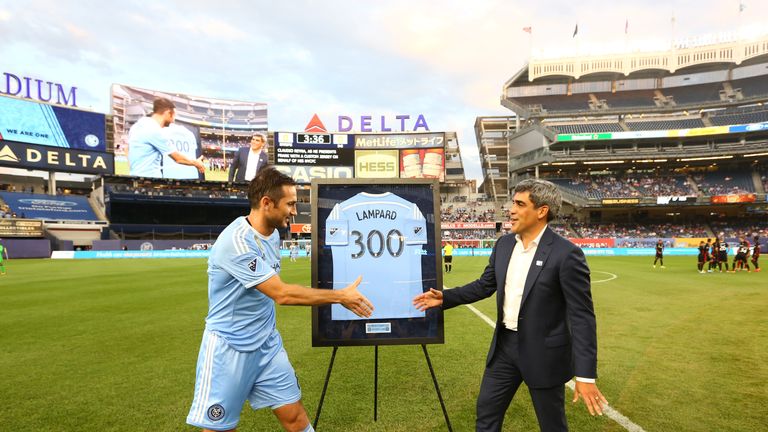 The New York City Mayor's office hailed Thursday "Frank Lampard Day". His club, New York City FC, presented him with a commemorative shirt and ring. It was all in celebration of the former England midfielder scoring 300 career goals.
Except he hadn't.
Detailed research from the Sky Sports stats department has uncovered that Lampard was in fact on 299 career goals ahead of New York City FC's match with DC United, when the celebrations took place.  
Lampard went on to score a brace in that game - including his actual 300th career goal in the 85th minute, which he had received acclaim for around an hour and a half earlier.
Lampard had even posted on his Instagram page, "Very proud to reach 300" prematurely. 
Here's where the maths went wrong…
In 1999, Lampard played and scored in West Ham's League Cup quarter-final tie with Aston Villa at Upton Park.
However, the match had to be replayed as West Ham had fielded an ineligible player, Emmanuel Omoyinmi.
Lampard also scored in the rearranged fixture, although West Ham - who had won the first match on penalties - lost.
Those two goals were both included in Lampard's scoring total for West Ham by NYCFC when they were calculating his career scoring record. In fact, his goal in the initial tie does not count as the game was void.
NYCFC listed Lampard's West Ham goal tally as 39. It should have been 38.
So, Lampard's double on Thursday night actually takes him to 301 career goals. A remarkable feat for a midfielder - but one shy of the widely reported figure.
New York City FC were unavailable for comment.
Watch Sky Sports' derby day extravaganza on Sep 10 - Man Utd v Man City and Celtic v Rangers - as part of our three months half price offer.