Steven Gerrard says he is yet to make up his mind whether to retire or continue playing, and opened the door for a Premier League return.
The former Liverpool and England captain's contract with LA Galaxy expires in November and there have been no formal talks over an extension to life in California.
Speaking to Liverpool-based radio station Radio City Talk, Gerrard, 36, said: "I'm wondering whether I should play on for a little bit longer or whether I should call it a day. I haven't 100 per cent decided on that yet.
"I still enjoy playing. I still love coming into training, I still love competing, so if I can carry on and there are opportunities to stay here, or go somewhere else for another six months or 12 months, then I'll consider it.
"I'm going to be a long-time retired and so I still want to enjoy things while I'm still feeling good.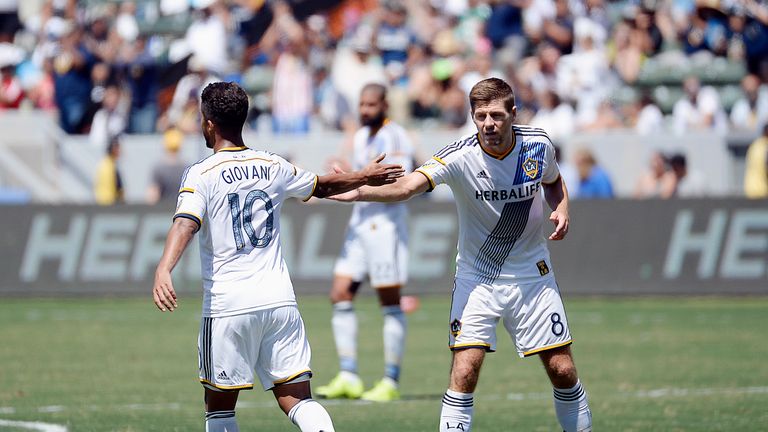 "With Jurgen Klopp and Ronald Koeman on Merseyside, Pep Guardiola and Jose Mourinho in Manchester and Antonio Conte, Mauricio Pochettino and Arsene Wenger in London, it's really exciting for the Premier League.
"I can't wait until there's around 10 games to go to see how it all unfolds. This could be one of the best ever seasons."
Gerrard has already begun his coaching badges and has lent a helping hand with some of England's youth teams in recent months, while he was also consulted on the England manager's position after Euro 2016.
He said: "If nothing comes up (playing-wise) I'll try and fly through the coaching badges and see what happens down that road.
"I'm around 60 per cent through my A licence and I'm hoping to have that finished by the end of the year so we'll go from there."
You can watch the final day of the Ryder Cup, plus Premier League football and the Japan Grand Prix on Sky Sports. Upgrade now and enjoy three months at half price!