Fernando Hierro to lead Spain at World Cup: Can he steady the ship?
'Finding some continuity amid the chaos could be crucial'
Last Updated: 14/06/18 10:50am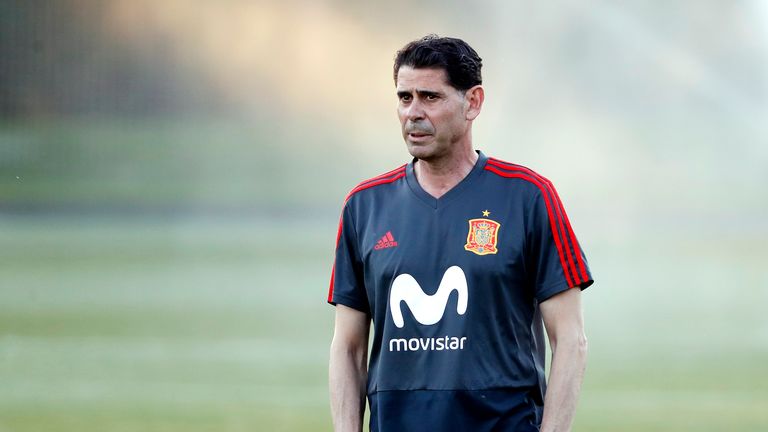 Can Fernando Hierro salvage something for Spain at this World Cup? Here's the lowdown on the new man and the task ahead of him...
"We have no time to dwell," said Fernando Hierro as he sat down to greet a still bewildered media on Wednesday. It was not really a moment for comedy but as understatements go this was a big one. Hierro's first day in the job as Spain's new manager also happened to be the last day before the 2018 World Cup began. No time to dwell, indeed.
His country's national team, one of the favourites to lift the trophy, have been plunged into crisis by Julen Lopetegui's appointment as Real Madrid's new manager and the subsequent decision of federation president Luis Rubiales to dispense with his services. It is, as Rubiales was kind enough to point out, an "extremely difficult situation".
The rights and wrongs of this particular situation will no doubt be debated long after everyone has left Russia. Books will be written about this. But with Spain preparing to face European champions Portugal on Friday evening, there are more pressing matters now. Can Spain still win the World Cup? How Hierro handles the fall-out will be the key.
He is well used to administrative roles. Hierro was appointed as the sporting director of Spain's federation in 2007 and remained in the role for the subsequent successes at Euro 2008 and the 2010 World Cup. But his managerial experience is less substantial with his only previous role in charge being a season in the second tier with Oviedo.
Of course, it is somewhat ironic that Lopetegui leaves because of his ties to Real Madrid when the man who has been chosen to replace him is a Bernabeu legend. Hierro made more than 600 appearances for the club during his 14 seasons in Madrid, winning the Champions League on three occasions, including captaining them to the trophy in 2002.
Once one of the finest defenders in the world - he was equally comfortable in midfield, where he had a brief spell in the Premier League with Bolton Wanderers before retiring - Hierro will have no problem commanding the respect of the squad. Indeed, his appointment should assuage any annoyed Real Madrid players within the ranks.
That will be important because finding some continuity amid the chaos could be crucial and Hierro has already made explicit his intentions. "The key will be to change as little as possible," he said in his opening address. That reflects the fact that prior to the shock events on the eve of this World Cup, Spain were regarded as arguably the strongest side in it.
Many of the significant figures in the dressing room were believed to be happy for Lopetegui to remain in charge despite the announcement and with Spain having been unbeaten throughout his two-year reign there is little onus on Hierro to shake things up. The challenge instead will be to restore focus and maintain their previous good form.
The hope will be that Hierro can prove a calming influence just as his old team-mate Zinedine Zidane did with such success at club level for Madrid. In a sense, his job will be to not get in the way. Spain have an abundance of world-class talent and if he can shift the focus back onto the pitch then the strains of the past few days could fade away.
It could even prove a unifying factor. While some will point to the meltdowns once commonplace for countries such as France and Netherlands, World Cup history is also littered with tales of pre-tournament problems dissipating fast once the wins racked up. Italy have famously used such siege mentality to their advantage in the past.
There were few gripes about Lopetegui's leadership, although one divisive factor, the continued selection of Diego Costa - a player with the same agent, Jorge Mendes, as the former coach - has been removed. If Hierro persists with the Atletico Madrid man, nobody can accuse him of such bias. If he goes for Iago Aspas, it's a change many called for anyway.
Elsewhere, much of the Spain team picks itself. David de Gea finally gets to make his World Cup bow and he has a world-class defence in front of him, well protected by Sergio Busquets. In David Silva and Andres Iniesta there is proven quality in the final third, while it would be a major blow if Isco allows his bond with Lopetegui to ruin his Russia experience.
Spain still have the players to do something special. What they do not have is time to adjust to this upheaval. "It is a challenge for everyone," admitted Hierro. How long his players now choose to dwell on this extraordinary drama could depend on how they fare against Cristiano Ronaldo and the rest in that first game against Portugal on Friday night.