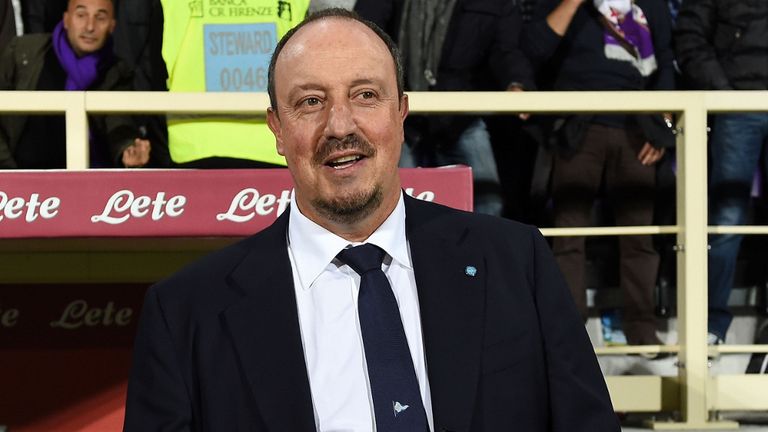 Rafael Benitez hinted he could extend his stay at Napoli as his side prepare for their last-16 Europa League tie with Dynamo Moscow.
The likelihood of Benitez remaining at the San Paolo look to have increased in recent weeks after Napoli maintained their bid for a top-three finish, and automatic Champions League qualification.
The Spaniard, whose contract expires in June, has kept his cards close to his chest, but confirmed he was yet to receive offers from elsewhere before insisting he had no "ambitions in particular" to leave.
"In January I said I would make a decision on my future in April, and that is still the case," Benitez said on the eve of Dynamo's trip to Naples.
"I'm happy here, but I will let everyone know my intentions in April. As things stand today, I haven't received any offers and I don't have any ambitions in particular. So my answer is still the same."
In all, five Italian teams make up the remaining in the competition with Turin and Inter Milan taking on Zenit and Wolfsburg respectively, while Serie A rivals Fiorentina and Roma meet in Florence.
Napoli host the Russian Premier League side looking to take a first step towards the quarter-finals of the Europa League having been knocked out at the stage by Porto last season.
And Benitez, who expressed a degree of caution before the Dynamo game, believed Partenopei's 2-2 draw with Inter in their previous has boosted his side's confidence.
"Dynamo are a quality side with fast players, but if we play the way we did against Inter I'll be confident," Benitez added.
"In the Europa League we're not looking too far ahead. We just want to concentrate on one match at a time and tomorrow it will be a tough game against a difficult opponent."