Cristiano Ronaldo rises above the criticism for Portugal at Euro 2016
By Adam Bate in Lyon
Last Updated: 23/06/16 2:07pm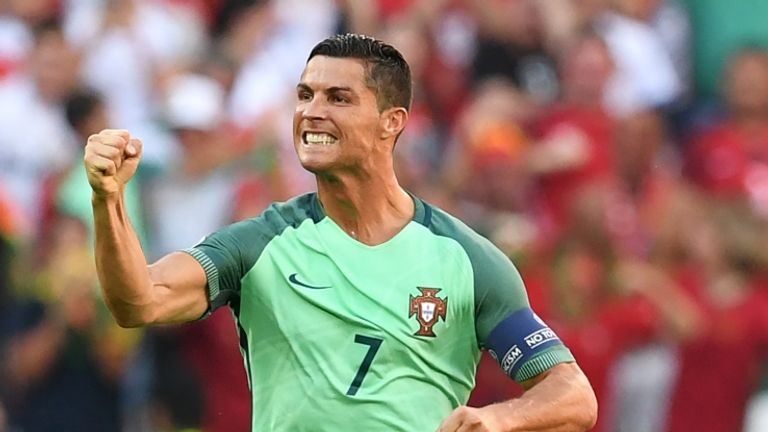 Cristiano Ronaldo scored two and set up the other in Portugal's 3-3 draw with Hungary as they scraped their way into the knockout stages of Euro 2016. Adam Bate was in Lyon to see Ronaldo rise above the criticism once again…
There were about 10 minutes remaining in the first half when the chant went up from a small section of the Hungary support. Cristiano Ronaldo's sexuality was being questioned. The first thought was of the vile homophobia. The second was that the tone of triumphalism had come too soon. Ronaldo had plenty of time for a response.
Within minutes Portugal had an equaliser and their star man had delivered his first deposit on the repayment. Ronaldo seemed to see Nani's run before the man himself had even begun to contemplate it, threading a ball through Hungary's back line for the forward to finish. It was the pass of a playmaker by the game's arch-predator.
That was particularly ironic given his efforts in front of goal in the first half. Ronaldo's desperation appeared directly linked to his waning faith in his team-mates with a series of free-kicks and long-range shots fired in from increasingly unlikely angles. His exasperation was obvious when Hungary went 2-1 up just after the break.
Although there were plenty of them to enjoy and endure, it wasn't all posturing and despairing looks to the bench. Applause greeted Pepe's attempt to find him with a long pass and Ronaldo clearly sees potential in Joao Mario. It was the young Sporting midfielder who found him to make it 2-2 minutes after going behind.
A deft flick into the corner, this was the extraordinary made ordinary and a record-breaking goal, too. Ronaldo is the first man to score in four European Championships. "This is another record," he said afterwards. "But, like I always say, that comes naturally. Of course, I cannot say I'm not happy as these are good records. But the priority was to make it through."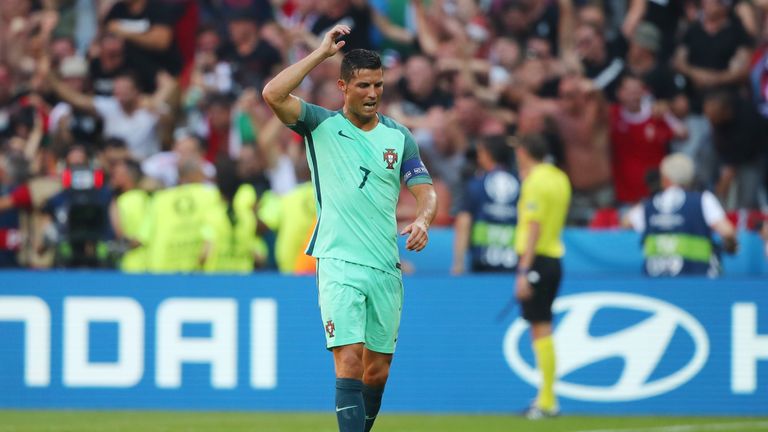 That's been achieved but Ronaldo will want more. He craves more than longevity and has still not bettered his first tournament finish - runners-up to Greece on home soil. The likes of Luis Figo and Rui Costa have long gone since those days and there was another example of Portugal's modern frailty when they went 3-2 down. Cue another tantrum.
And yet, Ronaldo still found a way to focus his frustrations. He was there to head in for Portugal's third equaliser. "The team was in dire straits," he later admitted. But were they really brothers in arms? Portugal coach Fernando Santos appeared unconcerned and with good reason now that he can boast an in-form Ronaldo within the ranks.
"This is what Cristiano is all about," said Santos afterwards. "He needs to score because he is a winner and a scorer. He plays up front and he feeds on goals. This I'm sure increases his confidence levels. He is determined and confident [anyway] but this will increase his levels for the next match against Croatia."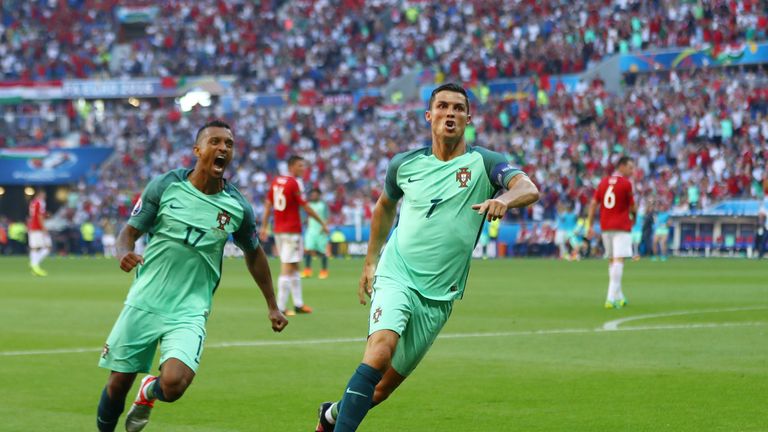 Santos had been and gone before the game's man of the match had emerged from the dressing room for the mandatory press conference. Made to wait for over an hour and with the media instructed not to ask any questions, it was a curious end to the evening but a fitting one too. The show is never over until Ronaldo has had his say.
Portugal have waited for their hero too. But with his confidence restored so are his team's hopes. "Cris-tiano Ro-nal-do," was the fans' chant at the end and there was even time for one of the assembled journalists to blurt out a question before he finally made his exit. "Anything to say to the critics?" he asked. In truth, Ronaldo had already given his answer.