Juan Mata: Spaniard hitting top form in new Manchester United role
Last Updated: 03/10/15 1:03pm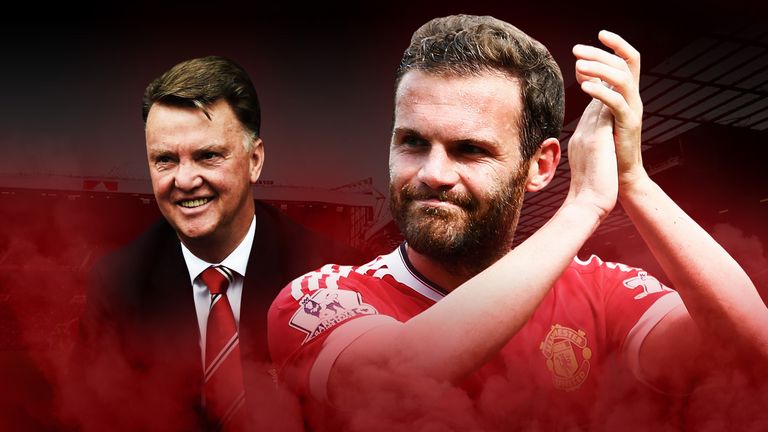 Is Juan Mata returning to the form which saw him win back-to-back Player of the Year awards in his first two seasons at Chelsea? Nick Wright takes a look at his impressive start to the campaign ahead of Manchester United's Super Sunday showdown with Arsenal…
In the frenzy of excitement surrounding Anthony Martial, Juan Mata's role in lifting Manchester United to the summit of the Premier League has been rather understated. But the Spaniard took centre stage in the Champions League on Wednesday night, scoring the first from the spot and then providing a delightful assist for the second in United's 2-1 win over Wolfsburg.
It's a continuation of his fine start to the season. As well as this Champions League brilliance, Mata has scored or assisted half of his team's 12 Premier League goals so far, and there was plenty to enjoy about his performance in Saturday's 3-0 win over Sunderland too.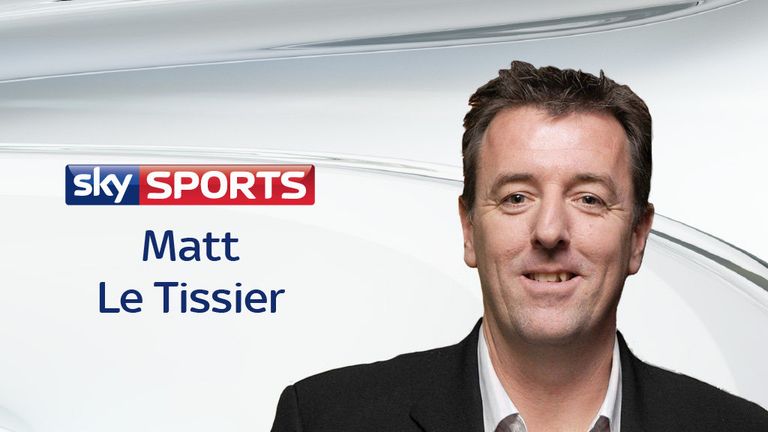 I thought Juan Mata was excellent all night. He was probably the difference between the two teams.
Matt Le Tissier on Juan Mata's Wolfsburg performance
The quick-thinking and vision of his assist for Memphis Depay's opener against the Black Cats was classic Mata. Most players would have tried to volley Daley Blind's raking pass beyond Costel Pantilimon, but United's No 8 had already calculated a safer route to goal. He took Sunderland's goalkeeper out of the game by shaping to shoot, before cushioning the ball across the six yard box for the untracked Memphis to score.
Mata got the goal his performance deserved in the final minute of the game, and it was another example of what he does best. Ashley Young's deflected cross was fiercely struck, but Mata stopped the ball dead with a brilliant first touch before lifting his finish high into the net. Time appears to slow down for Mata at times like these, but it all happened in a split second. Sunderland simply couldn't keep up.
"Personally, I enjoyed it, especially in the second half, and I was lucky to score at the end," said Mata after the game. "I'm feeling very comfortable in this start of the season, and as soon as the week goes by I'm already looking forward to the next one, to keep enjoying myself and competing."
Mata has directly contributed more goals (29) than anyone at United since his £37.1m move from Chelsea in January 2014, but it is only recently that he has really flourished. The 27-year-old was irresistible as Chelsea's No 10 prior to Jose Mourinho's return to Stamford Bridge, but at United he has been remoulded as a "false right winger".
Mata has the freedom to drift into central areas, making him difficult for defenders to pick up and leaving Matteo Darmian or Antonio Valencia to charge down the flank on the overlap.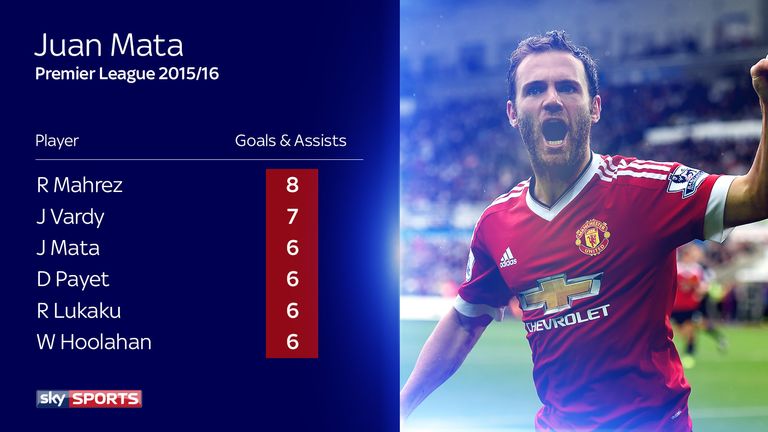 The system works. Mata does not possess the pace or one-on-one ability of a typical wide man, but he is perfectly suited to the role Louis van Gaal has created for him. "My preferred position is just between the lines," he said in a recent interview with Sky Sports. "Whether that is coming from the right side where I'm playing now, from the No 10 or even from the left side. I think that is where I can do best for the team, finding the gaps."
Champions League creativity
Juan Mata played five key passes against Wolfsburg. That was as many as the rest of his team put together.
Finding those gaps is exactly what he has done. Mata has created twice as many chances (14) as any of his team-mates, and his tally of three assists included an eye-of-the-needle pass for Adnan Januzaj against Aston Villa last month. Mata's intelligence on the ball makes him key to Van Gaal's patient possession game, and he also showed he can provide the thrust when he finished off their 44-pass goal against Southampton.
Mata's magic
Juan Mata has provided 38 Premier League assists since his move to Chelsea in 2011. Only David Silva (43) has provided more in that period.
Mata has scored or assisted in five of his last six league appearances. He is more important than ever to United, and Sky Sports pundit Jamie Redknapp has been impressed by his performances. "With the signings made in the summer a lot of people assumed Mata would be the man to lose his place in the starting XI," he said in a recent Daily Mail column.
"Right now he's doing more than enough to justify his place. He must be a dream player to work with. He is a class act, never complains, is such a gifted technical player and with pace around him he can really make United tick. He's the thinking man's footballer."
Crucially, Mata has also increased his defensive output. Mourinho perceived Mata to be a luxury player who lacked the defensive nous and physical dynamism to play on the flanks at Chelsea, but the statistics show he is getting to grips with the grittier aspects of the game at United.
Mata has averaged 1.4 tackles and 1.3 interceptions per game in the Premier League this season. By contrast, he only averaged 1.1 tackles and 0.2 interceptions during his final six months at Chelsea, and in his final full season at Stamford Bridge, those numbers stood at 0.7 tackles and 0.6 interceptions. From Eden Hazard to Willian, Mata is now intercepting with more frequency than any of Chelsea's widemen.
Mata has bought into Van Gaal's philosophy whole-heartedly. Like Mourinho, the Dutchman demands complete devotion to the system from his players, so he must be quietly thrilled by Mata's work-rate in recent weeks. Against Sunderland, only Morgan Schneiderlin covered more ground than Mata. Against Southampton, the Spaniard ranked third.
United will need that blend of graft and guile when they travel to the Emirates Stadium for their biggest test of the season so far against Arsenal on Super Sunday. Mata has scored four goals in seven appearances against the Gunners since his arrival in the Premier League, and another influential performance could consolidate United's position at the top of the table.
Watch Arsenal v Manchester United live on Sky Sports 1 HD this Sunday from 3.30pm.