Measuring Manchester United's progress under Jose Mourinho
Last Updated: 23/03/18 7:07am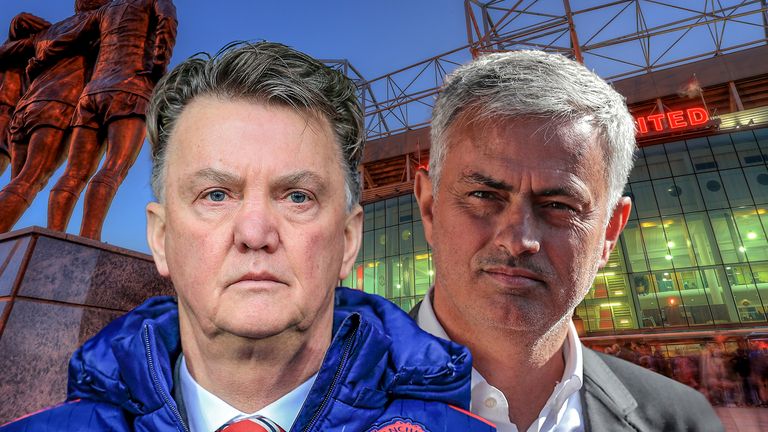 Jose Mourinho has been criticised for dull performances, under-performing signings and a dismal exit from Europe - but how have Manchester United progressed under his management? We check the stats...
Jose Mourinho's appointment as Manchester United manager in the summer of 2016 stirred optimism at Old Trafford, with supporters hoping the 'Special One' could reinvigorate the club after difficult seasons under David Moyes and Louis van Gaal.
However, after winning the Community Shield, League Cup and Europa League in his first campaign, Mourinho has received criticism in 2017/18 for deploying defensive tactics, failing to get the most out of blockbuster signings and being dumped out of the Champions League by Sevilla.
Following that defeat, the manager's frustrations at a perceived lack of respect for his work boiled over, with a 12-minute rant during a press conference making headlines. Mourinho urged supporters for patience and perspective.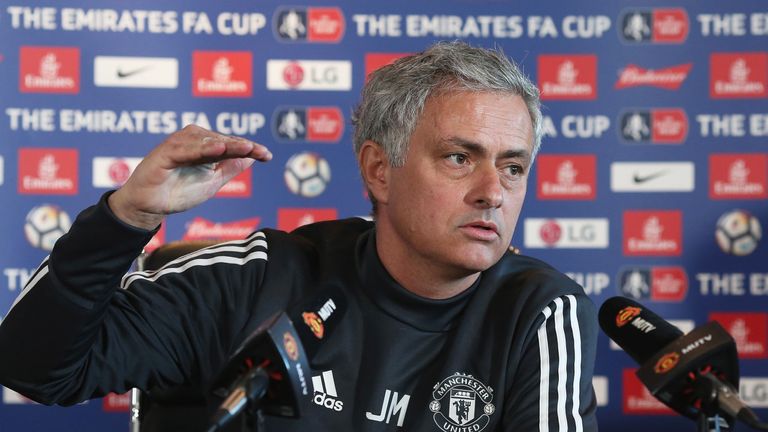 I don't want the fans to have lower expectations, I want the fans to have high expectations because I want the players to have high expectations too.
Jose Mourinho, speaking after the 2-1 defeat to Sevilla
So how does Mourinho's style, tactics and results compare with Van Gaal's efforts two seasons ago? Does he deserve criticism - or is the rebuilding work on course? We examine the stats...
FORM & RESULTS
United have spent 24 of their 30 matchdays in second place in the Premier League table this season, assuming top spot briefly for the first five weeks of the season and only temporarily slipping into third place in late December.
That's a significant improvement on their sixth-place finish last season and also a step up on the fifth-place finish Van Gaal secured the year before.
Man Utd stats, per 90 mins
| Stat | 2015/16 | 2017/18 |
| --- | --- | --- |
| Points | 1.7 | 2.2 |
| Goals | 1.3 | 1.9 |
| Goals conceded | 0.9 | 0.8 |
However, one of the main sources of criticism has stemmed from several dour performances and poor results against fellow top-six clubs.
Despite producing a superior points-per-game ratio this term, United have claimed fewer points against their big rivals - collecting an average of 1.6 per game compared with 1.8 under Van Gaal.
Mourinho has overseen four victories out of eight against top-six opposition in the league this season, collecting a point at Liverpool and losing to Chelsea, Tottenham and Manchester City.
Man Utd stats against top-six opposition, per 90 mins
| Stat | 2015/16 | 2017/18 |
| --- | --- | --- |
| Points | 1.8 | 1.6 |
| Goals | 1.0 | 1.1 |
| Goals conceded | 1.0 | 1.0 |
With the exception of below-par results against big rivals, the graph below reveals an ascending consistency of form, having failed to hit a slump this term - like those suffered in the winter of 2015 and last summer.
According to the Sky Sports Power Rankings, United's 3-0 win at Leicester in February last year was their best team performance in the Premier League over the past three seasons.
Other high-scoring results this season include wins against West Ham, Swansea (both August), Everton (in September and January), Crystal Palace (September), Arsenal (December) and Stoke (January).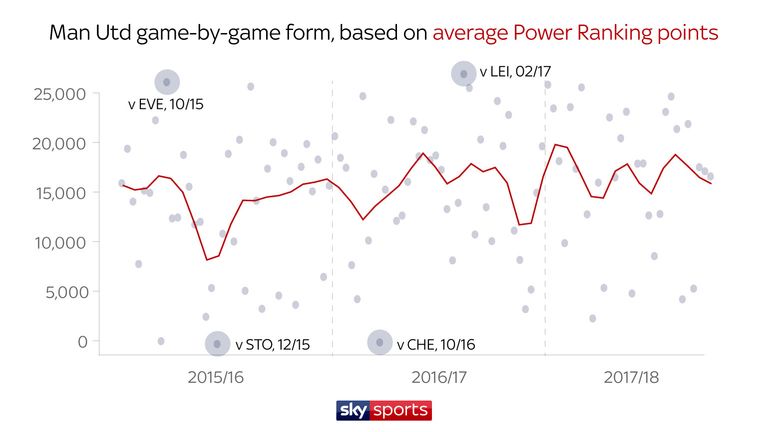 SIGNINGS
In terms of signings, Van Gaal spent £276m during his two seasons in charge, compared with Mourinho's £319m spend - but the Portuguese has had to deal in a market that has experienced considerable price inflation over the past two years.
Van Gaal's most expensive signing was Angel Di Maria for £59.7m, although the Argentine only lasted one season at the club before moving on to Paris Saint-Germain.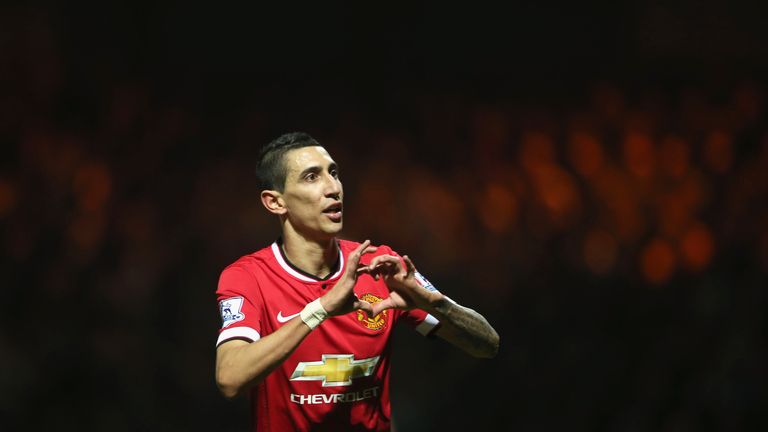 Of his 11 other acquisitions, only Anthony Martial could currently be considered a first-team regular, while another four have also left the club.
Mourinho's headline signings have been Paul Pogba for a then-world record fee of £93.25m in the summer of 2016 and Romelu Lukaku for £90m one season later.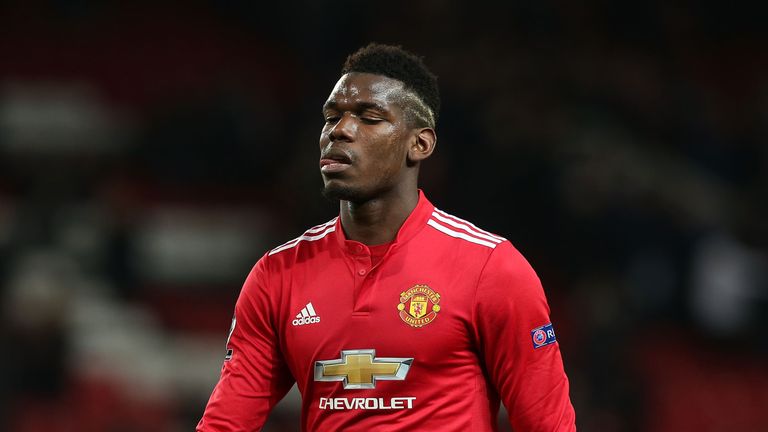 Of his eight notable signings, only Henrikh Mkhitaryan has left the club, in an exchange deal with Arsenal for Alexis Sanchez, while Victor Lindelof has remained on the first-team fringes.
At present, given United's improved results, it would appear Mourinho's signings have been more effective than Van Gaal's additions - although question marks remain over Pogba and Sanchez integrating successfully into his system.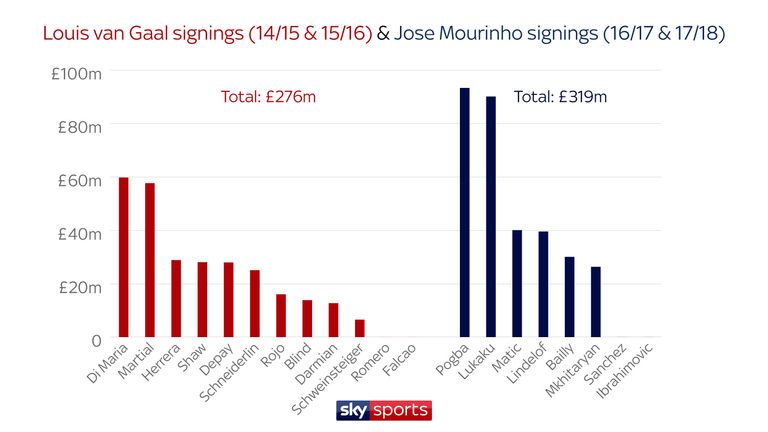 ATTACK
Under Mourinho, United surpass Van Gaal's side across a raft of attacking stats - scoring more goals, creating more assists and chances, taking more shots and having a higher number of fast breaks.
United only averaged 1.3 goals per game in 2015/16, with Anthony Martial ending the season as top scorer on a modest 11 goals, followed by Wayne Rooney (eight), Juan Mata (six) and Marcus Rashford (five).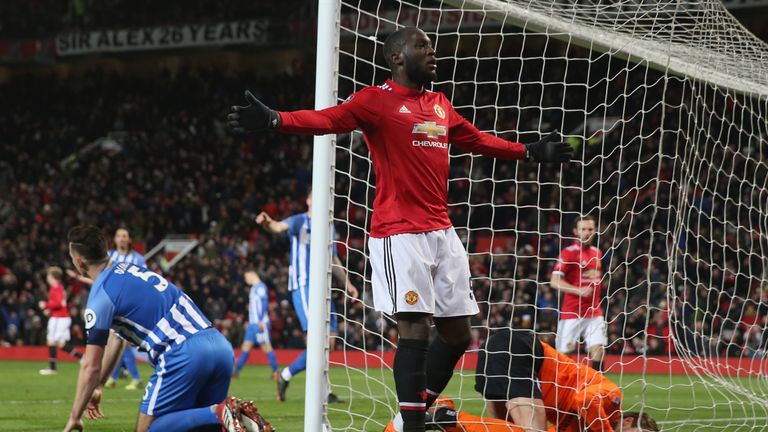 This season, United have averaged 60 per cent more goals, scoring 1.9 goals per game, with Lukaku currently on 14 during his first season at the club, followed by Martial (nine), Jesse Lingard (eight) and Marcus Rashford (six).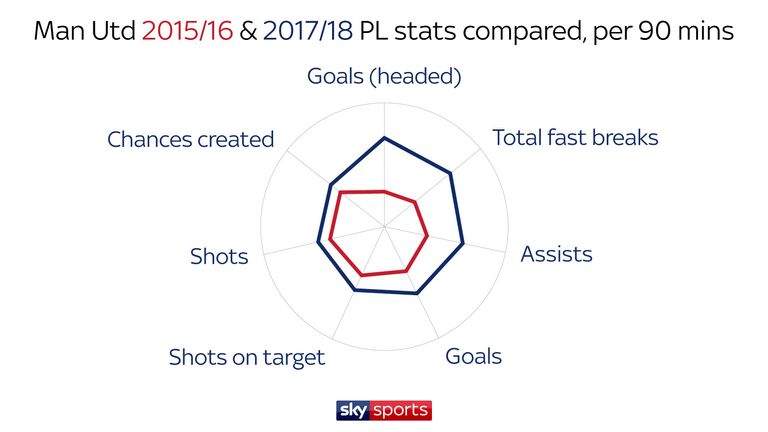 DEFENCE & STYLE
Mourinho's win percentage of 67 per cent this season is also far higher than his predecessor's 50 per cent in 2015/16.
Tactically, the former Chelsea boss has increased the team's aerial presence by 25 per cent, winning 17 headers per game compared with 13 - boosted by the towering signings Pogba and Nemanja Matic.
Both seasons produced an almost identical number of successful crosses and corners, and - despite criticism aimed at Mourinho for deploying defensive tactics - both teams fare equally in this department, too.
United have averaged more blocks and clearances this season, while Van Gaal's side completed more tackles and interceptions.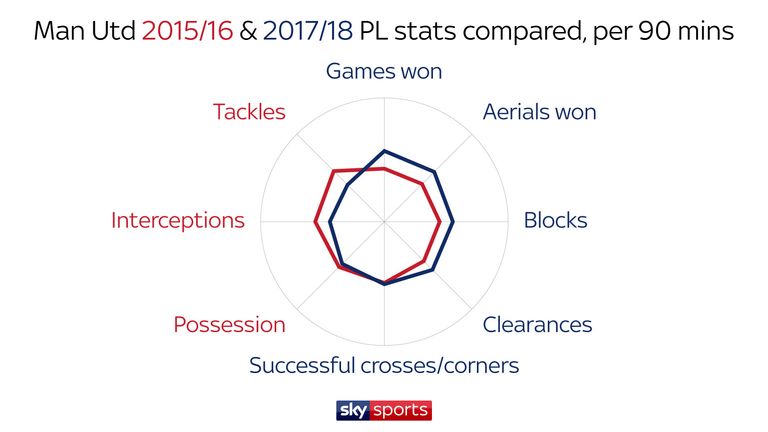 WEAKNESSES
In addition to scoring more goals, Mourinho's current team have also conceded fewer goals per game than the class of 2016, with David de Gea making a considerable difference by making more saves this term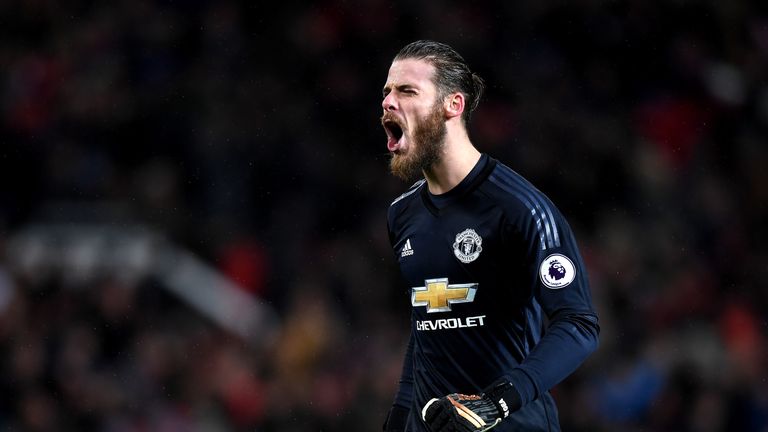 The current United side are also more effective at keeping possession - despite new signing Sanchez receiving criticism for losing possession on numerous occasions in recent games.
However, United have made more errors leading to goals or shots this season, as well as missing far more big chances.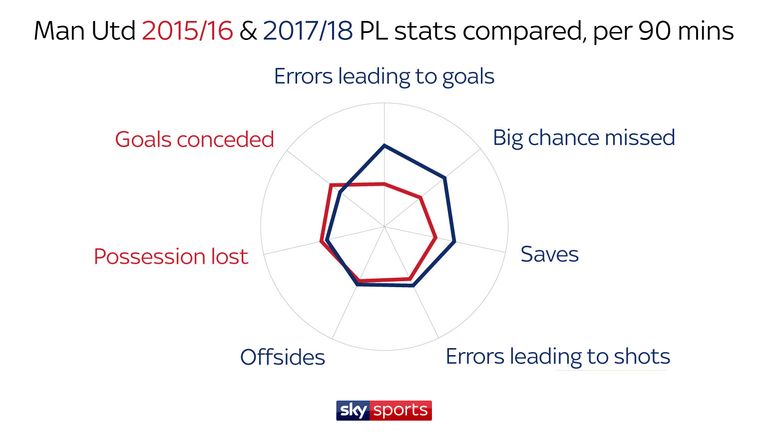 POSITIONAL
Under Mourinho, United have played a greater proportion of activity in their own half - but they also average higher proportions in and around the opposition's penalty box.
Both seasons reveal hotspots of activity down the flanks to stretch opposition - but Van Gaal's side had slightly higher concentrations down the left channel and across the halfway line.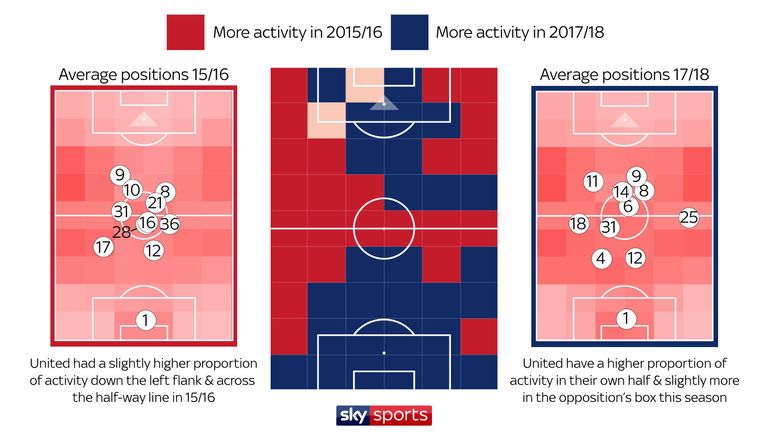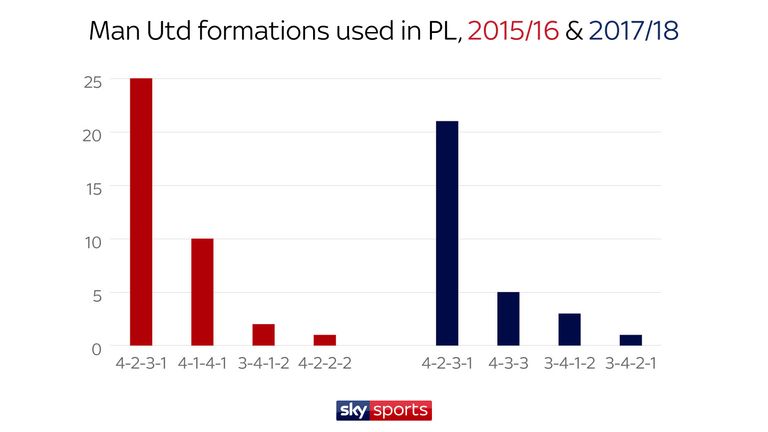 RUNNING
In terms of running, United covered considerably less distance during Mourinho's first term than in 2015/16 - covering 5km fewer per game.
For context, United covered a three-year high of 118.7km against Aston Villa in August 2015, but, just one year later, under Mourinho, covered only 98.9 km against Watford.
However, United have increased that average to 107.9km per game this season - hitting a season-high 114.9km during a 0-0 draw with Southampton in December.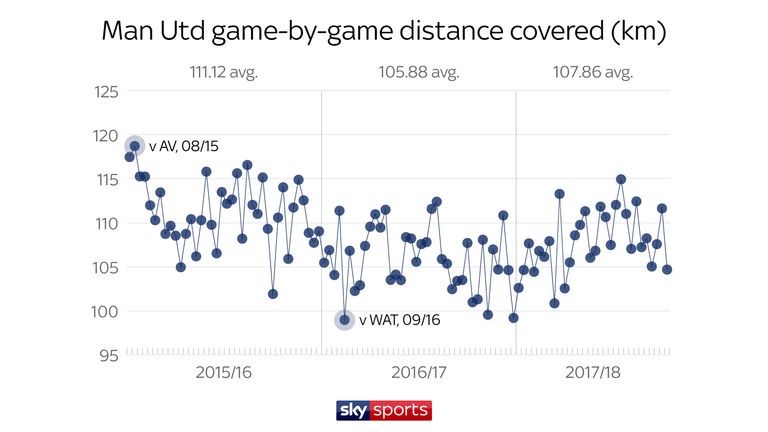 Conversely, Mourinho's United have made more sprints, recording an average of 494 per game last season and 499 this season - compared with 488 under Van Gaal in 2015/16.
Interestingly, United recorded a three-year low of 329 against Everton in October, 2015, but still won the game 3-0 - compared with a three-year high of 591 during a 0-0 draw against Southampton.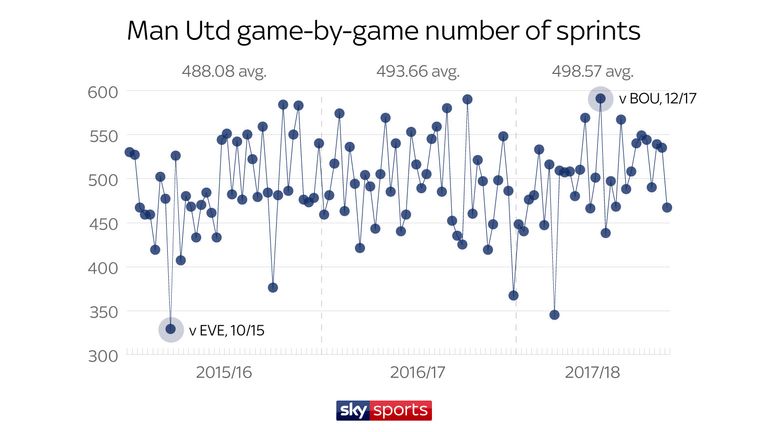 CONCLUSION
So, in terms of progression, Mourinho is on course to record United's highest league finish since Sir Alex Ferguson's title-winning final season at Old Trafford in 2012/13.
Additionally, the Portuguese won the League Cup and Europa League during his first season in charge, and has reached the FA Cup semi-finals.this time around.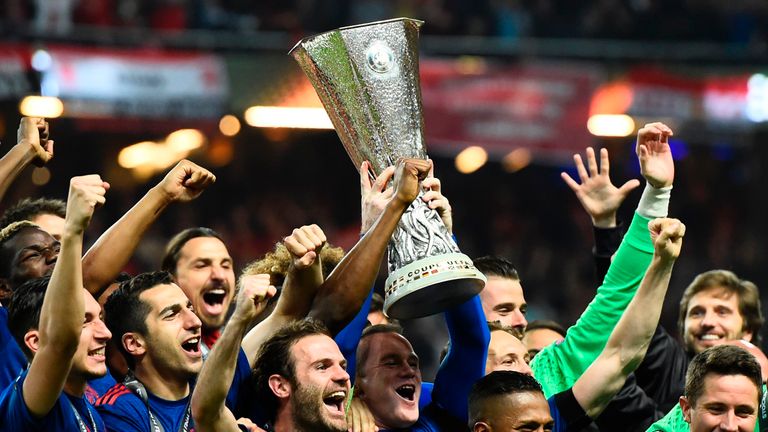 The catalyst for the recent wave of discontent was the 2-1 defeat to Sevilla, which extinguished a sense of turning a corner after a 2-1 win over Liverpool.
But Mourinho has improved the team from two seasons ago and could still rekindle the form of Pogba and Sanchez, embark on FA Cup success and secure runners-up spot in the Premier League - behind only the juggernaut force of rivals Manchester City.
The performance against Sevilla was disastrous, results against top rivals have been slightly below-par, and performances have been dour at times - but the stats suggest United are improving under Mourinho.
Comment below to get involved in the debate, but please adhere to our House Rules. If you wish to report any comment, simply click on the down arrow next to the offending comment and click 'Report'.