Clashes between Manchester United and Arsenal are among the most hotly-anticipated in the Premier League - but Arsene Wenger will have to overcome a dreadful head-to-head record with rival Jose Mourinho if the Gunners are to keep up their title challenge with victory at Old Trafford on Saturday.
There's no love lost between Wenger and Mourinho - read the history of their rivalry in quotes here - but the Portuguese has generally had the upper hand on his French counterpart.
While Mourinho was in charge of Chelsea, he and Arsenal boss Wenger met 15 times across all competitions. Wenger's side won just one of those fixtures, the 2015 FA Community Shield. Mourinho got his revenge a month later with a 2-0 Premier League win at Stamford Bridge - his eighth victory over Wenger.
Wenger v Mourinho rivalry
| | | | |
| --- | --- | --- | --- |
| Premier League | 0 | 6 | 5 |
| League Cup | 0 | 0 | 2 |
| Community Shield | 1 | 0 | 1 |
| Total | 1 | 6 | 8 |
Arsenal's heaviest defeat to Chelsea - March 2014's 6-0 thrashing in west London - also came at the hands of Mourinho. It was a cruel way to mark Wenger's 1,000th game in charge of the Gunners.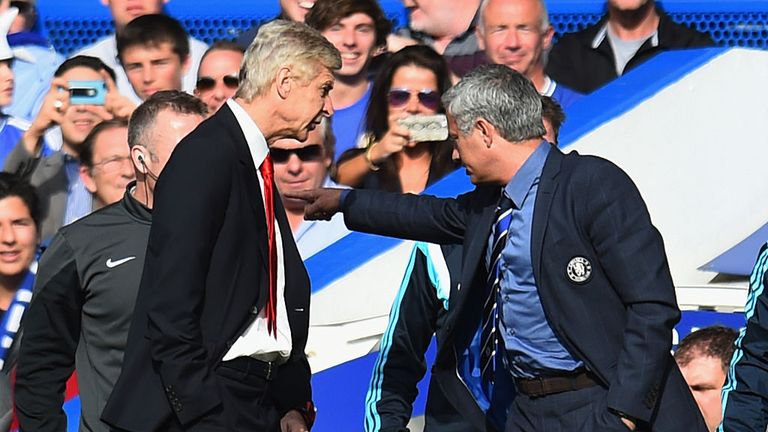 The strain of facing the now-Manchester United boss has often been revealed by Wenger, none more so than when he shoved Mourinho on the touchline in October 2014. "We have quite a substantial past," conceded an apologetic Wenger afterwards.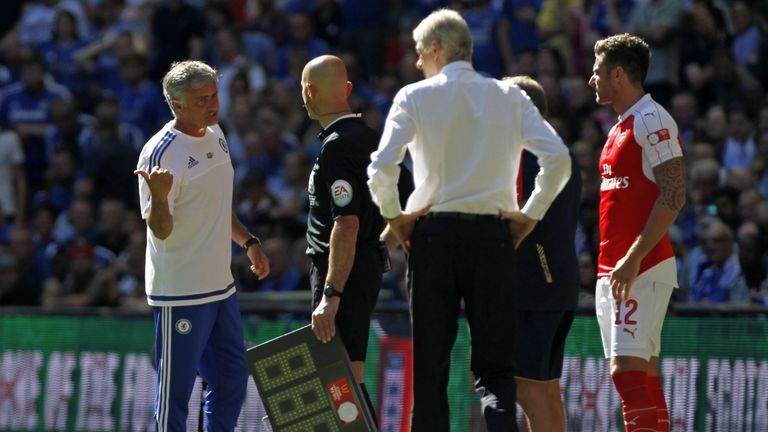 As well as the Premier League and Community Shield - Mourinho defeated Wenger in the 2005 pre-season showpiece - the pair have also met in the League Cup twice, most notably in the 2007 final, when a Didier Drogba-inspired Chelsea came from behind to claim the trophy amid ugly scenes at the Millennium Stadium.
Expect plenty of intensity this weekend, too, when Wenger - branded a "specialist in failure" by the self-declared "special one" - aims to buck one of the most one-sided trends at the top end of the Premier League.