Everton not playing to Romelu Lukaku's strengths under Ronald Koeman
By Matt Cheetham
Last Updated: 10/12/16 11:23am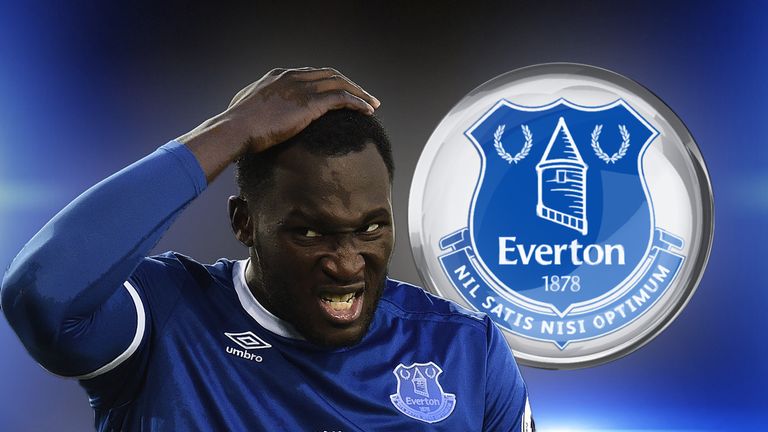 After a bright start, Everton have dipped. Matt Cheetham highlights some key stats which show how long balls and crosses have left Romelu Lukaku on the fringes of the club's attacking play under Ronald Koeman.
Everton's late equaliser against Manchester United provided relief for Ronald Koeman, but still left the Toffees on a run of seven points from the last 27 available.
As the Dutchman evaluates his side's recent slump, a primary concern will be how to get the best out of Romelu Lukaku, who was rarely a threat to United's defence on Sunday.
The Belgium international failed to record a single shot against United - the second time in four games he has failed to do that. Remarkably, Lukaku had failed to register a shot in just one of his previous 49 starts before this current run.
For the third time in four games, Lukaku also failed to test the goalkeeper with a shot on target, having only failed to do that once in his previous 17 starts.
His shot return, as well as his presence in the penalty area, has dipped drastically over the past few games.
Romelu Lukaku - Premier League 2016/17
| Stat | First six PL apps | Last seven PL apps |
| --- | --- | --- |
| Touches in opp box (per 90mins) | 40 (7.5) | 20 (2.9) |
| Total shots (per 90mins) | 21 (4.0) | 12 (1.7) |
| Shots on target (per 90mins) | 13 (2.5) | 6 (0.9) |
A lot of this has to do with Everton's increasingly direct approach, which coincides with these diminishing numbers.
They began this season with a five-match unbeaten run. During that spell they hit long passes, on average, just 14.3 per cent of the time. That equates to about one in seven passes being a long one. Over the past few weeks that frequency of long passes has increased to 18.5 per cent. Now, almost one in five passes by Everton players are hit long.
Crosses are also becoming the prominent theme of Everton attacks. Koeman's Southampton side sent in more than any other side last season, and this seems to be his plan once again. Only one Premier League side has played more crosses than Everton in the past six matches.
Koeman prefers this pragmatic approach, but it doesn't bring out the best in Lukaku.
The striker's aerial ability is arguably the weakest part of his game. "He used to say to me that heading wasn't really his strong point," Everton left-back Luke Garbutt revealed in the Football Hour podcast in October.
Over the past two-and-a-half seasons, he's won under 38 per cent of aerial duels, which is a below-average return among forwards. While he's scored headed goals, many have been when he's found in space, with few instances of him towering over a marker to finish.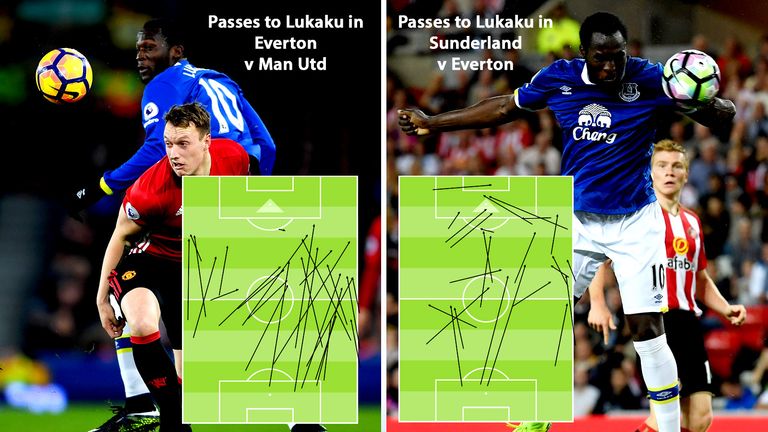 Despite this, Everton's game with United saw a procession of long balls aimed at Lukaku, leading to his alarming passing accuracy of 40 per cent and a limited platform for his side to build from.
Of the 28 passes he received, few - if any - were through balls from midfielders, which is the type of service he craves. His best game of the season came in Everton's least direct performance of the season, at Sunderland (11.1 per cent of passes long), where he was found far more often around the area.
In Koeman's defence, he isn't currently blessed with many alternative ways to play. Everton don't have the attacking midfielders to control games in the final third.
Yannick Bolasie, Kevin Mirallas, Aaron Lennon, Gerard Deulofeu and, to an extent, Ross Barkley are all similar, explosive players, who flicker in and out of games. All are at their best taking on defenders rather than looking to build phases of play as a team.
Everton attacking midfielders - Premier League 2015/16
| Player | Successful passes per 90mins |
| --- | --- |
| Yannick Bolasie | 15.9 |
| Aaron Lennon | 22.6 |
| Kevin Mirallas | 24.4 |
| Gerard Deulofeu | 25.0 |
| Ross Barkley | 45.2 |
Compared with top six sides that generally play a 4-2-3-1 formation this season, Everton's attacking midfield trio are far less involved in the passing game.
Attacking trios - Premier League 2016/17
| Top six sides playing 4-2-3-1 | Successful passes per 90mins | % of team's successful passes per 90mins |
| --- | --- | --- |
| Man City | Silva (58.2), Sterling (29.2), De Bruyne (41.8) | 26.5% |
| Arsenal | Iwobi (49.7), Walcott (20.1), Ozil (55.5) | 26.6% |
| Tottenham | Eriksen (41.4), Son (27.6), Alli (33.3) | 24.4% |
| Man Utd | Mata (53.1), Rashford (25.0), Rooney (42.5) | 26.6% |
| - | - | - |
| Everton | Mirallas (25.8), Bolasie (18.0), Barkley (38.4) | 20.6% |
As the above stats show, every side carries one or even two of these often peripheral, but potential match-winning players - Everton's problem is that's all they have, limiting their ability to involve Lukaku. Finding a different type of option for these positions has to be the top priority in January.
Koeman has also been keen to introduce a pressing system at Everton, though, statistically, he has the least effective striker to enforce this. Of the 503 outfield players to play in the Premier League last season, amazingly, none covered less ground per 90 minutes than Lukaku.
Least distance covered per 90mins - Premier League 2015/16
| Player | Avg distance covered | Rank |
| --- | --- | --- |
| Romelu Lukaku | 8.6km | 503rd (last) |
| Micah Richards | 8.64km | 502nd |
| Wes Morgan | 8.78km | 501st |
| Kurt Zouma | 8.80km | 500th |
His return has barely improved this season (currently 415th of 419 outfield players) and is something he surely needs to improve on, though it's also another example of Koeman wanting his front man to play out of his comfort zone, when he needs to be built around.
Lukaku has scored the goals Everton fans have wanted from a striker for the majority of their Premier League history. He has attributes some of the best clubs in world football covet, and should be the focal point of a team built to embellish his strengths.
At the moment, though, Everton are guilty of playing a system that doesn't suit him, with not enough players to compliment his game, wasting their most dangerous asset.