Paul Merson's Premier League predictions - Week 28
Merse expects wins for title-chasing Arsenal and Liverpool - but defeat for Cardiff
Last Updated: 28/02/14 4:12pm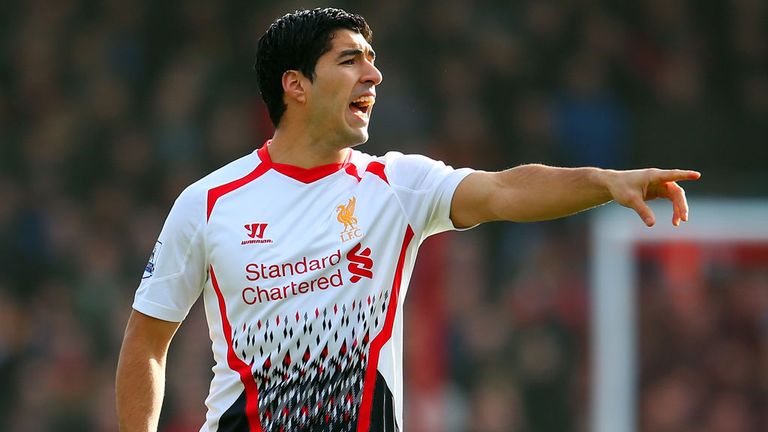 If Everton want to get above Manchester United and into the top six, they have to take advantage in their next four games - against West Ham on Saturday and then against Cardiff, Swansea and Fulham. However, West Ham won't be easy. They have won four on the trot and are the form team at the moment out of everybody, but I think Everton will nick this by a couple of goals.
Sam Allardyce's team are safe as houses now, though, and I always thought they would be. Fair play to David Gold and David Sullivan for keeping faith with Sam while other clubs are getting in foreign managers who have never been in a relegation scrap. At least one of those clubs could pay for that, possibly the team I'm mentioning next...
PAUL PREDICTS: 2-0
Fulham v Chelsea
I watched Fulham last week against West Brom and for 60 minutes, they were very good and dominated the game but Felix Magath then changed things and his team sat back and if you do that in the Premier League, the other team have a great chance of scoring.
They got a draw at The Hawthorns but I can't see them getting anything this weekend. Chelsea dug in last week and got a bit of luck to beat Everton but you've got to do that sometimes. You can't play like they did when they went to the Etihad and beat Man City every week.
PAUL PREDICTS: 0-2
Hull v Newcastle
Steve Bruce has done a great job this season. He bought well in the summer and did so again in January with Nikica Jelavic and Shane Long. You need to score goals to stay in this league and Jelavic does that, while Long works his socks off, so that partnership has worked a treat for them.
I think they will win this but it is important for them to get a bit of consistency and nick a few wins - something they did against Aston Villa last week - even though they are not going anywhere, up or down. They need to end the season well and give the fans something to cling on to for next year.
PAUL PREDICTS: 2-1
Stoke v Arsenal
Anyone would have beaten Sunderland 4-1 last week, but Arsenal scored some good goals and they are still bang in this title fight. People keep saying 'when are they gonna go away?' but if they win at Stoke, there is only 10 games left and they aren't going anywhere.
I just can't see Arsenal not winning this game. I never usually back against Stoke at home but they are not going to try and bully Arsenal off the pitch, they are going to try and pass it and I just don't think they will be able to win this game doing that against such good players.
PAUL PREDICTS: 1-2
Southampton v Liverpool
Southampton are in a position where they can go for it in any game - which is why they made a big ricket when they rested a load of players and lost to Sunderland in the FA Cup - so this will be a big test of Liverpool's title credentials ahead of some pretty decent fixtures.
If Liverpool get through this, they are a major, major threat and I cannot see how Southampton will be able to stop Liverpool's attack, even though they have got Luke Shaw, who is a great talent and really deserves his call-up to the England squad. I'm not sure he will go to the World Cup, though.
PAUL PREDICTS: 2-3
Aston Villa v Norwich
Villa are not good at home but they need to win this football match desperately to avoid getting sucked back into danger. Norwich will make it hard, though, because they have a free swing after that great result at home to Tottenham last week and will be full of confidence.
People look at Norwich's last four fixtures- Liverpool, Man Utd, Arsenal and Chelsea - and say they will be tough, but Chelsea might be in the Champions league final, and Arsenal and Liverpool might have nothing to play for, so I don't think they will necessarily go down if they are not safe by then.
PAUL PREDICTS: 2-1 (says my heart)
Swansea v Crystal Palace
I thought Swansea did really well against Napoli in the Europa League and will probably have enough to stay up - and beat Palace. Palace have to work so hard every week to get a result that sooner or later it is going to catch up with them, and it did last week against United.
PAUL PREDICTS: 2-0
Tottenham v Cardiff
If I get it right and Liverpool win, Tottenham will have to win here to stay in the race for fourth - but they will. Cardiff are gone. Shipping four at home to Hull tells you that. I think they made a ricket by appointing Ole Gunnar Solskjaer, someone who doesn't know what to do in a relegation battle.
PAUL PREDICTS: 3-0