World Cup team of the tournament: Look at our experts' choices and have your say
Who would you select as the star XI from World Cup 2014 in Brazil?
Last Updated: 14/07/14 11:42am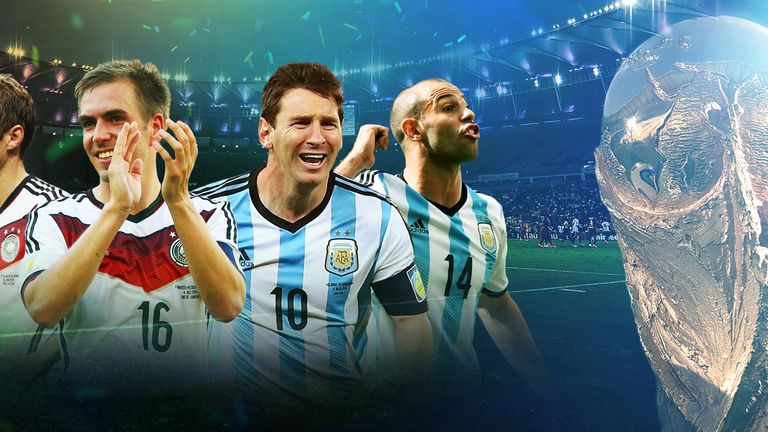 The World Cup is over, but which stars shone brightest in Brazil?
We've asked some of our experts to pick their team of the tournament, which is no easy task after 64 games packed with drama.
Was Manuel Neuer the best goalkeeper in town? Did Lionel Messi do enough to get the nod? Should any of Brazil's players get into the side? Do any of the players from surprise packages Costa Rica and Colombia deserve some recognition?
Read on for the picks of our experts and then have your say in the feedback box at the bottom of this page on skysports.com.
ANDY HINCHCLIFFE, TERRY BUTCHER & ALAN SMITH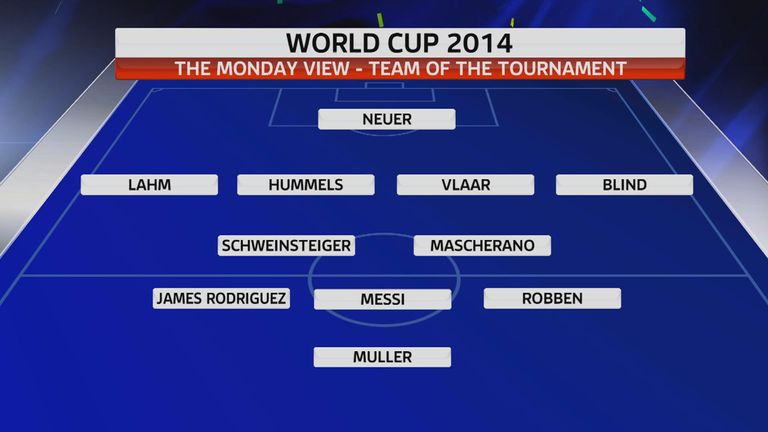 Manuel Neuer (Germany); Philipp Lahm (Germany), Mats Hummels (Germany), Ron Vlaar (Netherlands), Danny Blind (Netherlands); Bastian Schweinsteiger (Germany), Javier Mascherano (Argentina); James Rodriguez (Colombia), Lionel Messi (Argentina), Arjen Robben (Netherlands); Thomas Muller (Germany)
ANDY SAYS: First things first, you look at that back four and when the chips are down, they will defend. They will throw themselves in front of shots going in, and you want them to be able to defend. They will do that and when you do keep possession and want to break forward, the full-backs will go over the half-way line and deliver. They are versatile players and can play in a variety of positions.
Up front, the question is where would Lionel Messi play? For me, Muller is most effective out on the right-hand side and can play down the middle and Rodriguez is better in behind the centre-forward. There wasn't really a stand-out, true centre-forward in the whole tournament so you are looking at Messi or Neymar, really. I would always take Messi because even though he didn't have a sensational tournament, he still dragged Argentina through. I would always have him in the side because of what he's capable of on his day.
NICK COLLINS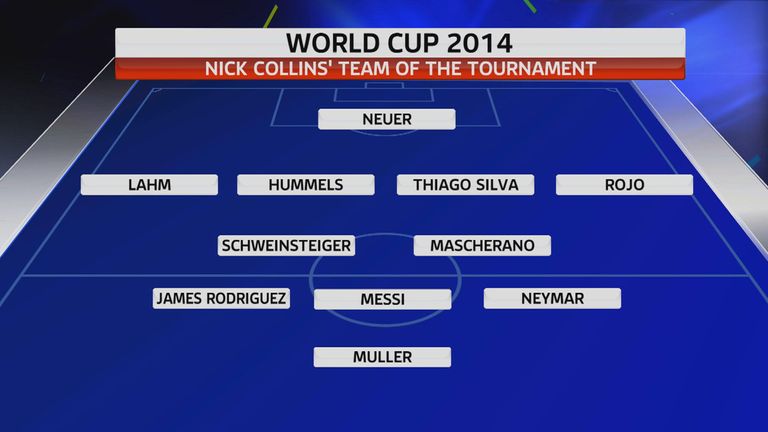 Manuel Neuer (Germany); Philipp Lahm (Germany), Mats Hummels (Germany), Thiago Silva (Brazil), Marcos Rojo (Argentina); Bastian Schweinsteiger (Germany), Javier Mascherano (Argentina); James Rodriguez (Colombia), Lionel Messi (Argentina), Neymar (Brazil); Thomas Muller (Germany)
NICK SAYS:I don't think there's any huge surprises in here. Manuel Neuer was head and shoulders the best keeper, although an honourable mention goes to Tim Howard who did well throughout. I had to find a place for the World Cup winning captain and Philipp Lahm was terrific, plus Mats Hummels from Germany. I suppose you might raise your eyebrow at Thiago Silva, but I thought that through the group and the knock-out stage until he was suspended, he was doing a manful job of holding that Brazilian back-line together. Up until then, they hadn't been conceding too may goals and that's why he gets my vote. He had been under enormous pressure as the captain of the hosts as well. Yes, his suspension was one of the critical factors in Brazil's collapse against Germany, but he gets in. I made room for Marcos Rojo, but I have to say Junior Diaz of Costa Rica really impressed me.
I don't think too many people will argue with Bastian Schweinsteiger and Javier Mascherano as the holding midfielders. James Rodriguez won the Golden Boot, Lionel Messi was the best player at the World Cup according to FIFA and if Neymar hadn't been injured, you just wonder what would have happened to Brazil in that semi-final. If he hadn't scored the goals he did, then Brazil wouldn't have got through that group. He was the poster boy of the World Cup and was under more pressure than any single player, so that's why I've found a place for him. Thomas Muller up front scored five goals again at a World Cup; what an extraordinary record for him.