Pep Guardiola's Man City tougher than Sir Alex Ferguson's Man Utd, says Nigel Clough
Watch Wednesday's Carabao Cup semi-final first leg between Manchester City and Burton, live on Sky Sports Football
Last Updated: 08/01/19 9:56am
Nigel Clough says Burton's daunting Carabao Cup semi-final against defending champions Manchester City is a greater challenge than their FA Cup encounter against Manchester United in 2006.
Burton, despite then being in the Conference, memorably held Sir Alex Ferguson's United to a goalless draw at home and earned a lucrative replay under Clough, with the Brewers now preparing for another memorable occasion in the club's history.
Clough believes the two-legged nature of this month's League Cup semi-final makes the meeting against Pep Guardiola's Premier League champions a tougher proposition.
"I think this one [is more difficult] over two legs," Clough said. "I think the pitch is going to be a bit better this time around, if anybody remembers the pitch against Manchester United!
"But we're facing similar sorts of tasks. When [Wayne] Rooney and [Cristiano] Ronaldo came on after 59 minutes here for Manchester United, it's a similar sort of prospect with the likes of the quality that Manchester City have.
"But away from home, it's a different thing. When they are on their own patch, as you saw against Liverpool, they are as good and as confident as anything.
"That's when they've come off a relatively poor period for them, they have lost a couple of matches recently and then they can still play like they did against Liverpool and keep the title race open.
"That says an awful lot about them."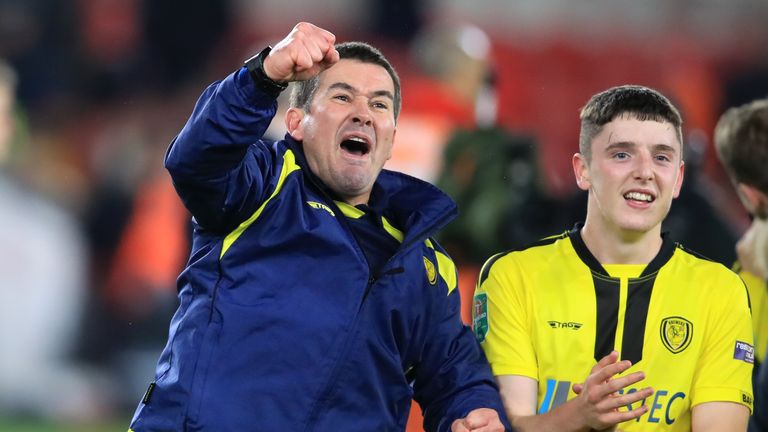 Clough won the competition, under a different guise, back-to-back in 1989 and 1990 under his father Brian with Nottingham Forest and the Burton boss is realistic on his side's chances.
"Honestly, we are just looking forward to enjoying the experience," he said.
"Nobody gives us much of a chance and rightly so but it's just about the players, everybody, talking about supporters, who have been following the club for 50-60 years never dreamt of us being in a League Cup semi-final.
"Every game you have got a chance. It's just what degree that chance is and ours is extremely thin but there is always a chance in football."
Brian Clough
"Let's all everybody as one go and enjoy it.
"Every game you have got a chance. It's just what degree that chance is and ours is extremely thin but there is always a chance in football."
The former Derby and Sheffield United manager was first appointed as Burton player-boss in October 1998 in his first managerial role and he admits the club's success over the past 10 years has far exceeded expectations.
Clough said: "Our aim back then was getting in the Conference and establishing ourselves as a Conference club. The club has gone on and the two years in the Championship were extremely special for our club.
Burton's route to Carabao Cup semi-final
Third round: Shrewsbury
Second round: Aston Villa
Third round: Burnley
Last-16: Nottingham Forest
Quarter-final: Middlesbrough
"This time it is special because it has been four games - you can get a fluke in the third round of the FA Cup like we did against Manchester United. But when you win four games, three [against] top-eight Championship sides and a Premier League side then that is no fluke to get to a semi-final.
"Everybody needed a lift after last season's relegation [to League 1] because we are still getting over that - what happened in the last four minutes of the season. It will be some time before we will do as players and a club. So, this helps."