World Cup qualifier: New Zealand coach Ricki Herbert will stand down barring miracle result
Ricki Herbert will stand down as New Zealand coach barring an astonishing upset against Mexico on Wednesday.
Last Updated: 19/11/13 1:51pm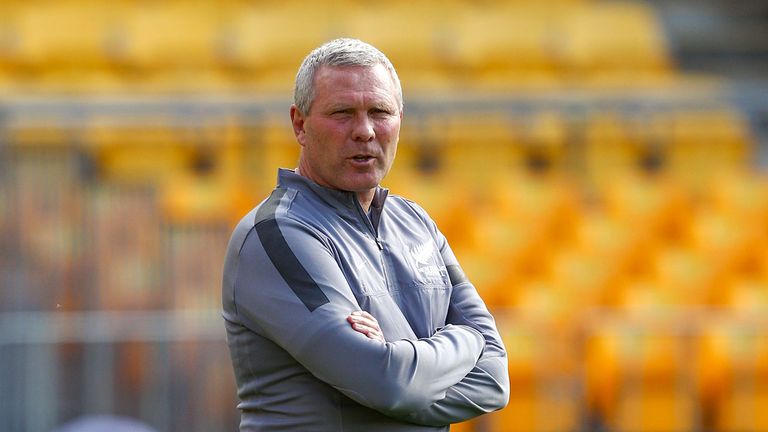 The hosts go into the second leg of their play-off against Mexico 5-1 down after a jarring evening at the Azteca last week.
With a place in Brazil next summer seemingly out of reach, New Zealand will attempt to end Herbert's eight-year tenure with a stirring display in Wellington.
The 52-year-old took over in 2005 with the undoubted highlight of his reign being qualification for the World Cup finals in 2010 in South Africa, a tournament from which New Zealand emerged as the only unbeaten side after successive draws against Slovakia, Italy and Paraguay.
New Zealand Football board chairman Frank van Hattum told www.nzfootball.co.nz: "Ricki assumed control of the All Whites at a point of instability for our men's national team.
"From the moment he stepped into the coaching role he began building and shaping a team which became one of the best sides we've ever had at a time when competition, in what is a truly global sport, has never been tougher.
"Guiding the team to the 2010 World Cup in South Africa is one of the greatest achievements in the history of New Zealand football and we are still experiencing the benefits of that qualification up and down the country.
"The impact Ricki has had on football in New Zealand is immense and it is testament to the fantastic job he has done that his legacy will be felt across all levels of the game and will have a major influence on the future of our sport.
"On behalf of everyone associated with football in New Zealand, I thank Ricki for his remarkable dedication and his wonderful contribution to our game.
"Naturally, Ricki and the team remain 100 per cent focused on the task at hand tomorrow night in Wellington: Our attempt to secure a berth at the 2014 World Cup in Brazil."
That attempt already looks forlorn but goalkeeper Glen Moss is promising the home fans a gung-ho approach on Wednesday.
"We've learned that we need to play without fear," said Moss.
"I'm not saying we were fearful in Mexico but we were a little cautious. Now we've got no choice; we need to play some attacking football.
"We've been working hard in the attacking third as we raise that confidence to score goals. The boys have been looking good in the sessions.
"The players wanted this game to be played back in Wellington. We believe we can do it, we've got enough quality."
Mexico interim coach Miguel Herrera is adamant his side will not sit back and protect their healthy advantage.
He told a press conference on Tuesday: "We will attack and try to win the game. We know they are required to attack us which will give us space.
"It took us a while to open them up in Mexico but the team did well and in the second half we realised they may be vulnerable.
"The truth is we have a good advantage but have yet to play the second half."
Herrera is hoping qualification will enhance his chances of landing the job on a permanent basis.
"I was brought in for two games but of course I want it," he said.