It's early in the campaign but Arsenal's trip to Everton will be a good test to see how far Arsene Wenger's men have come since last season.
Arsenal lost 3-0 at Goodison Park in April, as Everton stepped up their challenge for a Champions League spot, and Roberto Martinez's men never let the visitors get into their stride.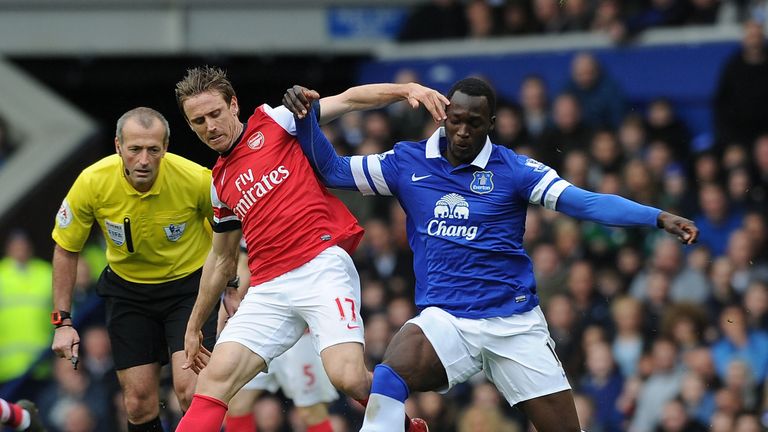 Monreal couldn't deal with Lukaku's power last season.
Everton pressed Arsenal high up the pitch, forced them into errors and really suffocated them before hitting them on the counter-attack whenever they could.
That day Romelu Lukaku played wide right, up against Nacho Monreal, and the Arsenal defender couldn't deal with his power.
Monreal will be at left-back again on Saturday because of the injury to Kieran Gibbs and I can see Everton repeating those tactics, switching the play to the right and looking for that one-on-one battle.
So can Arsenal prevent a repeat?
Last season they conceded 20 goals away from home at Everton, Man City, Liverpool and Chelsea and failing to keep things tight when they were away at the top clubs was a major reason why they didn't win the league last season. You can't go to places and get beaten by that many – conceding five or six to your title rivals is embarrassing.
They have to be a lot tighter on Saturday night. And surely they have learnt their lessons from last season.
But Arsenal still need to buy a defensive midfielder – and I was saying that even before the injury in midweek to Mikel Arteta. I looked at the performance of Nemanja Matic this week for Chelsea and thought 'how good would he be in an Arsenal shirt, giving the likes of Aaron Ramsey and Mesut Ozil the platform to go and play?'
Arsenal haven't got anyone like Matic, with the power and physicality to go and get the ball back and stop other teams playing. That's a position Wenger needs to try to fill before the window closes.
Young
Calum Chambers, though, looks like he's going to be a great player - and, along with John Stones, we'll see two of the best young defenders in English football on Saturday. 
Live Ford Saturday Night Football


However, unfortunately Ross Barkley seems set to be out for some time.
In the game between these two sides last season Barkley played just off Steven Naismith and it's a great shame the young Englishman has been sidelined with a bad knee injury.
I love watching the kid play. He's a sensational footballer and him being ruled out for at least two months is a big loss for all neutrals as well as Everton fans. It's also a disappointment for England – I was hoping, following Steven Gerrard's retirement, Roy Hodgson would move one of the current midfielders deeper to allow Barkley to go and play.
However, his absence gives someone else at Everton an opportunity and Roberto Martinez, rather than complaining, will look at the situation and find another way of playing without Barkley.
He might struggle to open Arsenal up like he did last season, though. It's a tough one to call but I'm predicting a draw. I can see it being a lot tighter than last season. 
Jamie Redknapp will be in the studio for Everton v Arsenal on Saturday Night Football from 4.4.5pm on Sky Sports 1.