Football Expert & Columnist
Andy Walker blogs on a bright future for Scottish football
The future's bright for Scottish football, says Andy Walker, after watching the U16s' Victory Shield win.
Last Updated: 03/12/13 4:28pm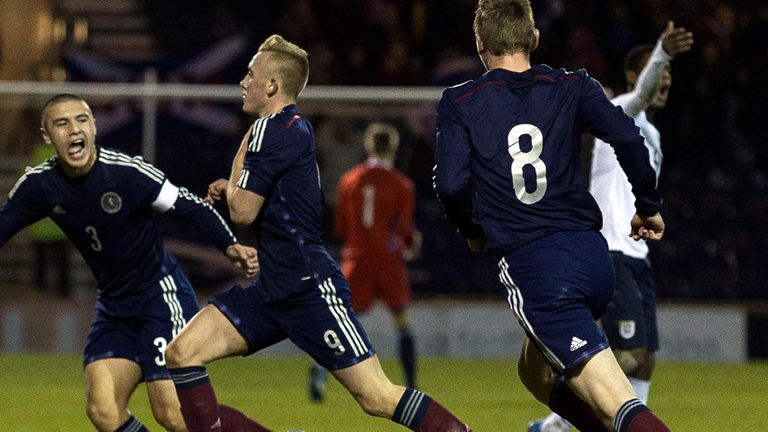 Kenny Swain and his English lads have dominated this event for promising young players for years and even now they had youngsters on view who will surely grace the Barclays Premier League in a few years.
Arsenal's Chris Willock struck me as one with a wonderful first touch and any time he received the ball it was under control instantly.
Jonathon Leko of West Brom also looked the part and England were led by their captain Cameron Humphreys of Manchester City who has the physique and passing skills that will see him blossom into a potential first team player soon.
But it was Scott Booth's Scotland who remained unbeaten in the four-nation tournament with a win over Northern Ireland and a draw in Wales before deservedly beating England by a solitary goal.
Next step
In my view, Scotland have always had strong youth teams up to the age of 17-18 but we rarely get our players to make that vital next step into accomplished professionals with major clubs.
Part of the reason of course is that clubs no longer regard 17-18 year olds as potential; at that age many clubs are under pressure to get results and sacrifice youth players for those more experienced in the game.
I know from my own experience that at the age of 18, the best coaching and education you can receive can come from playing against better and more experienced players in a competitive environment.
As long as you learn from your mistakes, it's a good upbringing to constantly be around quality players.
Naturally, if you suddenly stop getting the opportunity to play when you reach the age of 18 and are more and more often playing against players of a similar size and experience you very quickly fall away from the intensity needed to improve.
Talent
Goalscorer Calvin Miller of Celtic is clearly the standout talent at this level and I thought goalkeeper Robby McCrorie also showed maturity beyond his years.
McCrorie will benefit from turning full time with Rangers shortly when he can hone his skills on a daily basis.
Given the unfortunate circumstances that surround Hearts at the moment, maybe Leon Jones will also get a chance to play at first team level quicker than boys at more stabilised clubs.
Like his counterpart Humphreys, Jones naturally led by example and it's no bad thing that so many young players are getting an opportunity at Hearts just now.
The truth is if they are good enough they will survive and be better players despite Hearts' current delicate state.
Right now in the Scottish Premiership, Ryan Gauld and Andrew Robertson of Dundee Utd are enjoying some exciting headlines.
At 17 and 19 years old respectively, their development is an example that young players can improve a SPFL side if they're prepared to work on their skills and put them into practice on match day.
Hopefully there's much more to come in the near future to improve the standard of player we produce and the level of competition in the SPFL.